Siemens and HP partner to advance 3D printing for product development and industrial production
Building on a longstanding partnership, HP Inc. and Siemens are accelerating 3D printing for industrial production through the creation of a new HP-certified Additive Manufacturing (AM) software module from Siemens. The new software module, Siemens NX AM for HP Multi Jet Fusion, is now available from Siemens PLM Software as an extension to Siemens' end-to-end design-to-production solution for additive manufacturing. The NX™ software module will allow customers to develop and manage parts in a single software environment for their HP 3D Printing projects, avoid costly and time-consuming data conversions and third-party tools, and improve their overall design-to-finished-part workflow efficiency. Siemens and HP are also aligning future technology roadmaps to enable designers and engineers to completely reimagine products to take advantage of HP's 3D printing capabilities, escape the limitations of conventional manufacturing, and cost-effectively produce new products at faster speeds. This in turn will lead to greatly expanded opportunities for the industrial 3D printing of innovative designs.
Siemens' new software module will enable NX customers to combine design, optimization, simulation, preparation of print jobs, and inspection processes for HP Multi Jet Fusion 3D printed parts in a managed environment. Users can now load multiple 3D part models into NX, and auto nest and submit them to an HP 3D printer, all in a single environment and with a minimum of steps. The NX and Multi Jet Fusion integration also eliminates the need for data conversion between software applications or process steps and, in the future, is intended to allow unprecedented control, including material characteristics down to the individual voxel-level. This will result in the ability to print parts with variable textures, density, strength and friction, as well as thermal, electrical, and conductivity characteristics.
"HP and Siemens are bringing together the best in design and manufacturing workflow software for the best in 3D printing, unleashing a wave of new product possibilities with the speed, quality, and economics required for the modern digital industrial era," said Michelle Bockman, global head of 3D Printing Commercial Expansion and Development, HP Inc. "We look forward to collaborating with Siemens to continually raise the industry bar on what's possible for customers with the voxel-level design capabilities of our Multi Jet Fusion 3D printing solutions."
Siemens and HP share the objective to industrialize additive manufacturing. HP's award-winning Multi Jet Fusion 3D printing solution is a production-ready commercial 3D printing system that delivers superior1 quality physical parts up to 10 times faster2 and at half the cost3of current 3D printing systems. With Siemens' comprehensive offering covering product lifecycle management (PLM) and electronic design automation (EDA) software, integrated automation and manufacturing operations management, combined with HP's 3D printing solutions, manufacturers have the tools to establish additive manufacturing as a truly industrial production process. Both companies continue to work together and with other industry leaders to create an important ecosystem of partners who can help realize the goal of additive manufacturing as a viable production alternative.
"At Siemens, we see additive manufacturing as a transformative digital force that is empowering companies to reimagine their products and factories to achieve new levels of business performance," said Zvi Feuer, senior vice president of Manufacturing Engineering Software, Siemens PLM Software. "Deepening our partnership with HP and driving their innovative 3D printing technology is especially important as companies look to increase speed to market, differentiate on product performance, simplify production and supply chain operations, and implement new business models. As products become more complex and individualized, we look forward to the next frontier of 3D printed parts with multiple materials, tunable mechanical properties and integrated electronics."
For more information please see: Siemens is industrializing additive manufacturing one solution and partner at a time.
Based on dimensional accuracy of ±0.2 mm/0.008 inches, measured after sand blasting. See hp.com/go/3Dmaterials for more info on materials specifications. Based on the following mechanical properties: Tensile strength at 50, Modulus Z 1900, Modulus XY 1900. ASTM standard tests with PA-12 material.
Based on internal testing and simulation, HP Jet Fusion 3D printing solution average printing time is up to 10x faster than FDM & SLS printer solutions from $100,000 USD to $300,000 USD on market as of April 2016. Testing variables: Part Quantity -1 full bucket of parts from HP Jet Fusion 3D at 20% of packing density vs same number of parts on above-mentioned competitive devices; Part size: 30g; Layer thickness: 0.1mm/0.004 inches. Fast Cooling is enabled by HP Jet Fusion 3D Processing Station with Fast Cooling, available in 2017. HP Jet Fusion 3D Processing Station with Fast Cooling accelerates parts cooling time vs recommended manufacturer time of SLS printer solutions from $100,000 USD to $300,000 USD, as tested in April 2016. FDM not applicable.
Based on internal testing and public data, HP Jet Fusion 3D printing solution average printing cost-per-part is half the cost of comparable FDM & SLS printer solutions from $100,000 USD to $300,000 USD on market as of April 2016. Cost analysis based on: standard solution configuration price, supplies price, and maintenance costs recommended by manufacturer. Cost criteria: printing 1-2 buckets per day/ 5 days per week over 1 year of 30 grams parts at 10% packing density using the powder reusability ratio recommended by manufacturer.
Siemens AG (Berlin and Munich) is a global technology powerhouse that has stood for engineering excellence, innovation, quality, reliability and internationality for more than 165 years. The company is active in more than 200 countries, focusing on the areas of electrification, automation and digitalization. One of the world's largest producers of energy-efficient, resource-saving technologies, Siemens is No. 1 in offshore wind turbine construction, a leading supplier of gas and steam turbines for power generation, a major provider of power transmission solutions and a pioneer in infrastructure solutions as well as automation, drive and software solutions for industry. The company is also a leading provider of medical imaging equipment – such as computed tomography and magnetic resonance imaging systems – and a leader in laboratory diagnostics as well as clinical IT. In fiscal 2015, which ended on September 30, 2015, Siemens generated revenue of €75.6 billion and net income of €7.4 billion. At the end of September 2015, the company had around 348,000 employees worldwide. Further information is available on the Internet at www.siemens.com.
Siemens PLM Software, a business unit of the Siemens Digital Factory Division, is a leading global provider of software solutions to drive the digital transformation of industry, creating new opportunities for manufacturers to realize innovation. With headquarters in Plano, Texas, and over 140,000 customers worldwide, Siemens PLM Software works with companies of all sizes to transform the way ideas come to life, the way products are realized, and the way products and assets in operation are used and understood. For more information on Siemens PLM Software products and services, visit www.siemens.com/plm.
HP Inc. creates technology that makes life better for everyone, everywhere. Through our portfolio of printers, PCs, mobile devices, solutions and services, we engineer experiences that amaze. More information about HP Inc. is available at http://www.hp.com.
Note: Siemens and the Siemens logo are trademarks or registered trademarks of Siemens AG. NX is a trademark or registered trademark of Siemens Product Lifecycle Management Software Inc. or its subsidiaries in the United States and in other countries. All other trademarks, registered trademarks or service marks belong to their respective holders.
Comments (0)
This post does not have any comments. Be the first to leave a comment below.
---
Post A Comment
You must be logged in before you can post a comment. Login now.
Featured Product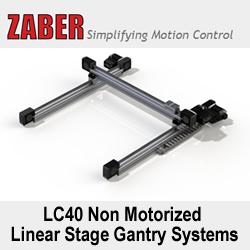 A Zaber gantry kit comes with everything you need to build a customized XY gantry system or XYZ gantry system. These gantry systems feature coordinated multi-axis motion, plug-and-play operation, easy integration with end-effector options, and built-in IO and E-Stop capabilities. An intuitive ASCII interface allows the user to easily communicate with the gantry systems using our free software, either Zaber Motion Library with APIs for several popular languages or Zaber Console. Third party terminal programs that can communicate over a serial port can also be used.