Spider robots on the move for additive manufacturing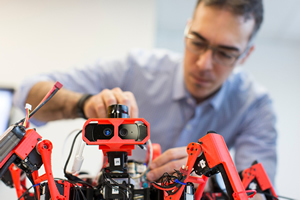 Stuart Nathan for The Engineer: One possible vision of the future could be taking shape at Siemens Robotics Labs at Princeton in New Jersey, where a team of engineers is developing autonomous robots equipped with vision, processing and additive manufacturing systems, designed to cooperate on additive manufacturing tasks.
In the form of robotic spiders, the systems are aimed at applications such as collaborative manufacture of automotive bodies, ship hulls or aircraft fuselages, explained project leader Livio Dalloro, head of Siemens Product Design, Modelling and Simulation Research Group.
Like several concepts in mobile additive manufacture, the Spider bots grew out of a concept to build bases for exploration on the Moon and other planets.
Still very much in development phase, the Siemens Spiders currently print in a mixture of cornstarch and sugars, but plastics and even concrete are possible for future generations. The aim of the project was to develop manufacturing machines that can autonomously evaluate a task, divide it between themselves and collaborate to complete it. For example, when an individual robot reaches the end of its battery charge, it will transmit its position to a fully-charged unit that can take over while it recharges. Full Article:
Comments (0)
This post does not have any comments. Be the first to leave a comment below.
---
Post A Comment
You must be logged in before you can post a comment. Login now.
Featured Product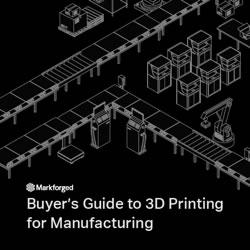 3D printing has become a powerful force in today's manufacturing industry from prototyping to tooling and fixtures to custom, end-use parts. Many businesses struggle to find the right solutions to fit their needs and provide ROI. Selecting the right platform to prevent manufacturing roadblocks is vital to optimizing your manufacturing line productivity. Download the all new buyer's guide to help you evaluate the benefits of 3D printing and dispel misconceptions, understand the pros/cons of various 3D printing processes and materials, and assess the key considerations in selecting a 3D printer.