Could Pittsburgh become the Silicon Valley of 3D Printing?
OZY.com: Mohammad Ehteshami has spent a lot of time explaining the industry-disrupting, change-ringing possibilities of 3D printing.
By throwing out traditional manufacturing methods, it blows design possibilities wide open. As an example, Ehteshami recounts how, a few years ago, a team of eight GE Aviation engineers decided to find out whether they could 3D print a helicopter engine. Using a laser beam to "print" and weld together parts from hair-thin layers of metal powder — as opposed to cutting complicated parts and shapes from pieces of material — the team succeeded in reducing the number of components in the design from 900 to 14. According to GE, these printed parts were also 40 percent lighter — which would save on fuel — and 60 percent cheaper. "To make these parts the ordinary way, you typically need 10 to 15 suppliers. You have tolerances, you have nuts, bolts, welds and braces," Ehteshami explains. But with 3D printing, he says, "all of that went away."
Ehteshami is the man who runs GE Additive — the multinational conglomerate's business arm dedicated to 3D printing. 3D printing is often referred to as additive manufacturing, reflecting that additive technology makes products by adding layers of material from the ground up, rather than subtracting pieces from larger sheets of material. Full Article:
Comments (0)
This post does not have any comments. Be the first to leave a comment below.
---
Post A Comment
You must be logged in before you can post a comment. Login now.
Featured Product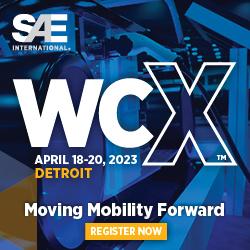 The COMVEC™ Technology Connection is the only North American event that addresses vehicles and equipment spanning the on-highway, off-highway, agricultural, construction, industrial, military and mining sectors. The content for this event is driven by the need to reduce C02 emissions and improve vehicle efficiencies for fuel savings. COMVEC covers the latest and critical need-to-know information impacting global commercial vehicles today and in the future. Make plans to join 850+ technical experts and business leaders for 3 days of professional development in the way of expert-led panel discussions, compelling technical sessions, influential keynotes, world-class networking, and a technology-driven exhibit show floor.