A 10K tiny house 3D-printed in 24 hours
Lacy Cooke for Inhabitat: Building a house typically takes months, exacerbating the housing crisis so many people face worldwide. Apis Cor, a San Francisco-based company that specializes in 3D-printing, decided to tackle that crisis with a groundbreaking mobile 3D-printer that can print an entire 400-square-foot tiny home in just 24 hours. What's more, doing so costs just over $10,000 – a steal compared to most modern homes.
On their website, Apis Cor says the construction industry may be sluggish now, but they will persevere in disrupting that industry "until everyone is able to afford a place to live." Their revolutionary mobile 3D-printer is small enough to be transported, so assembly and transportation costs can be slashed. Although their mobile printer only needs a day to print a home from a concrete mixture, the company says their buildings will last up to 175 years. Not only is their process speedy, but environmentally friendly and affordable too. Cont'd...
Comments (0)
This post does not have any comments. Be the first to leave a comment below.
---
Post A Comment
You must be logged in before you can post a comment. Login now.
Featured Product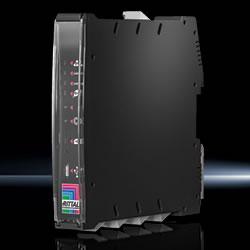 Download the Rittal Fact Book, we'll show you side-by-side product comparisons of Rittal and competitive products, and let you decide. You are an innovator. Your mind runs with "What if?" and the status quo can always be improved. When you find a supplier like Rittal who is forward thinking, you know you've found a partner. A supplier known worldwide for equipment that incorporates cutting edge technology, designed for efficiency, and solves problems other engineers hadn't even considered yet. A company that lives the Industry 4.0 world and puts it into practice in every step of the process.