A 10K tiny house 3D-printed in 24 hours
Lacy Cooke for Inhabitat: Building a house typically takes months, exacerbating the housing crisis so many people face worldwide. Apis Cor, a San Francisco-based company that specializes in 3D-printing, decided to tackle that crisis with a groundbreaking mobile 3D-printer that can print an entire 400-square-foot tiny home in just 24 hours. What's more, doing so costs just over $10,000 – a steal compared to most modern homes.
On their website, Apis Cor says the construction industry may be sluggish now, but they will persevere in disrupting that industry "until everyone is able to afford a place to live." Their revolutionary mobile 3D-printer is small enough to be transported, so assembly and transportation costs can be slashed. Although their mobile printer only needs a day to print a home from a concrete mixture, the company says their buildings will last up to 175 years. Not only is their process speedy, but environmentally friendly and affordable too. Cont'd...
Comments (0)
This post does not have any comments. Be the first to leave a comment below.
---
Post A Comment
You must be logged in before you can post a comment. Login now.
Featured Product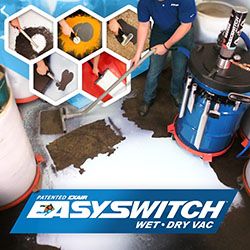 EXAIR's compressed air operated Heavy Duty HEPA Vac attaches to an ordinary 30, 55, or 110 gallon open top drum to turn it into a powerful, HEPA (High Efficiency Particulate Air) quality, industrial vacuum cleaner. Like the Heavy Duty Dry Vac, it's powerfully designed to move more material with less wear. Engineered for dusty environments that require regular cleaning, the HEPA filter is designed with high capacity in mind. Ordinary vacuums can clog up quickly in environments with an abundance of dust or particulates. An economical, easily maintained pre-filter stops larger particles of debris while the HEPA filter handles smaller matter. The Heavy Duty HEPA Vac does not use electricity and has no moving parts, assuring maintenance free operation. The Heavy Duty HEPA Vac's lever lock drum lid fits any open top 30, 55 or 110 gallon drum. Moving it from one drum to another quickly, making it easy to keep different materials separate for recycling. www.exair.com/184/hepa.dirpr.htm