The Biggest Challenges of Data-Driven Manufacturing
Willy C. Shih and Helmuth Ludwig for Harvard Business Review: The widespread deployment of low-cost sensors and their connection to the internet has generated a great deal of excitement (and hype) about the future of manufacturing. The internet of things (IoT) and industrial internet in the United States, Industrie 4.0 in Germany, and 物联网 (wù lián wăng) in China are all centered on the application of big data and analytics to creating the next generation of manufacturing: using data to reduce costs through next generation sales and operations planning, dramatically improved productivity, supply chain and distribution optimization, and new types of after-sales services. In fact, IoT is at the peak of Gartner's 2015 hype cycle, which suggests the next phase will be disillusionment, and it will be years before we see real productivity gains.
We believe data-driven manufacturing is indeed the next wave that will drive efficient and responsive production systems. But to get beyond the hype, managers need to understand some underlying challenges and paradigm shifts. While there are a multitude of challenges on the road to successful implementation, we think there are four especially important ones. Cont'd...
Comments (0)
This post does not have any comments. Be the first to leave a comment below.
---
Post A Comment
You must be logged in before you can post a comment. Login now.
Featured Product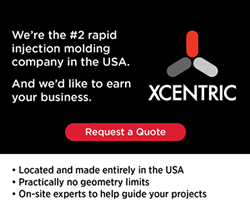 Xcentric plastic injection molding services focus on rapid delivery of prototype and low-volume production components. Our production processes are streamlined such that we typically deliver first articles in less than 15 business days, and for simple expedited projects in as little as five days. At the other end of the spectrum, we frequently produce components for customers needing a few hundred thousand components as a bridge to higher productivity molds. Over time, we have earned a reputation for being able to handle highly complex projects, overmolding, custom insert molding, and other complicated projects much faster than with traditional tooling, often helping our clients get to market weeks, if not months earlier. At Xcentric, every mold is designed and fabricated and all production is run in one of our two Michigan-based facilities.