The Biggest Challenges of Data-Driven Manufacturing
Willy C. Shih and Helmuth Ludwig for Harvard Business Review: The widespread deployment of low-cost sensors and their connection to the internet has generated a great deal of excitement (and hype) about the future of manufacturing. The internet of things (IoT) and industrial internet in the United States, Industrie 4.0 in Germany, and 物联网 (wù lián wăng) in China are all centered on the application of big data and analytics to creating the next generation of manufacturing: using data to reduce costs through next generation sales and operations planning, dramatically improved productivity, supply chain and distribution optimization, and new types of after-sales services. In fact, IoT is at the peak of Gartner's 2015 hype cycle, which suggests the next phase will be disillusionment, and it will be years before we see real productivity gains.
We believe data-driven manufacturing is indeed the next wave that will drive efficient and responsive production systems. But to get beyond the hype, managers need to understand some underlying challenges and paradigm shifts. While there are a multitude of challenges on the road to successful implementation, we think there are four especially important ones. Cont'd...
Comments (0)
This post does not have any comments. Be the first to leave a comment below.
---
Post A Comment
You must be logged in before you can post a comment. Login now.
Featured Product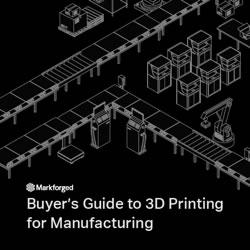 3D printing has become a powerful force in today's manufacturing industry from prototyping to tooling and fixtures to custom, end-use parts. Many businesses struggle to find the right solutions to fit their needs and provide ROI. Selecting the right platform to prevent manufacturing roadblocks is vital to optimizing your manufacturing line productivity. Download the all new buyer's guide to help you evaluate the benefits of 3D printing and dispel misconceptions, understand the pros/cons of various 3D printing processes and materials, and assess the key considerations in selecting a 3D printer.