Giving robots a more nimble grasp
Engineers use the environment to give simple robotic grippers more dexterity.
Engineers at MIT have now hit upon a way to impart more dexterity to simple robotic grippers: using the environment as a helping hand. The team, led by Alberto Rodriguez, an assistant professor of mechanical engineering, and graduate student Nikhil Chavan-Dafle, has developed a model that predicts the force with which a robotic gripper needs to push against various fixtures in the environment in order to adjust its grasp on an object.
Comments (0)
This post does not have any comments. Be the first to leave a comment below.
---
Post A Comment
You must be logged in before you can post a comment. Login now.
Featured Product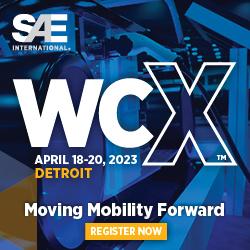 The largest technical mobility event in North America returns to Detroit from April 18-20, 2023. Join thousands of engineers, executives, suppliers, academics and R&D professionals for WCX™ World Congress Experience to exchange ideas, discuss today's challenges, and build powerful relationships to move your career and the mobility industry forward. Register today at sae.org/wcx.