Rethinks New Robot: Sawyer
From Rethink:
Introducing Sawyer – the revolutionary new high performance collaborative robot designed to execute machine tending, circuit board testing and other precise tasks that are impractical to automate with industrial robots.
Smaller Footprint, Longer Reach
Smaller and lighter weight than Baxter, and with 7 DOF and a 1026 mm reach, Sawyer can maneuver into the tight spaces and varied alignments of work cells designed for humans.
International Availability
With a base price of $29,000, Sawyer will initially be available in North America, Europe, China and Japan, with limited availability beginning in mid-2015.
Intera 3
Like Baxter, Sawyer is powered by the industry's best and most intuitive software platform, Intera. It features the same iconic "face" screen (with a refreshed and even more expressive design) that helps it communicate with co-workers, along with the train-by-demonstration user interface that revolutionized how robots can be deployed on factory floors. Sawyer runs on the same version of Intera as Baxter, and will continue to evolve and improve with regular upgrades... (more details) (more about Intera software)
Comments (0)
This post does not have any comments. Be the first to leave a comment below.
---
Post A Comment
You must be logged in before you can post a comment. Login now.
Featured Product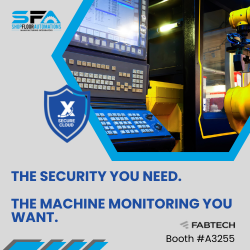 Disparate machines, each with a unique control system and communication protocol with varying ages, can create challenges for manufacturers driving continuous improvement initiatives. There is often limited visibility to make data-driven decisions that can impact every aspect of a manufacturing organization. The Scytec DataXchange machine monitoring solution resolves these issues by capturing real-time, Industrial Internet of Things (IIoT) data from a variety of equipment - from CNCs and PLCs, to robots and manual machinery - through universal machine connections. Leveraging automated data collection, DataXchange exposes and synthesizes equipment data to give your teams full transparency on the shop floor to transform your business into a smart factory.