Rethinks New Robot: Sawyer
From Rethink:
Introducing Sawyer – the revolutionary new high performance collaborative robot designed to execute machine tending, circuit board testing and other precise tasks that are impractical to automate with industrial robots.
Smaller Footprint, Longer Reach
Smaller and lighter weight than Baxter, and with 7 DOF and a 1026 mm reach, Sawyer can maneuver into the tight spaces and varied alignments of work cells designed for humans.
International Availability
With a base price of $29,000, Sawyer will initially be available in North America, Europe, China and Japan, with limited availability beginning in mid-2015.
Intera 3
Like Baxter, Sawyer is powered by the industry's best and most intuitive software platform, Intera. It features the same iconic "face" screen (with a refreshed and even more expressive design) that helps it communicate with co-workers, along with the train-by-demonstration user interface that revolutionized how robots can be deployed on factory floors. Sawyer runs on the same version of Intera as Baxter, and will continue to evolve and improve with regular upgrades... (more details) (more about Intera software)
Comments (0)
This post does not have any comments. Be the first to leave a comment below.
---
Post A Comment
You must be logged in before you can post a comment. Login now.
Featured Product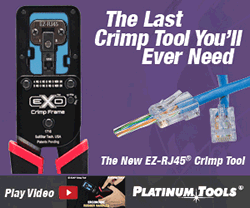 Platinum Tools is proud to present the newly patented EXO Crimp Frame® and EZ-RJ45® Die as our new EZ-RJ45 Crimp Tool! Built to terminate the original EZ-RJ45 connectors, which have been a staple in the industry for almost two decades, this crimp tool improves the trim and crimping processes of EZ-RJ45 connectors by using a single cycle crimp and flush trim.