First-of-a-kind tray sealing solution delivers more throughput in a smaller footprint with fewer staff
Harpak-ULMA, the industry leader in smart, connected packaging solutions, announces a breakthrough in tray sealing technology - the Mondini Trave Sinfonia® offers unparalleled productivity and cost savings. This solution enables snack and meal producers to dramatically increase packaging throughput in a smaller more flexible footprint with greatly reduced labor requirements. Producers can now fully automate tray packaging processes, while enjoying unparalleled control of the product loading (positional accuracy within 10 microns), sealing, and unloading process. This highly simplified process is combined with Mondini's new, next generation sealer: its largest sealer to date, a 1500mm long tooling footprint that delivers 33,000 pounds of sealing pressure. The new Mondini sealer is seamlessly integrated with the electronically controlled magnetic track system - creating a unique tray selaer configuration that is the first of its kind. It allows the Trave Sinfonia to achieve unprecedented tray throughput and efficiency in a compact form factor that requires significantly less manual interaction.

Integrating a software-controlled, magnetic track system as part of the sealers bottom tooling is a breakthrough in tray sealing technology. The magnetic rail carries independent trolleys, known as nests. Each nest acts as the bottom sealing tool, eliminating any need to remove the package from the nest to seal it. A programmable software interface makes it easy to customize control with pinpoint accuracy each individual shuttle. Unlike mechanical systems, which rely on pusher arms, conveyors vision systems or sensors to index tray placement, this digital system delivers precise control of each tray's position, velocity, and acceleration electronically. This increased level of control is what optimizes the tray sealing process -- delivering maximum efficiency and adaptability through tray movement customization. In addition, traditional infeed and outfeed belts are eliminated - along with associated guides, pacers, belts, and pusher arms, transition points- not to mention the associated floor space. The result is a frictionless transfer contributing to individual tray control during packaging while simplifying maintenance.
"The ability to optimize each aspect of the packaging process individually while increasing control - along with reduced machine complexity and footprint - is unique," said Carlo Bergonzi, Tray Seal manager at Harpak-ULMA. " In a typical packaging line, the slowest or least efficient point dictates line speed and efficiency. In this case such constraints do not gate an individual nest. The new system is a huge efficiency boost to automated loading as each nest can move independently to whatever loading station is needed. In another example, we can load intermittently at one depositor and continuously at another. It's a very flexible system."
The ability to individually optimize each step in the process by independently controlling each nest's motion is the key to achieving optimal efficiency during the tray-sealing process. It is particularly beneficial when dealing with different ingredients or materials that require varying loading speeds. This approach reduces the impact of slow points and inefficiencies, resulting in a substantial boost in productivity.
"The Trave Sinfonia drives significant long-term productivity," said Mr. Bergonzi. "Mondini created something truly unique; they designed a tray sealer that takes speed and precision to a whole new level. They maximized both it's automation and OEE through a design that replaces mechanical processes with electronic controls for simplicity and flexibility. As a result, they've achieved the highest throughput on a tray sealer we ever seen. All of that translates into lower total cost of ownership - especially for Producers looking to fully automate multi-product snack lines. They'll see the advantages immediately. Even its name, 'Sinfonia,' evokes the harmony and synergy of different elements working together. Like a symphony, Trave Sinfonia® provides seamless coordination across multiple automated loading points. It is the ideal solution for snack trays, lunch kits, and other similar applications."
Harpak-ULMA is showcasing Trave Sinfonia for the first time in the U.S., following its May debut at Interpack in Germany. "The innovative system is a game-changing solution for snack producers and others seeking increased productivity and efficiency in their tray sealing operations," Mr. Bergonzi said.
For more information about Trave Sinfonia® and how it can transform your manufacturing processes, please visit https://www.harpak-ulma.com/equipment/trave-sinfonia/, or experience a live demonstration at Harpak-ULMA's new Customer Experience Center in Costa Mesa, Calif. Call (508) 884-2500 for arrangements.
Be sure to visit Harpak-ULMA at PACK EXPO, September 11-13, at Booth #6101 or Booth #6188 in the Las Vegas Convention Center.
About Harpak-ULMA
Harpak-ULMA is the North American arm of ULMA, a $1B industry leader in complete packaging line solutions for Food, Medical, Bakery, and Industrial products. Harpak-ULMA provides smart, connected packaging systems utilizing Rockwell Automation's controls and information platforms to deliver greater efficiency, uptime, and throughput, as well as better package quality and reduced waste. Well-designed, reliable solutions reduce customers' total cost of ownership, help them overcome the challenges of an aging and evolving workforce, and improve control of maintenance expenses with competitive parts sourcing. In addition to offering ULMA primary packaging systems and comprehensive automation solutions, Harpak-ULMA is the exclusive North American distributor of G. Mondini tray sealers. Harpak-ULMA joined the Rockwell Automation Partner Network in 2018 as part of its initiative to build and deploy smart, connected packaging solutions.
Featured Product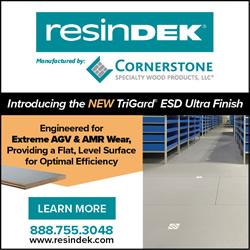 To maximize the productivity of an autonomous mobile robot (AMR) or automatic guided vehicle (AGV) deployment, it's critical to create the optimal environment that allows the vehicles to perform at their peak. For that reason, Cornerstone Specialty Wood Products, LLC® (www.resindek.com) created the TriGard® ESD Ultra finish for its ResinDek® engineered flooring panels. The TriGard ESD Ultra finish is ideal for high-traffic robotic applications characterized by highly repetitive movement patterns and defined travel paths.