The AquaGard GT leads an impressive lineup of conveyors in action in booth C-1455 at PACK EXPO 2023, September 11-13, at the Las Vegas Convention Center in Las Vegas.
HARTLAND, Wis., (August 14, 2023) — If you are looking for a sure bet in Las Vegas, it's the AquaGard GT, a new conveyor system that combines the strengths of Dorner and Garvey®, both Columbus McKinnon brands. The AquaGard GT leads an impressive lineup of conveyors in action in booth C-1455 at PACK EXPO 2023, September 11-13, at the Las Vegas Convention Center in Las Vegas.

Dorner (www.dornerconveyors.com) is a global leader in conveyor automation system design, manufacturing, and integration. Garvey (www.garvey.com) is a recognized leader in the conveyor and accumulation industry, serving customers of all sizes primarily in the food, beverage, pharmaceutical and household product industries.
The AquaGard GT is a meticulously designed infeed and outfeed conveyor ideal for accumulation-type applications to prevent bottlenecks in industries such as packaging, bottling, dry food processing, and part handling. All components (except motors) are either stainless steel or FDA-approved plastics, which are ideal for operating in environments that require wipe-down or occasional washdown cleanings of the conveyor.
The AquaGard GT integrates features and benefits such as powered transfer units, flush side tails, and pre-engineered transfer modules, among others that in-house machine builders cannot match. The conveyor is competitively priced and comes with a short 10-day lead time.
At PACK EXPO 2023, the AquaGard GT will be operating in a fully functional loop with Infinity™ and Bi-Flow™ accumulation tables from Garvey. A versatile machine, the Infinity uses Garvey's patented technology to accumulate and sort unstable products at high speeds into a single or multi-lane configuration. The Bi-Flow uses opposing conveyor movement to create a buffer for product accumulation in a small footprint. The loop also includes Dorner's FlexMove Helix and Wedge conveyors which allow vertical product movement to maximize a smaller footprint. This demonstration illustrates the seamless integration Dorner and Garvey can bring to industries worldwide to maximize production in accumulation-type applications.
Show attendees will see a second operating loop highlighting the DCMove belted and the 2700 Medium Duty conveyors. DCMove conveyors provide a streamlined approach to conveyance, which more industrial-focused material handling applications call for in their equipment. Helping achieve that goal is the conveyor's painted steel frame, which includes the right amount of strength and agility for material handling applications.
The second portion of this loop is the 2700 Medium Duty Conveyor, which adds an extra boost in load capacity to carry heavier products for various industrial automation and packaging applications including palletizers, multi-lane processing, case- and tray-handling and end-of-line packaging.
A third operating loop linking two 3200 Series conveyors with Activated Roller Belt (ARB) technology, a belted Edge Roller Technology (ERT), a FlexMove Side Acting Merge Module and a Powered Side Guide showcases Dorner's package-handling capabilities.
Conveyors with ARB technology are perfect for moving boxes and packages in merging, diverting and aligning applications. They use low- and high-friction angled rollers within the belt to help smoothly guide and align items. ERT platforms employ Dorner's patented Edge Roller gear-drive technology to move product smoothly for pacing packages, bags and boxes. The FlexMove Side Acting Merge Module is a fully mechanical design to easily merge products from two lanes into one on FlexMove conveyors. Finally, Dorner's Power Side Guide positions a compact 2200 Series belted conveyor on its side to create a simple pneumatic side plow guide that can pull or eliminate gaps as needed.
PACK EXPO attendees can see several other conveyor systems on display, including a fourth operating loop highlighting Dorner's sanitary platforms. The AquaPruf VBT (Vertical Belt Technology) conveyor, designed to move bulk products in straight-up 90° sanitary applications, features a proprietary staggered sidewall belt designed to increase pocket capacity and improve product release. The AquaGard LPZ Conveyor can be configured with one or two fixed angle points that allow the conveyor to accommodate a variety of height and angle requirements. Lastly, the AquaGard Modular Belt Conveyor features a center bearing to eliminate friction. It can carry a heavier load and allows four curves to be driven by a single motor, which saves valuable floor space as the conveyor can make tight turns around existing machinery and equipment without being hindered by extra motors.
Finally, Dorner will feature the versatility of the low profile 2200 Series in its own operating loop. The 2200 Series features a stronger, single-piece frame design that reduces the overall number of needed stands. The frame is a Universal T-Slot compatible with industry-standard hardware, making attaching accessories and guiding fast and simple. The 2200 Series loop moves product through 90° turns as it diverts items quickly and accurately into various lanes with the use of Precison Move technology.
For pallet movement Dorner will showcase the Shuttle ERT250, which uses rollers to move pallet conveyors smoothly with no friction.
Rounding out the show will be a demo of Columbus McKinnon's newest acquisition montratec and its intelligent monorail shuttle system which will be expanding in more markets soon.
To see how the AquaGard GT, along with the rest of Dorner's conveyor platforms can help your automation, e-commerce, material handling, food and packaging applications, make plans to visit Dorner in booth C-1455 at PACK EXPO 2023. For more information on Dorner's conveyor platforms, visit www.dornerconveyors.com.
Connect with Dorner on Facebook at www.facebook.com/dornerconveyors
Follow Dorner on Twitter at www.twitter.com/dornerconveyors
Subscribe to Dorner on YouTube at https://www.youtube.com/user/DornerConveyors
Follow Dorner on LinkedIn at www.linkedin.com/company/dorner-mfg-corp
###
Hartland, Wisconsin-based Dorner is a world leader in the design, manufacture and distribution of high-quality conveyors and related equipment. Since 1966, companies from around the world have turned to Dorner conveyors for improved efficiency and productivity. For more information about products or company news, visit Dorner's Web site at www.dornerconveyors.com or call 1-800-397-8664.
Featured Product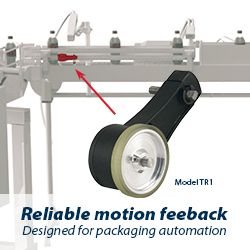 The Model TR1 Tru-Trac® linear measurement solution is a versatile option for tracking velocity, position, or distance over a wide variety of surfaces. An integrated encoder, measuring wheel, and spring-loaded torsion arm in one, compact unit, the Model TR1 is easy to install. The spring-loaded torsion arm offers adjustable torsion load, allowing the Model TR1 to be mounted in almost any orientation - even upside-down. The threaded shaft on the pivot axis is field reversible, providing mounting access from either side. With operating speeds up to 3000 feet per minute, a wide variety of configuration options - including multiple wheel material options - and a housing made from a durable, conductive composite material that minimizes static buildup, the Model TR1 Tru-Trac® is the ideal solution for countless applications.