Easy to implement material handling options offer quick set-up and flexibility
As retailers and distributors rush to launch micro fulfillment centers (MFC) that bring distribution networks closer to the customer, conveyor solutions that are easy to implement and offer material handling flexibility should be at the top of their list, according to Ultimation Industries. Ultimation is the leading direct-to-consumer conveyor manufacturer, specializing in solving productivity challenges with fast-to-deploy solutions for the vertical farming, food processing, automotive, heavy equipment, warehousing, fulfillment, and delivery sectors.

The global market for micro fulfillment centers (MFC) is projected to grow from $3.53 billion in 2022 to more than $113 billion by 2032. Experts estimate that micro fulfillment can reduce cost per order by 75 percent.
"Micro fulfillment centers are becoming an important part of e-commerce, e-grocery, and other industries as companies look to reduce last-mile costs and satisfy customer demands for faster delivery," said Kali Cresent, general manager for Ultimation. "Strategic use of quick-ship conveyors and other material handling solutions can solve many of the problems they face in trying to scale operations quickly."
Retailers and distributors face a number of challenges when launching micro fulfillment centers:
Scaling fast, without the need for specialized engineering. Time is a critical factor with MFC start-ups and customized industrial automation equipment often takes too long to design, develop and implement. Quick-ship conveyor segments that have been proven in demanding environments can be configured relatively easily. Motor-driven roller conveyors are a mainstay of warehouses and distribution centers due to their fast, smooth package movement and sensors that ensure packages don't get damaged by crushing against each other. Various lengths, widths, zones, and roller spacing configurations, including curved sections, provide the ability to customize a solution without specialized engineering expertise.
Maximizing a small footprint. Micro fulfillment centers are, by design, small. Maximizing square footage by better utilizing vertical space through lifters and overhead conveyor systems is an affordable, effective solution that can be deployed relatively quickly. Floor-mounted, self-supporting systems with a variety of carrier capabilities to handle multiple load weights and sizes are available and require no additional civil or integration engineering.
Moving food quickly and safely. Food-grade conveyors are one of the most important parts of the food and beverage industry because they transport raw ingredients, organic materials, and other consumable goods within the facility and ultimately out to the consumer. Unlike regular industrial conveyors, food and washdown material handling solutions must be constructed of sanitary and hygienic materials to meet rigorous safety standards. Belt conveyors are often used in food applications because they offer a smooth, continuous surface and are easy to clean. Roller conveyors come in a variety of types and can be customized based on wash-down environment, specific temperatures, and other variables.
Flexibility to respond to peak periods. MFCs that experience erratic shifts in demand or sharp seasonal spikes need conveyor solutions that can add capacity on short (or no!) notice. Flexible conveyors can expand when needed, and contract for storage. These conveyors are a simple solution for moving products more efficiently and setting up only takes a few minutes. Flexible conveyors are commonly used at shipping docks or at the end of another conveyor system to connect to a truck or van.
Making seamless connections inside the warehouse. MFCs often require different material handling solutions to load, move, lift, and offload products within the facility. Ultimation recently introduced two programmable logic controllers (PLC) and one variable speed controller to its portfolio of on-line, ready-to-ship material handling products that can seamlessly integrate a variety of Ultimation material handling systems within warehouse facilities for greater efficiency.
Speeding products through the warehouse. The same conveyor technology that moves luggage through the world's busiest airports is now available for warehouses.
Portec belt curves and conveyors by Interroll are high-speed, low-maintenance, and can handle small to heavy items. Belt conveyors are available in different configurations ranging from horizontal format to incline and decline formats for even more material handling flexibility.
"Standardized conveyor solutions can be configured in so many different ways that customers get the system that's just right for them at a fraction of the cost of a customized solution," said Cresent. "The Ultimation team can help with making the right choices to get micro distribution centers up and running quickly with the most efficient material handling systems."
For more information about Ultimation Industries conveyor solutions, visit https://www.ultimationinc.com.
About Ultimation
Ultimation Industries, LLC is the leading direct-to-consumer conveyor manufacturer serving the automotive, food processing, vertical farming, heavy equipment, warehousing, fulfillment, and delivery industries. The company offers a line of proprietary automation systems and is also the largest integrator of Jervis Webb Conveyor Systems. Ultimation's e-commerce channel sells Ultimation, Interroll, Itoh Denki, Jervis Webb, and a wide range of other conveyor equipment. Ultimation was recognized in 2020 and 2022 as one of Inc. 5000's fastest growing private companies in America. Ultimation was also named a 2022 Michigan 50 Companies to Watch by Michigan Celebrates Small Business.
Visit https://www.ultimationinc.com/ for the latest product information and news about Ultimation.
Featured Product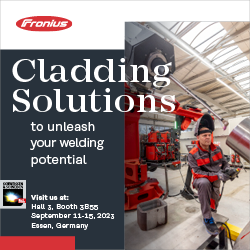 Ever since the invention of our "cold" MAG welding process Cold Metal Transfer (CMT), if not earlier, we have continuously achieved a technological edge in many welding-related areas, resulting in cutting-edge mechanized and automated welding systems. Advanced power source technology stabilizes the arc and ensures perfect welding results. Modern monitoring sensors optimize guidance of the welding torch and compensate for component tolerances. Last but not least, smart data documentation systems assist in perfecting the welding process. Collaborative systems, smart sensor technology, software solutions for data management, and offline programming including welding simulation open up profitable welding opportunities for metal processing companies starting with a single batch. That is why our robotic welding cells prove profitable not only for large companies, but also for small and medium-sized enterprises.