Company had an impressive 2021 with the launch of four new products, comprehensive investments, and double-digit sales increases.
NORD DRIVESYSTEMS experienced many successes in 2021, including the introduction of four innovative products that set new standards in motion control technology. First to arrive were IE5+ synchronous motors - permanent magnet motors that offer the highest available energy efficiency with a compact, hygienic design for easy installation and cleaning. Next was the patented DuoDrive design that brought a revolutionary change to drive system technology by combining high-efficiency IE5+ synchronous motors into a single-stage helical gear unit housing, resulting in improved efficiency, a more compact design, and reduction of system variants. Also launched in 2021 were the decentralized NORDAC ON/ON+ variable frequency drives. These VFDs were developed to meet the special requirements of horizontal conveyor technology, as well as the interact with IE5+ synchronous motors (NORDAC ON+). Additional frame sizes of IE5+ synchronous motors and the NORDAC PRO SK500P control cabinet variable frequency drives were also introduced. Together, these new products showcase NORD's commitment to growth and providing their customers with the most efficient and reliable products to streamline their operations.

In addition to its new products, NORD also completed expansions at several production and assembly facilities to better serve its customers. In the United States, NORD's corporate headquarters added 86,000 sq. ft. and capacity was doubled at their Charlotte, North Carolina production facility. NORD China began construction on a new production plant and NORD Poland completed a factory extension as well as construction of a new motor factory. A new administration building started construction at NORD global headquarters in Bargteheide, Germany, creating an improved work environment for employees as well as making room for new employees as the company grows. NORD Germany also added a new high-bay storage system, ensuring faster, safer deliveries. The 2021 investments have been the largest NORD has made in the company's 50-year history.
2021 saw a large spike in consumer demand for the manufacturing industry and NORD was no exception. To cope with this increase in demand and continue to deliver short lead times, NORD significantly increased their number of employees to over 4,700 worldwide. In the United States, NORD grew their sales by 18.5% and reached a major milestone in their sales history. NORD USA also increased bookings by a record 41% over the previous year. Globally, NORD sales reached $990 million USD (870 million Euros) with sales increasing by about 18% overall. This positive economic development was due to prudent investments, strong innovation, and a worldwide presence with a wide diversification across many industries and regions.
For 2022, NORD is looking towards the future. "As we grow, we will continue to develop new drive technology based on the needs of our customers and we are working diligently to keep the impact of supply chain shortages to an absolute minimum. It has always been our goal to not only serve, but also establish long-term partnerships with our customers", says Torsten Schultz, President of NORD USA. While COVID-19 prevented many in person opportunities in the past year, NORD is looking forward to live presentation opportunities throughout 2022.
Featured Product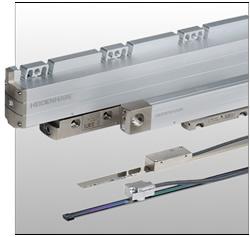 Nothing beats the positioning accuracy of linear encoders from HEIDENHAIN. Available in absolute and incremental versions and ideal for a variety of applications-including machine tools, semiconductor machines and medical machines-these measuring solutions combat a variety of issues that erode precision.