• MVTec has been participating in the development of important machine vision standards since 2005 • The focus is on interoperability and 3D vision • Process automation and machine vision are merging
Munich, September 05, 2019 - To mark its 33rd meeting with the GenICam Standard Group during the IVSM (International Vision Standards Meeting, October 7 to 11 in Stresa, Italy), MVTec Software GmbH (www.mvtec.com), the leading provider of standard machine vision software, is reporting on its active collaboration on important machine vision standards. These include the GenICam (Generic Interface for Cameras) standard, which was launched in 2006 and standardizes software-based access to all kinds of camera features used in machine vision. All current camera standards, such as GigE Vision and CoaXPress, are based on GenICam. MVTec has been contributing to the development of the GenICam standard since 2005. In doing so, the company has been actively involved in initiatives dedicated to the easy interoperability of software and hardware and, in particular, the integration of 3D sensors.

Christoph Zierl, MVTec's Technical Director, also represents the company within the GenICam Standard Group as its Vice-Chair of Marketing & Operations.
MVTec also participates in the integration of process automation and machine vision by promoting the usability of the Open Platform Communications Unified Architecture (OPC UA) standard. OPC UA ensures consistent data exchange between different industrial components regardless of the manufacturer, platform, and operating system. For this purpose, MVTec is collaborating on the OPC UA Companion Specification for Machine Vision (OPC Machine Vision for short) as a member of the VDMA (Mechanical Engineering Industry Association). This is a companion specification that serves the specific needs of the machine vision sector.
And finally, MVTec has been involved in the GigE Vision and USB3 Vision camera standards for several years serving as a member on both Technical Committees. Here again, MVTec focuses on the seamless interfacing of 2D and 3D cameras with software in machine vision applications.
Integrating process automation and machine vision
"Our aim is to play a crucial role in furthering the standardization of machine vision. What began with our work on the GigE Vision and GenICam standards in 2005 is now being continued in the further development of OPC Machine Vision. In this way, we are making a substantial contribution to the seamless integration of process automation and machine vision," explains Christoph Zierl, Technical Director at MVTec Software GmbH.
About MVTec
MVTec is a leading manufacturer of standard software for machine vision. MVTec products are used in all demanding areas of imaging: Semi-conductor industry, web inspection, quality control and inspection applications in general, medicine, 3D vision, and surveillance. MVTec, with its head office in Munich (Germany), has more than 30 established distributors worldwide and in addition, MVTec, LLC works out of Boston, MA (USA). www.mvtec.com
About MVTec HALCON
MVTec HALCON is the comprehensive standard software for machine vision with an integrated development environment (HDevelop) that is used worldwide. It enables cost savings and improved time to market. HALCON's flexible architecture facilitates rapid development of any kind of machine vision application. MVTec HALCON provides outstanding performance and a comprehensive support of multi-core platforms, special instruction sets like AVX2 and NEON, as well as GPU acceleration. It serves all industries, with a library used in hundreds of thousands of installations in all areas of imaging like blob analysis, morphology, matching, measuring, and identification. The software provides the latest state-of-the-art machine vision technologies, such as comprehensive 3D vision and deep learning algorithms.
The software secures your investment by supporting a wide range of operating systems and providing interfaces to hundreds of industrial cameras and frame grabbers, in particular by supporting standards like GenICam, GigE Vision, and USB3 Vision. By default, MVTec HALCON runs on Arm®-based smart cameras and other embedded vision platforms. It can also be ported to various microprocessors/DSPs, operating systems, and compilers. Thus, the software is ideally suited for the use within embedded systems.
www.halcon.com, www.embedded-vision-software.com
About MVTec MERLIC
MVTec MERLIC is the all-in-one software product for quickly building machine vision applications without any need for programming. It is based on MVTec's extensive machine vision expertise and combines reliable, fast performance with ease of use. An image-centered user interface and intuitive interaction concepts like easyTouch provide an efficient workflow, which leads to time and cost savings. MERLIC provides powerful tools to design and build complete machine vision applications with a graphical user interface, integrated PLC communication, and image acquisition based on industry standards.
All standard machine vision tools such as calibration, measuring, counting, checking, reading, position determination, as well as 3D vision with height images are included in MVTec MERLIC. Furthermore, the software is able to execute tools in parallel, increasing overall efficiency and improving the implementation of multi-camera-setups. MERLIC's features are all based on the latest state-of-the-art machine vision technologies, such as matching or deep learning. The software is available for Windows-based PC and embedded platforms, making it ideally suited for use in smart cameras.
www.merlic.com
Featured Product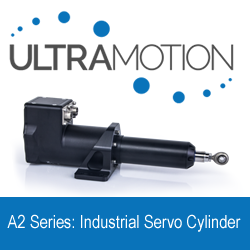 The AM series actuator is our most heavily ruggedized Servo Cylinder model. It features high performance mil-spec connectors and has been hardened to higher magnitude mechanical shock and vibrations. This actuator is suitable for harsh environments.