Podcast presents new avenue for packaging and processing insights
Reston, Va.; Sept. 4, 2019 - PMMI, The Association for Packaging and Processing Technologies, recently launched the UnPACKed with PMMI podcast, a new way to get packaging and processing insights, research and innovations on the go. With the UnPACKed with PMMI podcast, listeners can stay-up-to-date on industry news and trends anywhere at any time.

As host, PMMI's Senior Director of Media and Industry Communications Sean Riley facilitates discussions with industry influencers, executive Q&As and breakdowns of case studies, diving deep into pressing industry business challenges.
"We know that our members are busy, so having an outlet where they can gain industry information anywhere - on the go, in the comfort of their home, in the office or wherever they find the time is important to us," says Tracy Stout, vice president, marketing and communications, PMMI.
To listen, search for "UnPACKed with PMMI" in the iTunes Podcast or Spotify apps on any smartphone. To receive alerts when a new episode is uploaded, click "subscribe."
Current available episodes:
• Robotics: Innovation 2 Implementation
• Bridging the Skills Gap: How to Launch Your Own Manufacturing Day
• Moving Operational Excellence Forward with the OpX Leadership Network
• Get to Know PMMI's CEO
To learn more about each episode, visit pmmi.org/podcast.
About PMMI
PMMI, The Association for Packaging and Processing Technologies, represents more than 900 North American manufacturers and suppliers of equipment, components and materials as well as providers of related equipment and services to the packaging and processing industry. We work to advance a variety of industries by connecting consumer goods companies with manufacturing solutions through the world-class PACK EXPO portfolio of trade shows, leading trade media and a wide range of resources to empower our members. The PACK EXPO trade shows unite the world of packaging and processing to advance the industries they serve: PACK EXPO International, PACK EXPO Las Vegas, Healthcare Packaging EXPO, PACK EXPO East, EXPO PACK México, EXPO PACK Guadalajara and ProFood Tech. PMMI Media Group connects manufacturers to the latest solutions, trends and innovations in packaging and processing year-round through brands including Packaging World, Automation World, Healthcare Packaging, Contract Packaging, ProFood World, Mundo PMMI and OEM. PMMI Business Drivers assist members in pursuing operational excellence through workforce development initiatives, deliver actionable business intelligence on economic, market and industry trends to support members' growth strategies and actively connect the supply chain throughout the year.
Learn more at pmmi.org and packexpo.com and pmmimediagroup.com.
Featured Product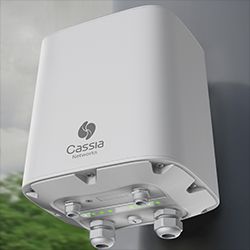 Cassia works with smart IIoT equipment manufacturers to help them overcome their challenges and to provide the competitive edge they need to reach their business goals. We provide companies in various IIoT sectors with a comprehensive suite of enterprise Bluetooth IoT products and solutions they need to enable smart IIoT solutions such as Condition Monitoring, Predictive Maintenance as well as Personnel and Asset Tracking solutions. Cassia's long-range Bluetooth gateways are uniquely designed for today's Industrial IoT enterprises to provide the scalability, flexibility and ease of deployment needed to reduce costs and achieve greater ROI.