Attendees will learn how workforce management software can increase employee retention and combat rising competition for warehouse workers during Open Sky Group's presentation at ProMat 2019 in Chicago's McCormick Place.
Open Sky Group, global specialists in WMS, Labor and TMS software implementations and upgrades, will be presenting "Workforce Management Systems: Taking the Pain out of Staffing Your DC" on Monday, April 8th at 3:00 pm and Thursday, April 11th at 11:15 am at ProMat 2019 in Chicago's McCormick Place. With rising competition for warehouse workers from Amazon, eCommerce and other pressures, companies need to find creative ways to attract and retain the best talent. Open Sky Group will illustrate the ways in which workforce management solutions can aid forecasting and visibility as well as increase retention by helping employers offer the flexibility and empowerment desired by their warehouse workforce. The presentation is free of charge to ProMat attendees.

Jeremy Hudson, presenter and Senior Supply Chain Consultant at Open Sky Group says, "We see firsthand the struggles our clients face with staffing and retaining their warehouse workforce. So many clients use a temporary workforce and very often workers will leave for as little as twenty-five cents per hour increase with a competitor down the street. How do you win that battle? Workforce management is one tool we think can give companies an edge in managing, retaining and empowering their employees."
In addition to presenting at ProMat 2019, Open Sky Group will be exhibiting in Booth S3573 where attendees can stop by the booth and register for a copy of the presentation. Open Sky Group is also participating in Student Days which is a collaborative effort between MHI, the College Industry Council on Material Handling Education (CICMHE), Material Handling Equipment Distributors Association (MHEDA) and the Material Handling Education Foundation (MHEFI). Sponsors give over 200 students the opportunity to attend ProMat, gain insights about what it's like to work in the industry and network with other young professionals.
ProMat 2019, held April 8 - 11 at Chicago's McCormick Place, is the largest expo for manufacturing and supply chain professionals in North and South America.
ABOUT OPEN SKY GROUP
Open Sky Group, global specialists in WMS, Labor and TMS software upgrades and implementations, helps clients to lower costs and risks and reduces time to implement with its proprietary methodology and no-modifications approach. A gold implementation partner and reseller of JDA Warehouse, Workforce, Warehouse Labor and Transportation Management software, Open Sky Group strives every day to be the best consulting partner on the planet for supply chain solutions.
Featured Product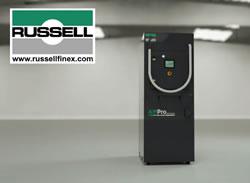 The Russell AMPro Sieve Station™ guarantees the quality of your additive manufacturing (AM) powder, and has been designed to provide optimum sieving efficiency, ensuring your powder is ready for use or reuse as and when you require it. With a simple one-button operation and mobile design, this automated check screener ensures your powder at every stage of the process is qualified for use quickly and safely. The flexibility of the Russell AMPro Sieve Station™ means you can use the system for numerous powder handling tasks - being a modular design ensures the machine can be configured to meet your exact requirements.