Ordering critical replacement parts for 2200 Series conveyors is faster and easier than ever before, thanks to new Parts Kits from Dorner.
HARTLAND, Wis., (July 16, 2018) — Ordering critical replacement parts for 2200 Series conveyors is faster and easier than ever before, thanks to new Parts Kits from Dorner.

These new Parts Kits help ensure you have the necessary key parts on hand for quick repairs to avoid costly downtime. The new Parts Kits for Dorners 2200 Series conveyors come in two levels:
• Level 1 includes a belt and drive tail kit
• Level 2 includes a belt, idler tail kit and drive tail kit
Both kits are available in Dorner D-Tools, site of Dorners conveyor productivity applications, including its CAD Library and Product Configurator.
(https://tools.dornerconveyors.com/Account/Login?ReturnUrl=%2f#/tools)
Parts Kits are a new initiative in Dorners commitment to providing the highest level of aftermarket support to its customers. To support this effort, Dorner recently named Kelly Tebon to lead its Aftermarket Sales Program. Additionally, Parts Kits will soon be available for Dorners 3200 Series, as well as other conveyor platforms in the coming months.
For more information on the new Parts Kits from Dorner, visit www.dornerconveyors.com; to contact Kelly Tebon, he can be reached at Kelly.tebon@dorner.com; 262-369-1338.
Connect with Dorner on Facebook at www.facebook.com/dornerconveyors
Follow Dorner on Twitter at www.twitter.com/dornerconveyors
Subscribe to Dorner on YouTube at https://www.youtube.com/user/DornerConveyors
Follow Dorner on LinkedIn at www.linkedin.com/company/dorner-mfg-corp
###
Hartland, Wisconsin-based Dorner is a world leader in the design, manufacture and distribution of high-quality conveyors and related equipment. Since 1966, companies from around the world have turned to Dorner conveyors for greatly improved efficiency and productivity. For more information about products or company news, visit Dorners Web site at www.dornerconveyors.com or call 1-800-397-8664.
Featured Product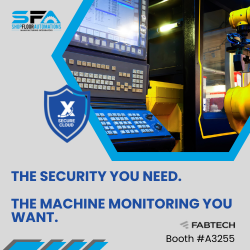 For manufacturers adhering to regulations like International Traffic in Arms (ITAR), Defense Federal Acquisition Regulation Supplement (DFARS) and other security and compliance requirements, the ability to monitor disparate machines, each with a unique control system and communication protocol with varying ages, can make continuous improvement initiatives challenging in the cloud. The Scytec DataXchange solution, available through Shop Floor Automations, resolves these issues by leveraging AWS GovCloud to capture real-time, Industrial Internet of Things (IIoT) data from a variety of equipment - from lasers and press brakes, to saws and robots - through universal machine connections to give teams full transparency on the shop floor through an architected secure cloud solution for a total smart factory transformation.