Diversified Machine Systems announces revolutionary new fixture design to reduce fixture swap times. Through the quick change fixture design, production cycles can be improved without incurring additional labor costs.
Diversified Machine Systems (DMS), an Original Equipment Manufacturer (OEM) of DMS CNC Routers and Large Format Machining Centers, announces an industry changing fixture design now available on all DMS CNC routers.

This revolutionary quick-change fixture dramatically reduces the time required to swap out fixtures on all DMS CNC machines. This tool cuts the fixture replacement time from approximately 15 minutes to just 30 seconds. By drastically reducing the time dedicated to fixture changes, production cycles can be notably improved without incurring any additional labor costs.
The design base holds fixtures within .001" of their original location by utilizing an air lock system. Through pins and ball bearings, the quick-change fixture is able to hold fixtures firmly in place during the routing process. This allows for a clean cut on a variety of materials. This system is designed to be simple enough for any operator to utilize.
The quick-change fixture system offers many levels of customization based on the clients needs. The Diversified Machine Systems engineering team works with each company to understand their specific needs in order to develop a customized solution to address their production concerns. The system can accommodate varying sizes and types of fixtures, and they can all be incorporated into the same system for ease of use.
Another added benefit is the reduced physical strain for the machine operators. Employees will no longer be required to constantly rotate heavy fixtures, leading to improved workplace morale and worker productivity.
The quick-change fixture is available exclusively on DMS machine and is produced in the Advanced Manufacturing Center (AMC) located at the DMS world headquarters in Colorado Springs, CO. The Advanced Manufacturing Center (AMC) is a new in-house resource that provides proof of concept and production consulting services, as well fixturing.
CEO Patrick Bollar said, "The quick-change fixture is something we have created for our customers. DMS is continuously striving to be a better partner and we are constantly working with our customers to find ways to help them improve their process."
For more information visit http://www.DMSCNCROUTERS.com or contact info(at)dmscncrouters(dot)com for additional questions.
About Diversified Machine Systems
Diversified Machine Systems (DMS) is a leading designer and manufacturer of 3 Axis CNC Routers, 5 Axis CNC Machine Centers, and Large Format Machine Centers headquartered in Colorado Springs, CO. With more than 30 years of innovation and industry experience as an Original Equipment Manufacturer (OEM), DMS line of CNC routers and machining centers are routinely used on materials such as wood, composites, aluminum, plastics and foams. Renowned for quality and precision, DMS advanced machining centers are engineered to increase efficiency and productivity, while maintaining the quality and precision leading manufacturers have come to expect.
Diversified Machine Systems was awarded the 2015 Governors Excellence in Exporting Award, named a 2014 Colorado Company to Watch and ranked in the 2014 Top 250 Private Companies in Colorado.
Featured Product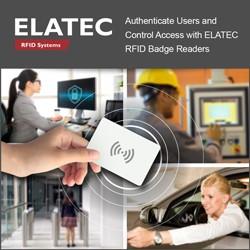 With a tap of the badge, RFID readers from ELATEC provide secure, reliable and easy-to-use user authentication, access control and usage tracking of hardware and software in industrial automation processes. Reader durability in harsh plant floor environments is another essential feature. Choose the right authentication and access control solution and extend RFID card-based capability for the access control of PLC, robot and HMI automation controller software and devices requiring special operator training.