It is universally acknowledged that China is the world's most vigorous battery market and WBE 2023 will be an exchange cooperative platform for battery and its related industries by gathering well-known brands. WBE 2023 is going to be staged on a show floor of 100,000sq.m, hosting 1000+ exhibitors and 80,000 visitors. Exhibition Scope include various kinds of batteries, energy storage, hydrogen energy,etc.
2023 World Battery & Energy Storage Industry Expo (WBE)

Formerly Asia Battery Sourcing Fair (GBF ASIA)
Date: August 8th-9th (9:00-17:00); August 10th (9:00-13:00)
Venue: China Import & Export Fair Complex, Guangzhou
Website: en.battery-expo.com
Preview of WBE 2023
Hosted by eminent trade bodies like Guangdong Battery Industry Association, Dongguan Lithium Battery Industry Association, Tianjin Battery Industry Association, Zhejiang Storage Battery Industry Association, etc., the 2023 show plans to fill a 100,000 sq.m show floor with1,000 exhibitors.
It has so far attracted many big brands as its exhibitors in the past few years, such as CATL, CALB, BAK, Tianneng Group, TeamGiant, Lishen, Sunwoda, Tinci, XCJ, Aoyou Power, Sinowatt, Cham Battery, Xupai, Great Power, etc.
Review of WBE 2022
WBE 2022 hosted a total of 673 exhibitors (up 20%) on a 55,000 sq.m show floor, counting 47856 visits (up 30%). 316 exhibitors were battery makers, making up 46.9% exhibitor attendance. Featuring a lineup of successful entrepreneurs, the 2022 China New Energy Battery Industry Forum gave everyone insight in the latest policies and trends to together promote industry growth.
Exhibition Scope
Various kinds of batteries
Combined batteries for cellphones, interphones, cordless telephone, laptops, digital cameras, portable DVD, emergency lights, electric toys, UPS, railway locomotives and passenger cars, ships, etc.
Power batteries and management systems for electric tools, electric bicycles, electric vehicles, etc.
Energy storage batteries for wind power generation systems, solar photovoltaic systems and wind-solar hybrid systems, etc.
Power storage application and engineering
Battery materials and accessories
Battery manufacturing equipment and testing devices
Supercapacitor
Co-Located Trade Shows & Live Activities
2023 World Power Supply Expo
2023 Solar PV World Expo (PV Guangzhou)
2023 China New Energy Battery Industry Forum
WBE 2023 Appreciation Dinner
WBE organizing committee
Guangzhou Honest Exhibition Co., Ltd
Guangzhou Innovation Exhibition Co., Ltd
Mobile:+8618529457050
Linkedin:Kiki WBE
E-mail:WBE_Kiki@163.com
Website: en.battery-expo.com
Featured Product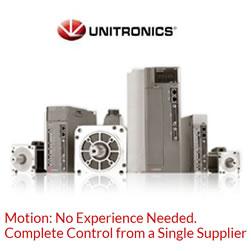 Unitronics' line of AC Servo Drives & Motors changes the traditional approach to motion control. They are simple to set up and painless to program. Unitronics Servos simplify implementation of motion applications while minimizing complexity and reducing development time. Some of the easy-to-use features in this new line include implementing motion control easily with ready-made motion code, embedded diagnostic tools, and automatic communication setup.