Equipment Flexibility Key to Accommodating Changing Applications , The Upside of Automation on Your End-of-Line Operation, The Value of Project Management
Insights from Brenton Engineering Company
Maria Cancino, Ryan Glenn and Josh Goulet | Brenton Engineering Company
Equipment Flexibility Key to Accommodating Changing Applications
A common scenario that many manufacturers have found themselves in over past year is producing products in response to the current economic environment. Many of these items, such as masks, hand sanitizers and others are in hot demand now, and require the right packaging equipment to efficiently produce them. But what happens when interest for those products wane, and companies scale back on their production rate?
These are some of the questions and concerns we've been hearing from customers; some fear that they're going to get stuck with a machine that's not flexible, and could be rendered almost useless when those products aren't in demand anymore.
That isn't a worry when you partner with Brenton. If your output does change and another product line becomes hot a few years down the road, we can retrofit your existing end-of-line system to package different SKUs.
The key is to purchase equipment that is flexible for years to come and adaptable to meet changing applications. Most of our machines are not designed for just one product because we know conditions and applications change. You operate in a very competitive environment and have to be flexible to stay ahead of the game – we do as well. Our equipment is flexible right along with you.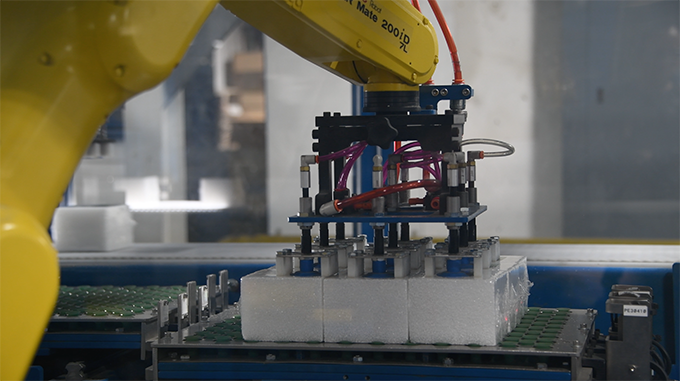 We design our equipment to accommodate a large range of case sizes. Additionally, with our top-load robotic solution, the only thing that needs to change is your end-of-arm tool. So, if in a few years you're running something completely different, the only thing required is to design a new end-of-arm tool, and that's something we can easily do. Once that's installed, your equipment is ready to accommodate a different pack pattern and case size. That's the flexibility already built into our solutions.
If you've never automated your end-of-line packaging, you may be leery about incorporating automation and robotics; and that's understandable. But rest assured, technology today has made that integration a very seamless process and something that shouldn't be feared.
When you're ready to contact us to begin the conversation of automating your packaging line, we'll review your end-of-line processes and explain the areas where technology can make an improvement. Our solutions bring a high level of automation to packaging lines, many of which are typically hand-packed operations. We will walk you through and demonstrate how your new line, now likely staffed by just one or two people instead of eight or 10, will generally provide a full return on investment in two years. We'll also discuss operating a robotic system, which has become much easier to do than in years past; preventive maintenance and other considerations. We've gone to great lengths to take the anxiety out of installing automation.
Flexibility is the key when it comes to end-of-line packaging solutions. We've engineered our equipment to easily meet changing applications to go from one hot product to the next…and that's pretty cool.
The Upside of Automation on Your End-of-Line Operation
One of the reliable things about using a robot is that it always shows up to work; never calls in sick; and does its job without complaining.
With the ongoing labor crunch that is affecting so many industries these days, having that type of reliability on your packaging line is a valuable asset to have. And that is one of the main reasons why we are seeing more queries about adding automaton and robotics to end-of-line operations.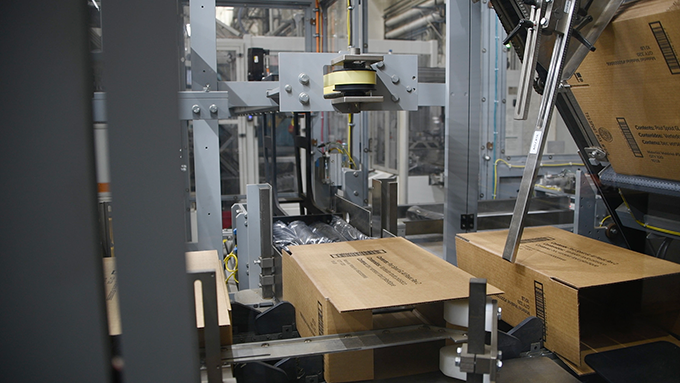 The upside to automation has never been clearer than now. A well-designed system can replace three to four employees (more depending on the application) who were tasked to manually build, pack and stack cases. For many employees, this type of repetitive, strenuous work is not very motivating, which is why retaining staff can be challenging. Automation reduces the number of employees needed to complete menial taskings, while relocating them to areas where they can be more beneficial to the company.
Safety is another advantage of automation. Repeatedly bending over, lifting and stacking pallets can lead to painful back strain injuries. When that occurs, that employee is now off the job and costing you money in lost production, medical bills and workers compensation claims. For employees manually stacking pallets, it is not a question of if they're going to get injured, it's when.
If your end-of-line operations are still performed manually, now may be the time to consider automation and robotics. An increase in efficiency and safety awaits you.
The Value of Project Management
I had a customer recently whose application called for a palletizer, stretch wrapper and conveyor system. Ten years ago, the customer may very well have designed that system themselves and sourced those three products from various vendors.
But that was 10 years ago. Today, we are seeing a shift in the way projects are managed. Many factors have contributed to companies slimming down their engineering staffs over the past several years, such as retirements, low interest in manufacturing among young people, the Covid-19 pandemic and others. This has resulted in a deficiency of tribal knowledge and project expertise, or even having the time to invest in overseeing an end-of-line project. But that's where ProMach can step in.
ProMach is structured to assume project management oversight for engineering and installations of all sizes. The true benefit to the customer is having one point of contact for their project from start to finish. They do not need to waste time and resources calling on three different vendors.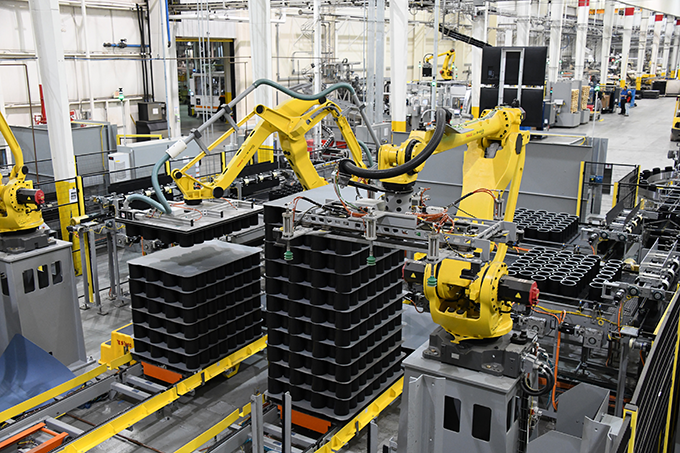 For my customer above, we designed a system with a Brenton palletizer, a stretch wrapper from Orion and an activated roller belt conveyance system from Quest – all of which are ProMach brands. On this project, I took the lead and sourced the equipment and installation. If there were any changes on the project, I handled them.
This line is a great example of ProMach bringing its product brands closer together to better meet the needs of its customers. Projects like this allow customers to have one central point of contact, and that contact really serves as a one-stop, full-service provider by connecting the more than 40 ProMach brands together. This level of project management streamlines the planning process, installation, and start-up curve for packaging lines.
We can also manage higher-level projects where a company may be adding an entire end-of-line system. This could include everything from case formers and packers, label applicators, robotic palletizers, stretch wrappers and the controls. Whether is large or small, we still bring one point of contact to a project. Taking on this level of responsibility really frees up customers to concentrate on the things they do best.
I do not see this trend of diminished staffs reversing anytime soon, which makes our roles as project management facilitators even more important. We know the challenges customers are facing today; we are here to help make their jobs a bit easier … and we have been very successful in doing that through the years.
About Maria Cancino
Maria Cancino is the Director of Product Management, Secondary Packaging for Brenton. She can be reached at Maria.cancino@promachbuilt.com; https://www.brentonengineering.com/
The content & opinions in this article are the author's and do not necessarily represent the views of ManufacturingTomorrow
---
Comments (0)
This post does not have any comments. Be the first to leave a comment below.
---
Post A Comment
You must be logged in before you can post a comment. Login now.
Featured Product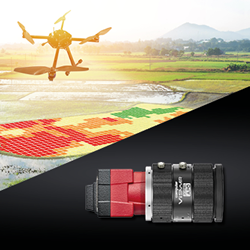 Allied Vision's compact and light weight Alvium SWIR (short wave infrared) cameras are the ideal choice to build cost-effective OEM systems used in embedded and machine vision applications. The cameras support a spectral range from 400 nm to 1700 nm at high quantum efficiencies. This allows to capture images in both the visible and SWIR spectra with a single camera and enables users to reduce overall system costs! Equipped with Sony's IMX990 and IMX991 SenSWIR InGaAs sensors, Alvium SWIR cameras deliver high image quality and frame rates. This makes them well suited for drones or handheld devices used in various industries such as, agriculture, mining, solar cell inspection or medical.