Experience with early 'everything-as-a-service' offerings suggests they still hold great potential for manufacturers, but require a patient approach to succeed
Has XaaS Lived up to the Hype?
Ankit Sharma, Global Director, Industrial Manufacturing | SAP
At a recent manufacturing technology event I attended in Chicago, there was quite a buzz around the concept of everything-as a service, or XaaS, and in particular about equipment-as-a-service and robots-as-a-service, where the end customer gets not only a robot, but data analytics, real-time reporting and in some cases, a significant increase in productivity.
The buzz may well be warranted if the early returns on XaaS offerings like Trumpf's digital pay-per-part-produced business model are any indication. With this new service, Trumpf supplies sheet metal processors with a laser machine, along with digital services, charging them only for parts they actually manufacture. In tests with pilot customers, the service has boosted productivity by as much as 50 percent, according to Trumpf.
As compelling as figures like these are, the challenges involved in executing XaaS offerings (building business ecosystems and the tech infrastructure to support them, shifting the mindset internally and among customers and stakeholders to embrace unproven business models, etc.) have prevented many manufacturers from scaling the concept. The situation reminds me a bit of the electric vehicle hype cycle, where a highly promising concept could begin to fulfill its promise only after manufacturers and other stakeholders put the pieces in place to engineer a major market shift.
In the industrial manufacturing world, XaaS represents a category of usage- or subscription-based services that deliver an outcome around a connected physical product. Over the past half-dozen years, we've seen more manufacturers roll out subscription-based digital services and even some XaaS bundles built around lighting, compressed air, PCs, printers and even jet engines. Yet pure XaaS offerings are just finding their way into the mainstream.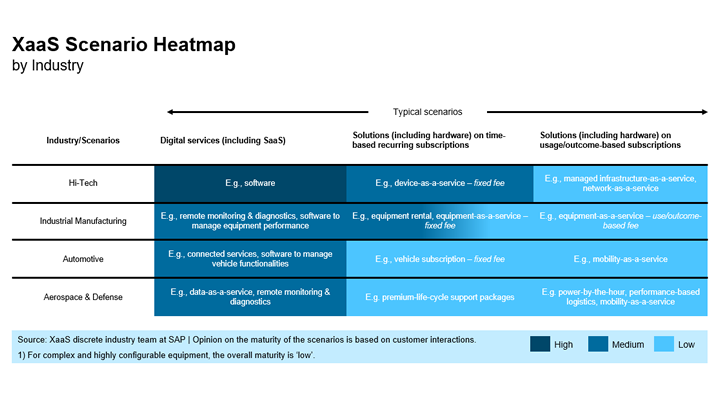 As with electric vehicles, though, the concept makes too much sense to not eventually fulfill its promise. For manufacturers, it provides an opportunity to open new territories and scale beyond their products with consistent, reliable, and potentially more profitable new revenue streams. As for customers, they gain cost-certainty by shifting a large capital expenditure into an operating expense, along with greater equipment uptime, risk-sharing with the supplier, value-added services and a way to avoid the inflationary risk tied to large capital expenditures.
Today, however, industrial manufacturers are taking a measured, try-it-by-pilot approach to XaaS and digital services before they decide whether to dedicate resources to more widely operationalize it. Based on SAP's work with a range of industrial manufacturers, here are six practices for manufacturers to keep front of mind as they develop and scale XaaS and service-focused business models:
1. Start small and build on success. Manufacturing equipment suppliers like Trumpf, Sandvik Coromant and others are taking phased-in approach to XaaS so they can test a business model, understand its implications on the business and their customers, then adjust the model as necessary, building on successes to keep growing the XaaS portfolio.
2. Be ready for a mindset shift. Succeeding with XaaS requires a manufacturing company not only to think holistically about design, manufacturing, operation, maintenance, end-of-life and finance processes, but also to retrain and redirect employees to sell and support more service-focused contracts with a different revenue-recognition model. This will require effective and ongoing communication to change mindsets.
3. Put end-to-end digital systems and processes in place to support new business models. To make XaaS business models profitable and sustainable, manufacturers must have an end-to-end operating model that connects — and enables data to flow freely across — the enterprise, from engineering and design, through manufacturing, delivery, operation and all the way out to the customer experience. The goal: full visibility into how each aspect of the business is fulfilling its role in an XaaS offering. Operationalizing XaaS may well require companies to re-engineer their operating model by updating legacy systems and razing the operational silos associated with traditional product-centric business models. We've seen some early XaaS adopters in the manufacturing space struggle to sustain their offerings because they didn't adapt their operating models and digital infrastructure to support them
4. Design outcome-based services and contracts collaboratively to ensure ongoing customer success. By its nature, XaaS entails a higher level of collaboration, risk-sharing and partnership between supplier and customer.
5. Robust data-collection, modeling, revenue-sharing and settlement capabilities are a must. XaaS requires more sophisticated capabilities for gathering and analyzing data from connected equipment, and for managing subscriptions, sales, billing, settlement and revenue recognition in complex business models and contracts that may involve multiple partners. Companies need full visibility into both operational and financial performance to ensure they're meeting customer expectations, and to gauge how contracts are performing in terms of profitability. This is often too tall a task for many legacy systems.
6. Build business networks. The success of an XaaS offering is a function of service efficiency (delivering promised customer outcomes faster with less input and downtime) and service excellence (delivering better customer outcomes). To maximize service efficiency and excellence, we're seeing manufacturers bring in partners whose complementary services add value for customers, then build digitally connected business networks with those partners (and customers, too) so they all can access and exchange trusted data around the XaaS offering.
Thanks to the digital investments they've been making during the past decade or more, many manufacturers already have some of these foundational elements in place. Now it's a matter of leveraging them to develop XaaS offerings that resonate with customers and live up to those lofty growth and profitability predictions.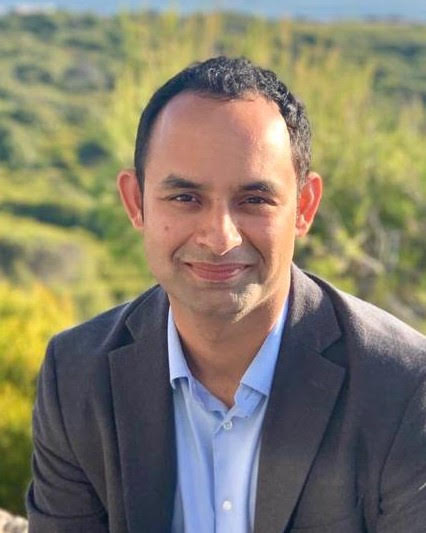 About Ankit Sharma
Ankit Sharma is Global Director, Industrial Manufacturing, and leads the XaaS program for discrete industries at SAP.
The content & opinions in this article are the author's and do not necessarily represent the views of ManufacturingTomorrow
---
Comments (0)
This post does not have any comments. Be the first to leave a comment below.
---
Post A Comment
You must be logged in before you can post a comment. Login now.
Featured Product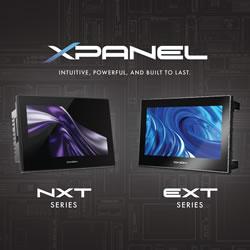 Introducing the Xpanel eXT and nXT series, advanced industrial HMI solutions that set a new standard for performance and usability. Utilizing our brand new Canvas HMI software for project creation, the Xpanel eXT and nXT series deliver a seamless and efficient user experience. They combine industrial-grade touch technology, powerful embedded OS hardware with a quad-core CPU, and an easy-to-use runtime platform. The Xpanel eXT and nXT series are specifically designed to optimize and streamline industrial operations, enhancing your HMI experience.