By adopting a cloud-based, unified file system, manufacturers can cut costs in half, while strengthening data protection, simplifying management and enabling global collaboration.
Addressing Challenges with Enterprise File Storage in Manufacturing
Q&A with Russ Kennedy, Chief Product Officer | Nasuni
Tell us about yourself and your company Nasuni?
I'm chief product officer at Nasuni, which provides a file storage platform built for the cloud. To end-users, it looks and feels just like a local file server, but there's a lot more going on behind the scenes. For starters, the master or "gold" copy of all enterprise file data lives in the cloud, and the files currently in use are cached as local copies in a local appliance, providing fast access to data. All changes to files are regularly uploaded to the cloud as frequently as every few minutes and are then propagated out to other locations around the globe delivering a truly global file system.
Backup is automatic, and recovery takes just minutes, no matter how much data needs to be recovered. Plus, because of the way in which we store data in the cloud, it's protected from ransomware attacks. If a local appliance is compromised, all IT needs to do is roll back to the most recent version of the data set prior to the attack.
We also make it simple to collaborate across continents on extremely large files such as CAD or product designs, and our global file lock ensures that manufacturers won't run into version control issues.
So, in a nutshell, we provide the performance of local storage with the resilience, scale and ubiquitous access of the cloud, all while saving our customers as much as 50% over the total cost of traditional on-premises file storage.
Before I joined Nasuni, I directed product strategy at Cleversafe through its $1.3 billion acquisition by IBM. Earlier in my career, I served in a variety of product management and development roles, most notably at StorageTek (acquired by Sun Microsystems), where I brought several industry-leading products to market.

Why is it so important for manufacturers to invest in a unified storage solution?
Manufacturers are now global operations. If each location has its own discrete local storage silo, collaboration on these files becomes almost impossible, given the enormous size of many modern design and engineering files.
Additionally, a unified file storage solution reduces complexity and makes the storage infrastructure far simpler to manage. Why fly an IT specialist to a location to fix and maintain local storage when a unified solution enables an administrator to manage storage globally from a single console?
It also provides protection. Having a unified storage solution provides uniformity and decreases the attack surface, making it much easier to protect file data from malicious actors.

How has the pandemic been a priority reset for manufacturers?
Definitely. I think it's safe to say that none of us anticipated a disaster like the one the pandemic brought, where the infrastructure functioned exactly as expected, but was physically inaccessible because no one was working in the office, at least for a while.
Organizations had to respond, and the cloud presented an attractive solution. After all, most organizations were already in the process of moving applications and data to the cloud. The pandemic made organizations kick it into a higher gear just to maintain business continuity. Now they're transferring nearly all their infrastructure out of the traditional data center and into the hyperscale providers. That includes file data.
No IT organization can match the cloud's economics, scalability or resiliency. It's accessible from anywhere, and latency is far lower than it used to be. You can get 40 milliseconds or less, and at that speed, even applications like remote desktops in the cloud become a realistic option.

Where should manufacturers focus their storage efforts?
File data is where their efforts can have the greatest impact. It's the largest slice of manufacturing data, by far, and it's growing rapidly. By adopting a cloud-based, unified file system, manufacturers can cut costs in half, while strengthening data protection, simplifying management and enabling global collaboration.

What are some of the biggest barriers for a manufacturer to address their storage efforts?
IT knows and understands on-premises file storage, so it can be nerve-racking to move the file data on which the business depends to a cloud environment. That's why we recommend that organizations start small. There's no need to jump right into the deep end. Choose a subset of your data, migrate it to a cloud file storage system, and see how the solution benefits your organization.

What missteps do manufacturers need to be aware of?
There are a number of storage manufacturers who say that their solutions are cloud-based or cloud-enabled, but in reality, they're simply porting their on-premises products into the cloud, which brings with them all of their prior limitations. To take full advantage of the cloud, it's important to use a cloud-native solution.
Can you share some successful use cases from customers and explain the benefits gained?
Sure! One of our manufacturing customers, a high-performance fabrics manufacturer, needed to be able to efficiently and quickly collaborate on files across different functions — such as sales, engineering, QA, and operations — and locations. Before adopting Nasuni, the company had centralized all its file data in one data center, which required end users in remote offices to come all the way back to that location to access their data. The latency was terrible, making file sharing and collaboration extremely slow and painful. Deploying Nasuni increased productivity across the company by dramatically improving data access and replication across offices, while simplifying the IT infrastructure, delivering better business continuity, and giving the company a better platform to compete on a global level.
How does Nasuni help manufacturers achieve a unified storage solution?
UniFS, our file system built for the cloud, does just that. It creates a unified file storage system that simplifies and centralizes storage management, provides nearly instant recovery from disaster (such as a ransomware attack) and enables global collaboration. We've got a number of strong partners that are ready to help companies migrate their data to the cloud, and customers can use the cloud of their choice: we have strong relationships with Google Cloud Platform, AWS and Microsoft Azure.
Plus, as I said earlier, you can start small and grow as required.
About Russ Kennedy, Chief Product Officer, Nasuni
Russ Kennedy drives product innovation at Nasuni, leading the company's product management, planning, and roadmap efforts. He has a maniacal focus on ensuring Nasuni customers derive maximum benefit from our technology.
Russ is a well-known and highly regarded storage industry executive, with more than 25 years of experience developing software and hardware solutions to address exponential data growth. Before Nasuni, Russ directed product strategy at private cloud object storage pioneer Cleversafe through its $1.3 billion acquisition by IBM. While Russ was helping transition the product to what is now IBM Cloud Object Storage (COS), he began working with IBM partner Nasuni, and became convinced Nasuni's cloud-native global file system is the only data management technology that truly exploits the strengths of object storage.
Earlier in his career, Russ served in a variety of product management and development roles, most notably at StorageTek (acquired by Sun Microsystems), where he brought several industry-leading products to market.
The content & opinions in this article are the author's and do not necessarily represent the views of ManufacturingTomorrow
---
Comments (0)
This post does not have any comments. Be the first to leave a comment below.
---
Post A Comment
You must be logged in before you can post a comment. Login now.
Featured Product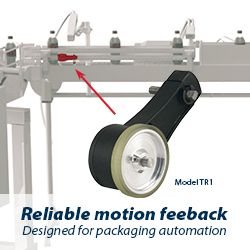 The Model TR1 Tru-Trac™ linear measurement solution is a versatile option for tracking velocity, position, or distance over a wide variety of surfaces. An integrated encoder, measuring wheel, and spring-loaded torsion arm in one, compact unit, the Model TR1 is easy to install. The spring-loaded torsion arm offers adjustable torsion load, allowing the Model TR1 to be mounted in almost any orientation - even upside-down. The threaded shaft on the pivot axis is field reversible, providing mounting access from either side. With operating speeds up to 3000 feet per minute, a wide variety of configuration options - including multiple wheel material options - and a housing made from a durable, conductive composite material that minimizes static buildup, the Model TR1 Tru-Trac™ is the ideal solution for countless applications.