Creating accurate project proposals takes a lot of time and resources. You have to gather information from lots of different departments and people. There are a couple ways this can go from there.
Project Modeling: A New Way to Think of CPQ Software for Large Engineer-to-Order Manufacturers
Q&A with Matt Mong, VP of Communications | Adeaca
Manufacturing is a complex process, but for engineer-to-order manufacturing, it's even more challenging. Why is that?
Unlike traditional manufacturing companies that build and deliver pre-designed products, ETO manufacturers design, engineer, and produce unique products specific to their customer's needs from start to finish. And since every product they deliver is designed and built based on their customer's specifications, the project planning process presents a unique set of challenges.
If you think about it, before production can even begin, there needs to be significant engineering and coordination between different departments. The sales, engineering, estimating and production departments all need to align to make sure the initial project proposal is cost effective, accurate, and meets the customer's expectations.
This is no easy task. And to make it more difficult, sometimes the customer wants to make a change while the order is in progress. So, with all this in mind, it's important not only to have an effective collaboration strategy, but also a change management solution throughout the entire production process.
What are some challenges of the engineer-to-order proposal process?
Creating accurate project proposals takes a lot of time and resources. You have to gather information from lots of different departments and people. There are a couple ways this can go from there.
Many times, to speed it up and provide a better sales experience for the customer, a lot of that process gets cut short. So, you end up with a proposal that sounds good the customer, but you cannot deliver on it. In a sense, you make promises you cannot keep.
What ends up happening is those proposals are based on guesswork. And if your ETO proposals are based on guesses, there's going to be a lot of changes and problems down the road. This means you have to go back to the customer to try and redefine the scope and/or costs of the project midstream.
The other scenario is you stick with the long and arduous proposal process. The complicates the sales process and while the proposal may be more accurate as far as deliverability, you may lose the sale because you took too long, you are too difficult to work with, or you simply priced too high because of it.
To complicate matters, the customer many times comes back to you with changes during the sales process and you try to produce two or three different proposals based on different scenarios, which takes even longer.
So the goal would be to be able to produce accurate proposals that reflect the real timeline and costs of the project, but that can be produced quickly.
What's the solution to controlling all these moving parts and mitigating the potential chaos?
We think project modeling is the way to go. Project models take the idea of project templates to a whole new level, making them dynamic and faster to create. It allows you to develop more accurate plans in less time, accelerate the sales process, and ultimately drive better outcomes for your customers.
How does Project Modeling work?
Similar to a product configurator or CPQ software for manufacturing, Adeaca's Project Modeler builds the components of a project from a predefined set of models.
The user configures the components of the model with the customer's specifications, and the project plan as well as the cost and price estimates are constructed through a system of rules. In practice, the user simply answers a series of questions, and the system creates the project schedule, or work breakdown structure, and the cost breakdown structure automatically.
The truth is, whether you're starting from scratch or from a template, creating an accurate cost breakdown structure and work breakdown structure for a complex ETO project could take days or weeks. With project modeling, everything is connected so that your model can create that project in minutes, and then it can instantly transition into the execution phase.
It creates a streamlined planning and estimating process that helps companies scale and automate best practices from project sales all the way through execution.
What are the benefits of project modeling?
The traditional route of building a project can take hours or even days. Typically, the project manager constructs and edits each task and gathers information from different stakeholders to build the project plan and cost estimates.
With project modeling, a user can configure an entire project in minutes through predefined components and rules. This means anyone from a salesperson to a project manager to an engineer can build an accurate project plan and estimate in a few clicks.
Project Modeling also increases project business governance. By encapsulating and scaling best practices across the company and from the beginning of the sales cycle, they reduce errors that lead to problems down the road. Salespeople who utilize the Project Modeler to build quotes and proposals are able to create the optimal plan right from the start, making sure the best possible plan is proposed and executed against.
In addition, project modeling improves the sales process. It helps teams generate the right numbers as soon as they engage with prospects. This means project proposals are not guesses, they are accurate representations of the project that will be performed. Sales teams can eliminate poor project plans, accelerate response times and increase sales capacity.
Another benefit of project modeling is reducing rework. It only makes sense that better project planning from the start eliminates the potential for issues later on. When Project Models represent accurate project work, you can promise customers reasonable prices and schedules that operations can adhere to.
In the end, project modeling helps sales and operations teams work like a well-oiled machine, delivering more projects on time and on budget.
What is required for project modeling to work?
For project modeling to work, everything must be integrated. Procurement, production, resource management, project planning, project costing all has to work seamlessly together and always be up to date. Only with an integrated environment can the person building the model pull the latest labor estimates, material costs, and capacity forecasts to build an accurate plan for the customer.
This type of integrated business system for project-based manufacturing is called Project Business Automation (PBA). PBA is a business process management software designed specifically for project-based organizations including ETO manufacturing, that integrates all core project business processes into one, comprehensive system.
PBA is a new concept that represents a new category of systems for these project-based companies, one that is long overdue. Real-time insight, instant and streamlined process control is not just for the high-volume, repetitive manufacturers anymore. Project manufacturers deserve the tight process and data integration found in PBA. Not only is it required for project modeling to work, but it gives them so much more.
The content & opinions in this article are the author's and do not necessarily represent the views of ManufacturingTomorrow
---
Comments (0)
This post does not have any comments. Be the first to leave a comment below.
---
Post A Comment
You must be logged in before you can post a comment. Login now.
Featured Product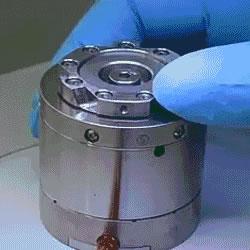 Hexapod micro-motion 6-axis platforms are based on a very flexible concept that can easily solve complex motion and alignment problems in fields including Optics, Photonics, Precision Automation, Automotive, and Medical Engineering.