"Made in Switzerland" is a prestigious label and a wide variety of global companies rely on Swiss precision to produce key manufacturing parts of their products, these include Starbucks, Tesla, Hamilton, and many more.
Switzerland's Specialized Manufacturing Landscape
Q&A with Christoph Besmer, Head of Investment Promotion | Swiss Business Hub USA
Switzerland is known for being home to global players such as Nestlé and pharma giants Novartis and Roche, but they also play a huge role in advanced manufacturing, could you give us an overview of Switzerland's specialized manufacturing landscape?
Switzerland has developed highly industrialized precision clusters over Fthe years and now holds a leading position in the field of advanced production processes (Industry 4.0). Largely a result of its precision watch industry, the country now boasts MEMS and precision manufacturing clusters for Medtech.
Access to a highly-skilled workforce in a relatively close geographic proximity has been instrumental in creating innovation clusters that are well-known in microelectronics and medical device manufacturing.
Our proportion of GDP from the manufacturing sector is one of the highest in the world and ensures not only a reliable talent pool but also clusters of strong engineering expertise.
Today, this precision cluster also includes manufacturing technologies for robotics, medical technology, and additive manufacturing (3D printing processes).
What are the top reasons for moving your advanced manufacturing production to Switzerland versus keeping it in the US or other countries, is it the workforce, regulations, tax advantages?
If I had to name the number one reason it would be our skilled workforce. Switzerland has a dual education system that promotes both an academic path and vocational education which trains workers in highly specialized areas such as operating incredibly complex machinery for advanced and microelectronic manufacturing.
Particularly in the precision manufacturing industry, thousands of young, well-trained individuals enter the labor market every year. Having skilled staff to operate highly automated machinery effectively leads to fewer errors, more efficiency, and cost savings.
Secondly, all of our advanced manufacturing clusters are partnered with the country's prestigious research institutes and federal universities that are known for turning research into marketable products - with access to international markets.
Thirdly, taxes are kept low by competition – because all 26 cantons compete for global business, this keeps tax rates low and is a huge win for any company considering a move to Switzerland.


What about governmental regulations, would it be complicated and costly for a US company to move or establish their advanced manufacturing in Switzerland?
In Switzerland, we have a liberal economic system and a competitive tax system making it an ideal business environment for companies looking to move their manufacturing to. Government advisors are available in every canton to advise and assist companies looking to expand in Switzerland and the top global accounting and legal firms all have a Swiss presence ensuring that business support services are accessible.
Lastly, we are not part of the EU – and its regulations – but have bilateral free trade agreements with all European countries as well as China, and Japan, which greatly reduces the risk involved with international expansion and trade and ensures access to international markets.
Tell us about some of the US or other companies that have established their advanced manufacturing in Switzerland, can you share a success story?
"Made in Switzerland" is a prestigious label, and a wide variety of global companies rely on Swiss precision to produce key manufacturing parts of their products; these include Starbucks, Tesla, Hamilton, and many more. In order to make this claim, at least 60 percent of the product's manufacturing costs – including R+D, material, and production costs, including costs for quality assurance and certification – must be incurred in Switzerland. In addition, the main production stage must take place in Switzerland.
One US success story is Rinco Ultrasonics based in Danbury, Connecticut who specialize in ultrasonic welding and cutting technology. The company has grown from a small family business to a global player with a presence in more than 40 countries over the last 40 years. It offers ultrasonic devices for production processes at the highest level, with all of its products manufactured 100% in Switzerland. They recently completed a 1000 square meter extension at their Swiss manufacturing facility in Romanshorn in Eastern Switzerland.
Biotech, pharma, and health tech are getting a ton of media attention due to COVID, Switzerland is known for being home to the pharma giants, what else is going in this sector?
The US-based biotech firm Biogen is building one of the most modern biotech production plants worldwide in the Solothurn area in Switzerland. The plant combines the latest Biogen ideas on fed-batch cell culture technology and protein purification. This allows the production of biopharmaceuticals on a large scale. They are set to invest around 1.5 billion Swiss francs over the coming years and create up to 600 new jobs.
The Basel, Switzerland-based pharmaceutical company Novartis is at the forefront of continuous manufacturing, a process that aims to transform pharmaceutical production. Its continuous manufacturing site is the first in the industry to integrate all steps of chemical and pharmaceutical production in one location. Novartis expects this revolutionary approach to potentially reduce drug manufacturing time by 90% and production costs by 30 to 50%.
What other manufacturing innovations are happening in Switzerland or are on the horizon?
Innovation is largely created through partnerships with Swiss governmental agencies and its esteemed research institutes. The advanced manufacturing technology transfer centers (AM-TTC) initiative was created for technologies that have been developed in pre-competitive research projects or new materials, processes, or products whose feasibility has been proven by lab-scale prototypes and demonstrators but still needs to take further steps and clear additional hurdles before they can be applied by industrial companies.
The initiative aims to close this gap by operating a network and alliance of centers that offer open access to technology transfer infrastructures.
The Swiss Smart Factory (SSF), located at Switzerland Innovation Park Biel/Bienne, is the first test and demonstration platform for Industry 4.0 in Switzerland. It supports technology development and technology transfer from the initial idea to market introduction. The SSF's vision is to become Switzerland's leading, internationally recognized center of competence in application-oriented research and transfer of Industry 4.0.
Finally, Microcity in Neuchatel provides specialized resources in the fields of business consulting, hosting, financing, and communication, particularly in the fields of micro-nano technologies, micro-manufacturing, and industrialization processes.
The content & opinions in this article are the author's and do not necessarily represent the views of ManufacturingTomorrow
---
Comments (0)
This post does not have any comments. Be the first to leave a comment below.
---
Post A Comment
You must be logged in before you can post a comment. Login now.
Featured Product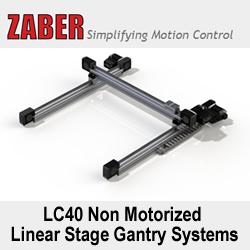 A Zaber gantry kit comes with everything you need to build a customized XY gantry system or XYZ gantry system. These gantry systems feature coordinated multi-axis motion, plug-and-play operation, easy integration with end-effector options, and built-in IO and E-Stop capabilities. An intuitive ASCII interface allows the user to easily communicate with the gantry systems using our free software, either Zaber Motion Library with APIs for several popular languages or Zaber Console. Third party terminal programs that can communicate over a serial port can also be used.