As the coronavirus pandemic rages on, the government is taking steps toward protecting public health. On May 27, the U.S. Department of Agriculture (USDA) announced a $281 million investment in improving water and wastewater infrastructure.
USDA Investing in Water and Wastewater Infrastructure
Emily Folk | Conservation Folks
The USDA hopes this funding will create jobs and improve health in rural communities.
The $281 million will go to 106 different projects in rural cities, towns and districts throughout the U.S. Communities in 36 states and Puerto Rico will use the money for improvements like repairing pipes and upgrading waste removal systems.
The Water and Waste Disposal Loan and Grant Program
This investment comes as part of the Water and Waste Disposal Loan and Grant program. This initiative is from the USDA's Rural Development department and provides funding for water and water treatment infrastructure in rural areas. These loans are long-term and low-interest, so disadvantaged communities can access them.
In this most recent project, the loans will go to local governments as their citizens struggle with outdated systems. These investments come in response to findings from the Interagency Task Force on Agriculture and Rural Prosperity. The task force, formed in 2017, worked to find areas where the federal government could help rural agriculture and prosperity.
In early 2018, the task force presented their findings to the President. That included more than 30 recommendations, investing in rural infrastructure being one of the most critical. These new projects come as a part of fulfilling that recommendation.
What This Means for Rural America
While all of these projects focus on water, the specifics vary depending on each location's needs. For example, in Mabton, Washington, $973,195 will go towards installing a new well for their water system. In contrast, $8.7 million in Auburn, Kentucky, is helping replace a wastewater treatment plant to accommodate a new industrial facility.
By investing in various projects, the USDA ensures that they give rural communities the help they need. For example, the best option for wastewater treatment varies depending on the kinds of contaminants present in the water. Since different areas have varying needs, this individualized approach offers the most help.
On top of helping communities achieve cleaner water, these developments could also help the economy. More construction projects mean more local jobs, and new facilities will need employees. With additional money in the local economy, disadvantaged communities will be able to afford further help.
The Need for Improved Water and Wastewater Infrastructure
The average American household uses more than 300 gallons of water a day. As populations grow and natural resources shrink, communities need more efficient means of producing and using clean water. With environmental concerns growing, these needs are becoming more pressing.
Even with today's state of technology, roughly 1.6 million Americans don't have running water or indoor plumbing. Rural communities, which don't have as many resources as urban areas, account for much of that number. With smaller populations and economies, the local governments may not have the means to fix these issues.
Though more people live in cities, these rural areas often have a greater need when it comes to water. Programs like the Water and Waste Disposal Loan and Grant program are necessary to help these people.
Moving Towards a Cleaner, Safer Country
This most recent investment from the USDA represents a positive trend in the nation. With more funding in water and wastewater infrastructure in disadvantaged communities, the overall health and economic success of the U.S. will grow. As the pandemic continues to threaten both, these changes are essential.
Projects like this may not solve all of the nation's problems, but they're a vital step forward. If these types of investments continue, it could mean a substantial positive change.
The content & opinions in this article are the author's and do not necessarily represent the views of ManufacturingTomorrow
---
Comments (0)
This post does not have any comments. Be the first to leave a comment below.
---
Post A Comment
You must be logged in before you can post a comment. Login now.
Featured Product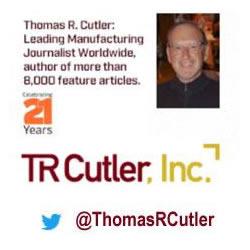 Cutler authors more than 1000 feature articles annually regarding the manufacturing sector. Cutler has established special divisions including African manufacturing, Colombian manufacturing, Gen Z workforce, and Food & Beverage. Cutler was recently named the Global Supply Chain journalist of the year for the second time in a row. Over 5200 industry leaders follow Cutler on Twitter daily at @ThomasRCutler. Contact Cutler at trcutler@trcutlerinc.com.