To begin with, the first thing that process manufacturers can do in this regard is to make the current ERP system more mobile. By increasing the mobile capability of the ERP, one refers to having a solid mobile application, or adding a well-functioning mobile component to the ERP system.
Make Your Manufacturing ERP System Instantly Simple To Use
Article from | BatchMaster
These words from Confucius hold true in everyday life. From the car we drive, the house we live in, the gadgets we use, to the relationships we are in, our lives are quite complicated, only because we choose to make them so. The choices we make pretty much make it clear that it's complex that we prefer over simple. When offered with two tough and often conflicting choices, we invariably tend to choose the more difficult one, ignoring the simple one thinking it might never work. That sums up how we inadvertently end up complicating things in our lives, and at work, even when simplicity is always just one choice away.
Talking about work, things aren't any different on that front. Take a process manufacturing company — whose business itself is complicated, irrespective of the vertical, in the first place — for instance. With all the latest technology available at their disposal, most process manufacturing companies still choose to work on complicated manufacturing ERP systems. Ask their employees if the process manufacturing ERP system they use is simple, and the answer you get will tell you the true story. The findings of a somewhat similar survey conducted by IFS World in North America reveal that more than 50 percent of respondents feel that the ERP system they operate on is difficult to use.
Yes, some manufacturing ERP systems are complicated
And that's pretty disturbing, because despite the best of the software technology being available in the market, the companies choose to have a software that's hard to use; a software that's making their job harder. Even though such ERP systems can prove to be instrumental in streamlining a business' internal processes, they come with their own share of flaws. After making a promising start post implementation, these systems run into a number of obstacles along the way. Instead of making a manufacturer's life easier, they often mess things up with overly complex technology, convoluted workflows, cluttered interfaces, and superfluous features, etc.
The issues mentioned above become particularly significant when the employees in the manufacturing company try to work through approval processes, which often are the main point of control in any ERP system, and determine how work flows or graduates from one person to another. Be it purchase orders, employee timesheets, leave requests, or expense reports, if your process manufacturing organization is spending unnecessary time on approvals, you're in the process losing out on valuable time that your team could instead invest on growth, developing new ideas, and keeping the competitors at bay. If such is the case, then it's time to seek out something new, as technology is there to make our jobs easier.
How manufacturing ERP systems can be made instantly simple to use?
Once these issues are identified, it is important for the process manufacturing businesses to address them before they hamper the operations and bog down the workflows. This can be done by simplifying the current process manufacturing ERP software and making it easy to use. To begin with, the first thing that process manufacturers can do in this regard is to make the current ERP system more mobile. By increasing the mobile capability of the ERP, one refers to having a solid mobile application, or adding a well-functioning mobile component to the ERP system. This allows the users to operate on the go by accessing their ERP on a smartphone, and execute important tasks from anywhere, anytime.
Another approach towards simplifying the process manufacturing ERP system is to use a simplified interface. When an organization sits down to finalize an ERP software, almost all the ERP vendors promise it the same benefits such as improved productivity and streamlined operations. However, while some ERP systems are simple and easy to use, others offer crowded screens, too many icons and menu options, poor search capabilities, and other things that look cluttered and make it harder for your team to do their jobs. By selecting a system that has a simple consumer-grade interface simplifies your team's routine tasks, allowing them to move through their workflow easily.
Another way to make a process manufacturing ERP software instantly simple to use is by providing the intended users with ample training and support. Even the finest of the ERP systems become a bad investment if your employees can't use it properly, or make the best use of its features. In order to get the most out of your ERP investment, you need to ensure proper training for the users along with uninterrupted post-implementation support so as to achieve the desired speed, efficiency, and accuracy in the operations. This is an important factor that needs to be kept in mind while finalizing the ERP, as the organization must find out how training will be carried out and how easily the staff will get access to ongoing support and troubleshooting.
If you have trouble working with your current ERP system, which has failed to live up to all of its promises, and if it doesn't fit with all of your business needs, there's no need to lose heart.
Work with the experts
Because setting up a manufacturing ERP software too is complicated, and you need an expert partner to make the process simple. There are ERP implementation experts out there in the market, who know the right steps to take. They can tell you what's best for your business, and help you find the right ERP software that's instantly simple to use.
The content & opinions in this article are the author's and do not necessarily represent the views of ManufacturingTomorrow
---
Comments (0)
This post does not have any comments. Be the first to leave a comment below.
---
Post A Comment
You must be logged in before you can post a comment. Login now.
Featured Product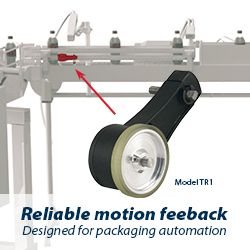 The Model TR1 Tru-Trac® linear measurement solution is a versatile option for tracking velocity, position, or distance over a wide variety of surfaces. An integrated encoder, measuring wheel, and spring-loaded torsion arm in one, compact unit, the Model TR1 is easy to install. The spring-loaded torsion arm offers adjustable torsion load, allowing the Model TR1 to be mounted in almost any orientation - even upside-down. The threaded shaft on the pivot axis is field reversible, providing mounting access from either side. With operating speeds up to 3000 feet per minute, a wide variety of configuration options - including multiple wheel material options - and a housing made from a durable, conductive composite material that minimizes static buildup, the Model TR1 Tru-Trac® is the ideal solution for countless applications.