Enterprise Resource Planning (ERP) is like the magic glue that binds an organization together. It gives complete visibility into tasks, data, and streamlines utilization of resources in a company.
ERP Implementation Fails to Avoid
Article from | OptiProERP
ERP implementation is a critical stage that includes data migration and integration process, user training, and finally testing and go-live planning. Many may find it a daunting task but ERP implementation fails can be avoided by adopting a methodical phased approach for deployment.
According to the analyst firm Gartner, 75% ERP implementation fails due to many reasons that we will discuss in this blog. Here, failure doesn't mean that ERP never goes live. It means – costs are exceeded remarkably, the schedule is not proper and improvements/customizations done by the team do not meet the expectations.
The great news is that ERP failures can be avoided if we look at the mistakes of others and try not to repeat the same. Let us look at some of the mistakes that you should avoid to ensure a successful implementation.
#1 Inadequate planning
You should know what you need from an ERP. Not every ERP vendor wears multiple hats, therefore, it is better to convey what you require from the software and what are the challenges that you are facing in the company.
ERP solves an array of problems. It is a must to identify the objective before getting the implementation done. Sharing your thoughts about ERP requirement with the vendor is always a good idea. One of the researches by Panorama states that 61.1% of ERP implementations take more time than expected and 74.1% ERP projects usually go beyond the actual budget.
How to avoid – Depending on budget, and basic requirements, top management should clearly define business goals so that vendors can plan accordingly. If this is not done, ERP projects will fail and not meet the user's expectations.
#2

Massive customization

No organization is alike. Sometimes, many organizations seek more industry-specific features that can fit their business needs. It is true that customization becomes unavoidable at some point of time but customizing a standardized feature can be dangerous too. For example, ERP can be customized to get integrated with CRM, Accounting or Finance module which is not available out-of-the-box in a generic ERP.

How to avoid: Customizations can sometimes get out of control. It is hard to manage, can exceed your ERP budget and hinder adaption level. Limit the amount of customization.
#3 Lack of change management
Change is constant. ERP implementation brings a huge change in the organization and there may be a possibility of someone showing resistance. End users have to learn new ropes, work on new system where the UI will be different and processes will be new.
To accommodate this transformation while sustaining the performance, it is imperative to embed changes in the users to anticipate and mitigate resistance.
Change management is driven by the relationship between people, processes, plans, and systems. Ignorance in organizational change management is one of the major reasons for unsuccessful ERP implementation.
How to avoid:
Three steps for effective change management are:
Communicate the change to the people who are affected by it.

Conduct the stakeholder analysis so that you can understand which stakeholder is involved at what level. This will allow you to determine the kind of training needs for each of them.

Proper end user-training will help users gain knowledge about the software fundamentals so that they can extract the best from the software.
#4 Unrealistic expectations
Many ERP vendors lowball the ERP implementation cost and time. Organizations expect that they will have to pay the cost quoted by the vendor. However, this is not the case. The cost and duration of implementation most often go up compared to the numbers assured by the vendor.
How to avoid:
Evaluate the ERP deployment done in a similar organization and ensure that your scope is wider. Costs included in training your staff, bug fixes and customization can be a little higher. Vendors may not set accurate expectations regarding time and cost.
What are the benefits of ERP in our organization? What will be the expected costs? What will be the ROI? It is always better to know the answers to these questions for more clarity.
#5 Improper Ongoing Staff Training
After an effective change management technique, it is a must to provide a comprehensive ERP training to the end-users so that they can become comfortable with the new way of managing business processes.
How to avoid:
The success rate of ERP implementation rises when you provide comprehensive training to the end-users. The project-heads and managers should have an understanding to carry out testing and manage the software in a planned manner.
Setting the Stage for A Successful Future
Ensure that you choose a vendor who's focused on an equipped plan and who endeavors to offer the best services for a successful ERP implementation. ERP implementation is a long and complicated process, but you can avoid mistakes and get back on track if you lose focus.
About OptiProERP
OptiProERP empowers you to improve the efficiency of your manufacturing operations. Discover true value with predictability and transparency in your business. An affordable, reliable, complete Manufacturing ERP Software, OptiProERP, makes the complex simple.
The content & opinions in this article are the author's and do not necessarily represent the views of ManufacturingTomorrow
---
Comments (0)
This post does not have any comments. Be the first to leave a comment below.
---
Post A Comment
You must be logged in before you can post a comment. Login now.
Featured Product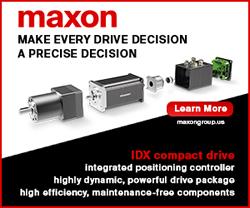 The compact brushless EC-i motor combined with an EPOS4 positioning controller delivers a highly dynamic, powerful drive package with field-oriented control (FOC), high efficiency, and maintenance-free components in a high-quality industrial housing. The maxon IDX drives are suitable for use across the entire speed range (from standstill to maximum speed) and have an extremely high overload capability. Together with a positioning controller, the integrated sensor (single turn) enables absolute positioning.