We see a shift from big, monolithic software by large vendors to modular, highly specific components by smaller ones. This allows manufacturing companies to become more agile in the tools they use, ultimately allowing them to more easily find the best tool for the job.
Using Open Software in Manufacturing
Frederik Van Leeckwyck | Factry
Tell us about Factry, what your company does, and how long its been in business?
Factry was founded in 2016 with the mission to make state of the art manufacturing intelligence solutions available to everyone. This way, we help manufacturing companies to make the transition to Industry 4.0.
We focus heavily on lowering technological barriers to adoption and promoting an open data culture, so that everyone in the plant has access to the relevant information when they need it. So, our software needs to be easy to integrate and very easy to use by both management and operators.
We started by releasing an open source version of "node-opcua-logger" which we developed further and now market as Factry Historian as SaaS, because a historian should be seen as the basis for data driven optimization initiatives in the context of Industry 4.0. On top of Factry Historian, we sell an OEE solution and perform data integration services.
What are some important trends happening in the world of Industrial IT now?
We see a shift from big, monolithic software by large vendors to modular, highly specific components by smaller ones. This allows manufacturing companies to become more agile in the tools they use, ultimately allowing them to more easily find the best tool for the job. Open software makes this possible because these are easy to integrate with other tools, very accessible and is mostly community driven.
Furthermore, manufacturing is becoming increasingly complex, energy is becoming more expensive, etc, which means that manufacturers increasingly have to rely on software to become more effective in their operations. New optimizations based on data make this possible.
Why do you feel open software is so important for manufacturing companies?
We want companies to feel they have no limits to what they wish to do with their data, which new initiatives they want to support, etc. On the one hand, it is the technology itself that makes this possible. On the other hand, Factry's business model is made possible by these same open technologies. Ultimately, open software can deliver on (some) manufacturer's requirements to abolish vendor lock-in.
From an HR perspective too, it is much easier to find a skilled Javascript or Golang developer than it is to find someone proficient in a proprietary language by a large incumbent vendor.
Are companies beginning to change over to open software now & why are they doing so?
Absolutely. Things change when the market need is there and the technology is ready to make it happen. And the market needs digitization at such pace and diversity that open software models are able to play a big role in that transition.
Also, workers are increasingly expecting the same kind of "frictionless" software tools on the shop floor that they know from their personal lives. Building such tools is much more accessible with open software.
Who stands to gain the most from this change to open software?
Everyone will benefit, but we believe it's the SMEs that have the most to gain. Data-driven production optimization has a compounded learning effect to it. Mostly it's the big players that are able to innovate first. But open tools are accessible to more and smaller companies. Also, open tech such as Factry Historian and InfluxDB scales well beyond the factory walls, making it much more accessible to smaller companies.
How do you see this evolve in the long term?
Ultimately, we believe open software will play a big role in the fulfillment of the promise of Industry 4.0. This openness will facilitate integration between virtual models, people, and equipments, and will increase data transparency so that data can be used without limits by the manufacturers themselves and relevant players in the value chain.
What advice would you give to companies making the change over?
Start small but keep the big picture in mind. Start with a strategy and refine it over time. Start with small cases that have a sound business case. Get the organization along. Hire consultants if you don't have all resources. Don't do all the learning yourself, but also don't become fully dependant on others.
For those companies that are not doing enough already, where is the best place to begin?
Contact vendors and let them bring their story. And learn from your peers by visiting them. All digitization efforts start with data. So, start with data collection because once the moment has passed, it's gone. The basic benefit you will get from day one is "data insurance" meaning that at least you can look back. You're not doing value added work yet, but at least you keep that data for the longer term.
Why are historians ripe for disruption?
Historians exist for decades already, and from a purely functional standpoint their basic functionality will not change that much. However, it's because open software and protocols such as InfluxDB and OPC-UA are available that historians become increasingly available to smaller companies. We've helped large companies make the change from incumbent historian vendors to Factry Historian, based on InfluxDB.
In essence, this open software works to break down barriers for adoption. For example, we can get a new historian up and running in a matter of hours rather than days or even weeks.
About Frederik Van Leeckwyck
Frederik Van Leeckwyck, is the Co-Founder & BD manager at Factry. Factry Historian is a solution that provides real-time & historical insights to everyone in a factory environment - from the plant manager to the operator all using open source technologies. His many years of experience in the Industrial IoT industry has made him realize that the industry needed a fresh approach to control & automation.
The content & opinions in this article are the authorā€™s and do not necessarily represent the views of ManufacturingTomorrow
---
Comments (0)
This post does not have any comments. Be the first to leave a comment below.
---
Post A Comment
You must be logged in before you can post a comment. Login now.
Featured Product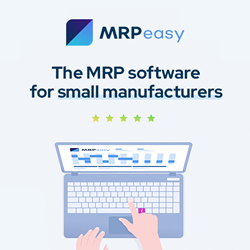 Always know what you have in stock and what you'll need to fulfill orders. Never forget to order parts on time or fail to notice a late delivery from your vendor. Easily create manufacturing orders and schedule them automatically according to resource availability or delivery deadline. Generate accurate cost and lead time estimates and provide customers with quick quotes. Receive notifications when orders are late or inventory levels reach a critical point. Ensure seamless communication between sales, production, warehousing, procurement, administration, and finance. Integrate with popular accounting, CRM, and e-commerce apps. MRPeasy is an ERP software for small manufacturers that gives you all that and more. Our users report a 54% average improvement in the overall performance of their business and a 42% increase in on-time deliveries. Try for free, no credit card needed.