Lean manufacturing primarily focuses on eliminating waste of different kinds. Let us look at the seven 'wastes' that plague various industrial processes and how you can eliminate them by using industrial scales.
How Weighing can Improve Production in Lean Manufacturing
Kevin Hill | Quality Scales Unlimited
Lean manufacturing practices are being adopted by numerous manufacturers for minimizing or eliminating waste and maximizing the value of manufacturing processes. Lean manufacturing primarily focuses on eliminating waste of different kinds. Some companies focus on improving lean transportation management system while other would focus on inventory management.
Let us look at the seven 'wastes' that plague various industrial processes and how you can eliminate them by using industrial scales.
Transport
Transport waste refers to the unnecessary movement of raw materials or work that is in process. Transport waste does not add any value to the product. You can save time and reduce this waste by mobile counting. Placing compact scales on the trolleys would transmit the data wirelessly. Doing this would facilitate almost a 98 percent reduction in walking. If you want to weigh bigger loads, you can use a pallet truck scale to move and weigh the goods at the same time.
Inventory
You can make your warehouse lean by managing your inventory. Inventory waste includes excess raw materials, unfinished goods or finished goods that exceed the immediate need. You can reduce inventory waste by using floor scales to weigh the deliveries at the receiving department. Track the stock items by counting them as they enter the warehouse or upon production. Count even the smallest quantities of high-value goods with high-precision counting scales, or verifying complete batches with warehouse floor scales or pallet scales.
Motion
Unnecessary motion includes all those operator movements that are not required for the processing of a product. This kind of motion affects the overall production efficiency, increases labor costs, injuries and accidents. Motion waste can be reduced by installing the weighing scales and mounting the terminals that allow a more ergonomic motion for the operators. You can use equipment like forklift scales or conveyor scales for higher efficiency.
Waiting
In all the instances where the products are not moving or being processed, wasted waiting occurs. When there is work-in-process waiting to move to the next step in production, you are wasting time and no value is being added in the process. One way to reduce this type of waste would be to look at the time being spent right from ordering to shipment and determining the actual amount of time being spent on true value-added manufacturing. Use industrial floor scales that are equipped with a digital display function that indicate weighing results using a simple color code. This would help you increase the handling speed by 30 percent and reducing misreading to almost zero.
Over-production
Over-production waste involves the production of products before they are needed. Producing more products than necessary will add to your costs. Moreover, it is a serious form of waste as it results in excess inventory that is often used to disguise problems or inefficiencies in the system. By incorporating weight production output at the end of the production line, you can know the right time to stop the production.
This helps in saving money and verifying stock quantities easily. Moreover, you can improve the intra-logistics and supply the workstations with the exact material counts using scale-assisted parts counting. Use scale-assisted packing to ensure precise package counts and weigh the boxes before shipping them to eliminate under or over-filling.
Over-processing
Over-processing waste is more difficult to detect and eliminate. This is created when more products are processed than necessary to meet the consumer demands. By using the right weighing equipment for the processes, you can improve the product quality and reduce product defects and reworks. Fit the scales suiting your work environment, applications and tolerances.
Defects
You can reduce defect waste by checking the quality to avoid costly recalls due to incomplete or damaged products. Place the final product on a weighing scale and check whether it is complete or not against a preset target. By doing this, you can identify out-of-spec products quickly and reliably in manual or automated processes.
Eliminating different types of waste can be a long, difficult and tedious process but it is one that you must undertake. It will go a long way in improving productivity and increasing profits. Take the assistance of weighing systems in the processes to make them more efficient and accurate.
About Kevin Hill
Kevin Hill heads up the marketing efforts at Quality Scales Unlimited in Byron, CA. Besides his day job, he loves to write about the different types of scales and their importance in various industries. He also writes about how to care for and get optimized performance from different scales in different situations. He enjoys spending time with family and going on camping trips.
The content & opinions in this article are the author's and do not necessarily represent the views of ManufacturingTomorrow
---
Comments (0)
This post does not have any comments. Be the first to leave a comment below.
---
Post A Comment
You must be logged in before you can post a comment. Login now.
Featured Product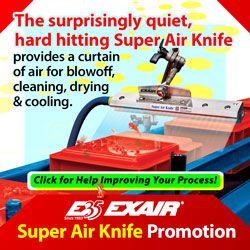 EXAIR Cabinet Cooler® Systems are a low cost, easy to install, maintenance free way to cool and purge electronic control panels. EXAIR Cabinet Coolers incorporate a vortex tube that produces cold air from ordinary compressed air - with no moving parts. The compact Cabinet Cooler can be installed in minutes through a standard electrical knockout. NEMA 12, 4, and 4X (IP54 and IP66) Cabinet Coolers that match the NEMA rating of the enclosure are available in many cooling capacities for large and small control panels. NEMA 12 Cabinet Coolers are ideal for general industrial environments where no liquids or corrosives are present. NEMA 4 Cabinet Coolers incorporate a low pressure relief valve for both the vortex tube and cabinet air exhaust. This valve closes and seals when the cooler is not operating to maintain the integrity of a NEMA 4 enclosure. NEMA 4X Cabinet Coolers offer the same protection as NEMA 4 but are constructed of stainless steel for food service and corrosive environments.