How innovations in automation, regulatory changes and a changing workforce converge.
Emerging Technologies in Packaging Automation for Pharmaceuticals
Sean Riley | PMMI
More pharmaceutical manufacturers are investing in automation strategies to improve their operations and services. Nearly 50 percent of pharmaceutical and medical device companies have line automation integration underway and will be tracking overall equipment effectiveness (OEE), according to the 2017 report The Evolution of Automation, produced by PMMI, the Association for Packaging and Processing Technologies.
Automation increases confidence in the line by reducing operator failures, which can cause downtime, providing greater quality control in a highly regulated industry. The growing market for small-batch pharmaceuticals and unit dose packaging continues to increase demand for such technologies. As automation becomes an ever-greater component of the pharmaceutical manufacturing process, the way employees interact with machines on the packaging line is changing as well. These changes will be visible in the technologies displayed at Healthcare Packaging EXPO, co-located with PACK EXPO International, (Oct. 14-17, 2018; McCormick Place, Chicago).
The rise of small batch production
Almost 90 percent of prescriptions in the United States are for generic drugs, but generics account for only 28 percent of pharmaceutical revenue. On the other side of the coin are high-value biosimilars, manufactured for smaller, specialized patient populations. Many pharmaceutical companies outsource packaging, but orders for small batch specialty drugs do not always meet the volume requirements of contract packagers.
"Pharmaceutical companies are looking for automation for lower-volume products," said Tim Brosnan, director of sales and business development at Medical Packaging Inc. (Booth #1029). "Automation allows you to serialize, calibrate, validate and test in a repeatable process, making it preferable from an FDA compliance standpoint."
Medical Packaging Inc. is an equipment supplier developing automation technology to meet the needs of smaller manufacturers, allowing them to produce high-quality pharmaceuticals that make them competitive with larger companies. At Healthcare Packaging EXPO, the company will showcase The FD-Pharma® Unit-Dose Packaging System, an automated solution that offers built-in printing, pumping and barcoding for unit-dose oral medication at a speed of 34 cups per minute. The machine allows smaller pharmaceutical manufacturers to fit a full packaging line for small runs or clinical trials on just an eight-foot table, packing a robust operation into a small footprint.
Unit dosing
Packaging compliance is changing, explains Brosnan, who has seen a recent pickup in requests for unit dose packaging, which is a method of single drug-dose delivery in barcoded, non-reusable containers. Hospitals demand unit dose packaging because they find it leads to fewer medication errors. It is also popular with patients who find the portability and small package sizes convenient. Additionally, unit dose packaging improves patient compliance. In many cases, old age or medical conditions make it difficult for patients to handle and administer medications correctly. User-friendly unit dose packaging prevents these mishaps.
Another market driver is the recent U.S. Food and Drug Administration (FDA)-mandated compliance of unit dosing in clinical trials. Unit dose packaging offers cost-saving benefits because, with accountability for every pill, there are no leftovers or medication errors. As a result of this growing need, Kahle Automation (Booth #857) has seen a recent increase in demand for their custom-engineered unit dose pharmaceutical packaging solutions, which will be showcased at Healthcare Packaging EXPO.
"Previously, drugs were packaged in vials for standard delivery," said Julie Logothetis, president of Kahle Automation. "Pharmaceuticals are now put into pre-filled syringes with a significant amount of additional safety features, like reuse prevention, which our equipment handles."
The rise of cobots
Robotic automation improves consistency of quality and flow because it eliminates the human error factor. For example, printers were installed manually on packaging lines in the past, leaving room for potential misalignment. Today, they are set up automatically. That is why cobots—collaborative robots—are especially valuable. In fact, the market for cobot technology grew 18 percent in 2017, with a growth forecast of 15 percent from 2018-2020. With cobot technology, people work alongside robots at one workstation, helping companies reap the benefits of automation while keeping humans part of the process.
"Automated systems, like our tube feeding system, eliminate many of the redundant tasks previously handled by humans," said Mathias Ponzelar, vice president of sales at IWK Verpackungstechnik GmbH, an ATS Automation company (Booth #753). "While you used to have people removing each tray from the pallet, everything is now automated."
IWK, a leading supplier of tube filling and cartoning technology for pharmaceuticals and cosmetics, develops solutions that present smaller footprints, greater flexibility and cost reductions with their cobot technology.
Cobots reduce some of the environmental and spatial drawbacks of traditional robots. They reduce the floor space of packaging lines and are more suitable for small- and mid-scale packaging operations. These types of systems are becoming more common in today's micro-batch pharmaceutical landscape. Cobots are also smarter than traditional robots, equipped with sensors, smart technologies linked to IT and Industry 4.0. Cobots can manage simple tasks that might cause repetitive stress injuries in humans. They can operate in temperatures that would be uncomfortable or intolerable to people and manipulate materials that may be unsafe for human handling, with the added benefit of having a human nearby to ensure everything goes smoothly.
An evolving workforce
As packaging automation for pharmaceuticals transforms, the roles of the humans who operate the machines are changing as well. The demand for technical workers and machine operators exceeds the available pool of skilled workers. Some companies are struggling to bring their workforce up to speed when handling the new machinery. That is why Pester USA (Booth #731) is focused on creating machines with easy-to-use human machine interface (HMI) systems.
"Pharmaceutical companies are seeking an effective way to automate and reach increasing production targets but with an as simple and user-friendly system as possible," said Ryan Braun, vice president, sales and marketing at Pester USA. "We have redesigned our HMI to be more intuitive and allow users to operate with relative ease. For example, some HMI products offer functionalities that connect to certain smartphones."
Pester plans to demonstrate its newest HMI system at Healthcare Packaging EXPO, allowing visitors to experience the interface firsthand. The company will also show its PEWO-pack 250 Compact, an efficient and sustainable stretch wrapper that utilizes the latest HMI technology.
Healthcare Packaging EXPO has the solutions
Automation makes the pharmaceutical manufacturing processes manageable and consistent. It allows real-time data tracking of line metrics, making it easier for pharmaceutical companies comply with the regulations around serialization of their products. Innovations in cobot and HMI technology are changing the way humans and machines work together in the pharmaceutical manufacturing industry. Attendees at Healthcare Packaging EXPO will have the chance to explore state-of-the-art packaging technologies up close and in person. To register, visit https://www.hcpechicago.com/.
Exhibitors mentioned:
About PMMI
PMMI, The Association for Packaging and Processing Technologies, represents more than 800 North American manufacturers and suppliers of equipment, components and materials as well as providers of related equipment and services to the packaging and processing industry. We work to advance a variety of industries by connecting consumer goods companies with manufacturing solutions through the world-class PACK EXPO portfolio of trade shows, leading trade media and a wide range of resources to empower our members.
The content & opinions in this article are the author's and do not necessarily represent the views of ManufacturingTomorrow
---
Comments (0)
This post does not have any comments. Be the first to leave a comment below.
---
Post A Comment
You must be logged in before you can post a comment. Login now.
Featured Product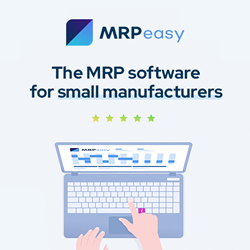 Always know what you have in stock and what you'll need to fulfill orders. Never forget to order parts on time or fail to notice a late delivery from your vendor. Easily create manufacturing orders and schedule them automatically according to resource availability or delivery deadline. Generate accurate cost and lead time estimates and provide customers with quick quotes. Receive notifications when orders are late or inventory levels reach a critical point. Ensure seamless communication between sales, production, warehousing, procurement, administration, and finance. Integrate with popular accounting, CRM, and e-commerce apps. MRPeasy is an ERP software for small manufacturers that gives you all that and more. Our users report a 54% average improvement in the overall performance of their business and a 42% increase in on-time deliveries. Try for free, no credit card needed.