Predictive manufacturing systems allow users transparency in operations. The basis of a predictive manufacturing system is the smart software, which is used to control predictive modeling functionalities.

Len Calderone for | ManufacturingTomorrow
Predictive analytics is the analysis of incoming data to identify problems in advance. Many companies don't have predictive analytics in place, and don't intend to do so in the near future.
Manufacturers are interested in quality control, and making sure that the whole factory is functioning at the best possible efficiency. With predictive analytics, it's possible to improve manufacturing quality, and anticipate needs throughout the factory.
The early implementation of mass production was overloaded with numerous causes of waste, such as overproduction, idle time, logistics, inventory, and unnecessary motion. In the early 1970s, the prime directive was to reduce production costs by minimizing and ultimately avoiding the sources of waste. This eventually developed into lean principles and Six Sigma techniques.
The computer age saw the beginning of automation and the flexibility of equipment, such as industrial robots. With these capabilities, manufacturers could establish mass customization or flexible manufacturing and supply consumers with the products they want.
The last two decades saw growth in the improvement and adoption of information technology. This led to the creation of reconfigurable manufacturing, wherein a factory structure can be easily modified so that production capacity can scale up rapidly.
Predictive manufacturing systems allow users transparency in operations. The basis of a predictive manufacturing system is the smart software, which is used to control predictive modeling functionalities. This gives manufacturers the opportunity to proactively implement mitigating solutions to prevent efficiency loss in manufacturing operations. Predicting equipment performance and the estimation of the time to failure will reduce the effects of these uncertainties.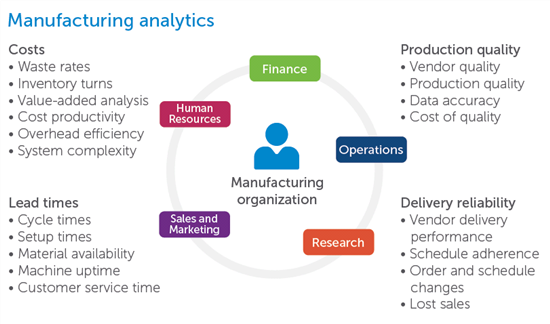 Predictive analytics will be further involved in everyday manufacturing operations, making the workplace more efficient and safer due to the digitalization of assets, known as digital manufacturing, which allows for digital design and even distributed manufacturing. Manufacturers will be able to enhance their inventory position because of the information garnered by the supply chain and operations. Logistics and transportation managers will have reports on how to reduce transportation costs, which is a heavy percentage of the expense budget.
Databases, complemented by easy-to-use analytical software, are the major changes when it comes refining the quality of a company's products.
Understanding the changes in demand for their products enables manufacturers to better determine how to allocate their resources. Predictive analytics help manufacturers forecast future sales based on past sales. Analytics modelers find additional factors that influenced sales in the past and apply those factors into forecasted sales models.
Manufacturing engineers spend a lot of time ensuring that they get the most value out of the machines in the factory. Predictive analytics help them do this by automating much of the analysis processes. Predictive analytics helps manufacturing companies keep their machines running by comparing past machine failures to sensor data from the machines to recognize patterns before breakdowns happen. With this information, a manufacturer can perform the necessary maintenance on a machine during slow periods without ceasing production.
What are the primary challenges that manufacturers face when it comes to predictive maintenance? Maintenance done at the right time reduces costs. Savings can be increased with predictive maintenance, based on effective predictive analytics, because the guesswork has been eliminated. An engineer can say with confidence which parts will need replacing and when.
Through predictive maintenance, managers can show which parts will be the first to fail, or those that will need replacing in the next few months. This allows managers to better control inventories, stockpile the right parts, and even order replacements before they are needed.
Predictive analytics not only makes sure that a manufacturer's equipment is running efficiently, it helps keep the entire factory on track. With a certain degree of accuracy, a manager can feel secure knowing that the machinery will not fail without warning in the middle of a production run.
The company can relay this assurance to their customers to let them know that their products will reach them on time and with the quality they expect. It is a benefit of predictive analytics but one that could make a manufacturer much more attractive to potential clients.
Demand forecasting is one of the most challenging fields of predictive analytics. Most manufacturers have sufficient logistical, transactional and other data, although in some cases this information is still not fully developed. Even good data models in an evolving environment have factors that make it difficult to identify critical trends. Predictive analytics products are available to resolve issues.
What these products cannot explain are the internal dynamics that depict a business, especially where the models reflect a lack of reliability in the data This happens when the assumptions of one department or operational unit do not line up with those of the others.
The first rule for optimizing demand forecasting is to be consistent. A standardized method to what data is assessed, and what it's for needs to be applied across all categories, creating a solution, which can be relied upon when making future demand strategies.
Looking at what a product did last year is forecasting because the data simulates the past, and attempts to apply it to the future. Actually, the product did nothing. The customer committed the action. It's the customer's action that is revealed in predictive analytics. The customer is the only participant that can make something happen. The product waits on some action from the customer. The customer's transaction is the path that predictive analytics uncovers.
Sales channel analytics are essential to a company's channel marketing strategy which is the key driver of the sales path. Sales and demand forecasting is analyzed by the sales channel and is combined with internally collected process and performance analytics. The external data assembled by commercial intelligence is incorporated to complete the view of channel performance. As a result, important trend and status analytics for all sources of sales are collected. Activity levels, pipeline potential, delivered orders, conversion and bounce performance can be evaluated. Sales channel demand analytics places the manufacturer in the driver's seat to fully optimize the sales channel strategy.
Predictive analytics provides a predictive probability for each customer, employee, product SKU, vehicle, component, machine, or other organizational unit to determine, inform, or influence organizational processes that pertain across large numbers of individuals, such as in marketing, credit risk assessment, fraud detection, manufacturing, healthcare, and government operations including law enforcement.
One of the best-known applications is credit scoring, which is used throughout financial services. Scoring models process a customer's credit history, loan application, customer data, etc. to rank individuals by their likelihood of making future credit payments on time.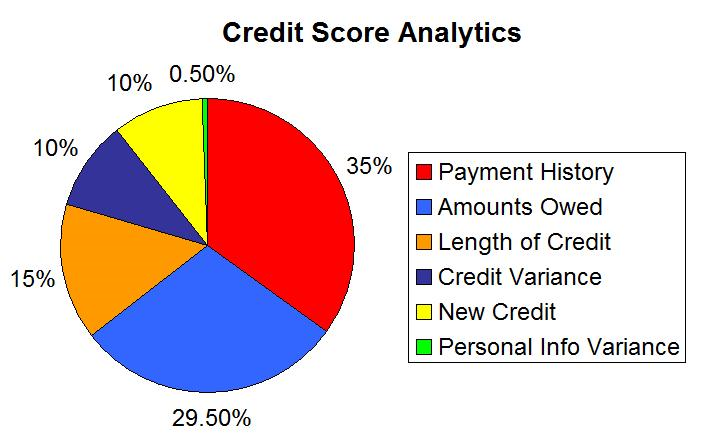 To learn more, a manufacturer should attend Predictive Analytics World, which delivers case studies, expertise and resources to strengthen the impact of predictive analytics deployment. It presents new opportunities in data science and machine learning, as well as leveraging bigger data for predictions. It's the only conference of its kind, delivering vendor-neutral sessions across verticals such as banking, financial services, e-commerce, entertainment, government, healthcare, manufacturing, high technology, insurance, non-profits, publishing, and retail. Check them out at http://www.predictiveanalyticsworld.com/about.php.

For more information:
https://www.accenture.com/t20160119T041002Z__w__/us-en/_acnmedia/PDF-5/Accenture-804893-Smart-Production-POV-Final.pdf
The content & opinions in this article are the author's and do not necessarily represent the views of ManufacturingTomorrow
---
Comments (0)
This post does not have any comments. Be the first to leave a comment below.
---
Post A Comment
You must be logged in before you can post a comment. Login now.
Featured Product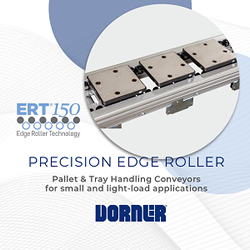 The next evolution in Dorner's Edge Roller Technology conveyor platform, the ERT®150, is ideal for small and light-load assembly automation, as well as medical and medical-device assembly application. The ERT platform is the only pallet conveyor of its kind available with an ISO Standard Class 4 rating for cleanroom applications. Earning the ISO Standard 14644-1 Class 4 rating means Dorner's ERT150 will conform and not contribute to the contamination of cleanrooms to those standards. As implied by its name, the ERT150 (Edge Roller Technology) uses rollers to move pallets through the conveyor smoothly with no friction (a byproduct often seen in belt-driven platforms). The conveyor's open design eliminates concerns of small parts or screws dropping into rollers and causing conveyor damage or jamming. The ERT150 is suited to operate in cleanroom environments requiring a pallet handling conveyor. It is capable of zoning for no or low-back pressure accumulation and is ideal for automation assembly applications within industries including medical devices, electronics, consumer goods among others.