With the right warehouse labeling strategy, a facility manager can greatly improve operations and increase efficiencies at every level.
How Custom Warehouse Labels Increase Efficiency
Don Amato | Chicago Tag & Label
At the heart of any profitable business is a plan for efficiency. Typically, that means organizing in such a way that gives you easy access to what you need when you need it. This is especially true for warehouses, where clutter can be your biggest enemy. Custom labeling is one of the simplest means for smartly organizing and tracking everything in your warehouse. By being consistent with your labeling strategy, you can run a much more efficient business.
Below, learn more about how custom warehouse labels can significantly improve operations at your warehouse.
Better Organization
The right warehouse arrangement can make all the difference in the world. Of course, to do it right, you have to have a simplified way of identifying the products themselves. That's where warehouse labels come into play. By clearly identifying merchandise as it comes into your warehouse, you can also determine where it should be placed within your facility.
Warehouse labeling can be as simple or complex as you need. You can identify sections of a warehouse down to specific rows and shelves, or you can keep it as simple as identifying quadrants. Also, labeling helps to identify which items arrived at what time so that you can ensure the oldest products are the first ones out the door when needed.
Overall, a smarter layout means you can access the items that are likelier to move more quickly, rather than storing all items as equals.
More Efficient Search Options
Along those same lines, easier search means quicker access. Just as proper sorting can help improve the flow of warehouse operations, proper labeling can help to identify and move products at a much quicker rate. For example, color coded labeling can give a warehouse worker an easy way to spot the right product (or category of products) with a quick glance. From there, finding the exact item is considerably easier. Different labeling conventions can help steer workers directly to an item and help to improve overall warehouse efficiency.
When your warehouse staff can more quickly identify merchandise, you can reduce necessary man-hours and fill customer orders in a timelier fashion — all good for your business.
Accurate Inventory Numbers
Tracking and logging is very important for your business — and it all starts at the warehouse level. With the right inventory logging system in place, you can keep ahead of shortfalls or inefficient surpluses.
Warehouse labeling can be an important tool in helping you maintain the right inventory levels. From barcodes to numeric labeling, a worker in charge of tracking inventory can much more easily estimate how many of any given item remains on the shelves.
Smart Solutions
When it comes to warehouse labeling, you have options. Here are just a few popular ways that facility managers are integrating smart labeling solutions.
Color coding — As mentioned above, color coding your warehouse labels can significantly improve your workers' ability to sort, store and locate any item in your warehouse. Color coding is an excellent option for placing items in designated sections of a warehouse.

Barcoding — This type of warehouse labeling is becoming increasingly popular in warehouses. With the help of a scanner, you can log and track everything in your warehouse. In addition to being quick and efficient, it also greatly improves accuracy while reducing human error.

Shelf and floor labels — In addition to the products themselves, labels are frequently used on floors and shelves to help identify where items can be found.
With the right warehouse labeling strategy, a facility manager can greatly improve operations and increase efficiencies at every level.
About Don Amato
Don Amato is Vice President of Sales at Chicago Tag & Label in Libertyville, Illinois. Chicago Tag & Label manufactures custom form labels, everyday use labels, and tags for industries such as retail, industrial, manufacturing, distribution and medical.
The content & opinions in this article are the author's and do not necessarily represent the views of ManufacturingTomorrow
---
Comments (1)
This is where operations management skills needs to come in. Every business is limited by its bottlenecks and it's crucial for a company to take the time to re-examine their processes every once in a while to increase their efficiency and up their capacity for more business. In any case, self- evaluation will always be a good thing to conduct in the company!
Post A Comment
You must be logged in before you can post a comment. Login now.
Featured Product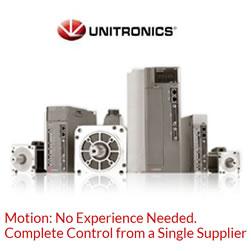 Unitronics' line of AC Servo Drives & Motors changes the traditional approach to motion control. They are simple to set up and painless to program. Unitronics Servos simplify implementation of motion applications while minimizing complexity and reducing development time. Some of the easy-to-use features in this new line include implementing motion control easily with ready-made motion code, embedded diagnostic tools, and automatic communication setup.