Youre getting impatient to turn the main switch "on" to benefit from the enhanced productivity that it will give you. Before doing that, we recommend a few actions that should be completed before running at full production speed.

Contributed by | Axium
You've made an informed decision about robotizing your operations and you finally just installed your new automated equipment. You're getting impatient to turn the main switch "on" to benefit from the enhanced productivity that it will give you. Before doing that, we recommend a few actions that should be completed before running at full production speed.
Training
Training is an important step in the process of implementing any automated equipment. It should not be overlooked or bypassed to save a few dollars. The quality of the training given by the integrator is critical to ensure that you will fully benefit from the full potential of your automated equipment.
The trainer should first show the operators all the various operation modes, interface screens, possible adjustments and alarms. Ideally, all alarms should be simulated so the operators understand how to fix them before the equipment is up and running. Going through these procedures at least once will ensure that you'll be a lot more efficient when those alarms happen when you're in full production.
Similarly, the maintenance personnel should, in their training, also experience all potential alarms and go through the steps to fix them. The replacement of all wearables and consumables (if any) should first be practiced offline. That practice run will proved to be very useful when they'll have to repeat those actions in full production when every minute counts.
Finally, the recommended spare parts list should be carefully examined to understand its importance and to determine which parts should be kept handy to reduce any potential downtime.
Training should absolutely not be overlooked. Since this is often the last step of the project, some manufacturers tend to speed it up the process to start full production as soon as possible. Remember that improper training can lead to costly productivity losses later on. It is rarely profitable to rush through training or to do it improperly.
Production ramp-up
Unless the production equipment is very basic, there is a ramp-up time from initial production runs to full control. Even if properly trained, the operators will go through a learning curve before they can completely master all the needed adjustments to achieve a smooth production flow. It's possible that some of your products will be damaged during the fine-tuning process. You have to be realistic in your production planning to determine the time needed for production ramp-up. Don't be too optimistic!
Once you have obtained full production, we strongly recommend measuring the OEE of your new equipment. Normally, as the operators better understand all the subtleties of the automated equipment, the OEE should increase. If this is not the case, something is wrong and efforts should be invested to recover the original OEE level. The OEE should be measured periodically (once or twice a year) to properly monitor the equipment's efficiency and make sure that you get the maximum ROI you deserve.
Preventive maintenance schedule
Conducting preventive maintenance is essential to minimize downtime and maximize productivity of your new automated equipment. It should be viewed as an investment, not a cost. Planning and putting together the preventive maintenance schedule is important, but following it is even more critical. Why take the risk of costly downtimes by not doing the required preventive maintenance actions? If done properly, it ends up paying for itself quite rapidly. Therefore, take the time to detail the preventive maintenance schedule and identify what should be done weekly, monthly, as so forth. Then, make sure that your maintenance personnel follow it. With time and experience, this schedule could be optimized, as you better understand all the ins and outs of your automated equipment.

About Axium
Axium is a leading provider of factory and warehouse automation solutions in a wide variety of industries. Recognized throughout the industry for its innovative designs and expertise, Axium is proud to deliver integrated solutions that yield performance, efficiency and reliability.
Axium's strength is its people. Having installed more than 500 robotic assembly and material handling projects throughout North America and around the world over the last 20 years, Axium's team has acquired the knowledge and experience necessary to engineer and deliver complex turnkey automation projects.
The content & opinions in this article are the author's and do not necessarily represent the views of ManufacturingTomorrow
---
Comments (0)
This post does not have any comments. Be the first to leave a comment below.
---
Post A Comment
You must be logged in before you can post a comment. Login now.
Featured Product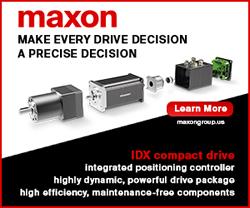 The compact brushless EC-i motor combined with an EPOS4 positioning controller delivers a highly dynamic, powerful drive package with field-oriented control (FOC), high efficiency, and maintenance-free components in a high-quality industrial housing. The maxon IDX drives are suitable for use across the entire speed range (from standstill to maximum speed) and have an extremely high overload capability. Together with a positioning controller, the integrated sensor (single turn) enables absolute positioning.