Industry 4.0 Needs Automated Power Sources
Decision-makers developing their Industry 4.0 strategies must consider how to ensure their facilities stay running during electricity disruptions. One possibility is to explore automated smart power sources. Many companies already use numerous smart manufacturing solutions, so extending the technological upgrades to power makes sense.
Research in this area remains relatively new, so the ways to apply automation to a power supply are broad. Some efforts also relate to building automated products that make the electricity supply more efficient or reliable. Here's a closer look at what's possible.
Researchers Pursue Automation to Control Generators
Many smart power solutions remain in labs. However, what researchers learn now will undoubtedly speed the production of commercial options and help research and development teams avoid costly obstacles.
One solution developed by researchers at Russia's Bauman branch of Moscow State Technical University explored how to automate the control of electric generators running on renewable and conventional energy. Their solution involved using an inverter that converted direct current to alternating current depending on the specific characteristics of a given generator. Their solution also worked with hybrid power sources, making it suitable for locations not yet fully dependent on renewable energy.
The researchers' solution created an autonomous hybrid power supply system that worked with a combination of diesel generators, wind turbines and solar panels. It converted direct current to alternating current according to parameters associated with the main electricity network. They also made an inverter circuit with an automatic mode-switching feature that affected inverting control signals.
The researchers tested this setup and found it automated power generation and consumption through microprocessor technology. Additionally, the system ensured the maximum efficiency of renewable energy sources.
It could take a while before solutions like these become mainstream. However, Industry 4.0 decision-makers should stay aware of these early efforts. That way, they'll be as well-informed as possible once solutions are commercially available to support their smart manufacturing needs.
Automated Technologies Create Smart Power Systems
Some automated technologies don't directly supply power but improve the management of equipment that does. Smart sensors let people monitor several parameters of transformers, including tracking the top three causes of failure.
Tracking how power equipment performs over time can help people stop impending failures. Alternatively, if they know a piece of equipment may soon reach the end of its useful life, they'll have more time to consider their options. Repairs may be among the possibilities. However, remanufactured products are often available sooner than new ones and still have customization potential. IoT sensors collect data without ongoing input, letting people enjoy the benefits of automated equipment monitoring.
Some companies also use automated technologies, such as drones, to manage solar panels. Even though these approaches don't result in an automated power supply, they deploy automation to increase the chances of unexpected outages. Belgian startup ART Robotics invented the HELIOS, which combines a hexacopter with a robot, to handle automated solar panel cleaning. However, the company tried and failed to raise additional funds through a Kickstarter campaign.
Another project, made possible by a technology challenge from Spanish electricity company Iberdrola, used automation for bird management around power lines. This autonomous device runs on residual power from a smart grid and requires no batteries. It has an integrated sensor that detects birds and scares them away. The goal is to eliminate power-line incidents that could harm birds and make the electricity supply less reliable.
Automatic grid-monitoring products help technicians identify problems like tilted poles or downed lines, saving valuable troubleshooting and labor time. These are some of the many examples of how automation can improve an existing power system, even without generating energy. People in smart manufacturing plants benefit from such solutions because they make power outages less likely to occur.
French Electricity Operator Tests Automated Management of Industrial Batteries
Some electricity operators have begun using batteries to supplement grid power, making it more resilient. Many battery storage providers in the United Kingdom and elsewhere have recently enjoyed surges in demand.
Battery storage technology can make power supplies more consistent as electricity supplies become more volatile and dependence on renewable energy increases. Réseau de Transport d'Électricité (RTE), France's electricity transmission system operator, recently demonstrated how to deploy a smart power solution that relies on automation.
RTE created Ringo, an experimental site with automated technology to control the flow of renewable power through the grid. One vital component of the setup was an energy storage solution. It releases energy when the grid-produced amount falls short and stores it during times of surplus.
The system's automated component gathers real-time data about electron flows and uses that information to optimize storage decisions at the Ringo site. Many smart manufacturing solutions utilize real-time data to aid decision-making. Company executives can feel more confident in their choices and respond promptly to unexpected circumstances.
It's still too early to say whether the Ringo site project will lead to lasting changes in smart power usage. However, a three-year trial is underway, and its results should help leaders determine their next steps. Automated battery systems could be particularly advantageous to people working in smart factories prone to power cuts due to grid strain.
Taking Early Steps in a Smart Manufacturing Plant
Grid operators are the primary intended users for many smart power solutions. However, commercial users at manufacturing plants can still benefit by deploying smart sensors on any electrical equipment within a factory. Improved monitoring makes power-related failures less likely.
People can also pursue smart power in other ways, such as by installing lights that operate with motion sensors. Then, there's no chance of someone forgetting to turn off a light after leaving an area and increasing electricity bills.
Manufacturing decision-makers should also stay abreast of any offerings from their electricity providers. Companies in some markets have offered customers smart meters or other perks to encourage them to become more aware of overall usage and cut down when possible.
Finally, a best practice for keeping operations moving during unexpected outages is to invest in generators and backup power systems that start automatically after disruptions occur with the main grid. Those are essential for manufacturers with climate-controlled areas or other production specifics for which disrupted electricity would be particularly devastating and costly.
Comments (0)
This post does not have any comments. Be the first to leave a comment below.
---
Post A Comment
You must be logged in before you can post a comment. Login now.
Featured Product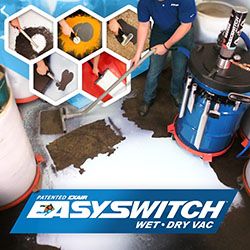 EasySwitch Wet-Dry Vacuum simplifies the filter change process when switching from vacuuming a dry material to a liquid or vice versa. The EasySwitch is a powerful pneumatic vacuum that is ideal for any application - wet, dry, light and heavy. https://exair.co/184_5175 Learn more about our special on our vacuums at https://exair.co/184-vacpromo