Industry-leading automation solutions provider Omron announces the release of a brand-new lighting technology that automates advanced defect detection and uneven color inspection as part of the latest iteration of its powerful FH-series vision system.
Hoffman Estates, ILL., October 15, 2018 - Industry-leading automation solutions pioneer Omron Automation Americas has developed a unique technology that can automatically detect small defects and subtle changes in color with great sensitivity. It can also simultaneously detect defects with different characteristics.

One of the key technologies in this powerful vision solution is an advanced lighting technology that changes illumination angles, directions, and colors depending on the specific characteristics of the object under inspection. Known as "Multi-Direction Multi-Color" (MDMC) Light, this innovation takes the automation of quality inspections to a whole new level.
The new vision system is designed to meet the growing demands for exceptional quality that are putting pressure on manufacturers to detect all scratches and other defects on products, no matter how small. Furthermore, todays labor shortages are making it especially difficult to recruit enough visual inspectors to successfully complete all the necessary inspections without automating at least part of the process.
While conventional vision systems have typically been unable to match the capability of the human eye for certain defect detection tasks, the FH series has surpassed this performance threshold with the MDMC Light technology and Photometric Stereo Illumination. Manufacturers can take advantage of these solutions to see small and subtle defects and maintain a high level of inspection quality.
The illumination pattern of the MDMC Light is flexible using the "Scene Switch" functionality incorporated into the software. Even if inspection items are added or modified to meet changes in demand, there is no need to add or adjust illumination. All that is required is a simple change to the illumination pattern.
In addition to the introduction of the MDMC Light, controllers and cameras in the FH series have been upgraded to quantitatively detect and measure minute variances while managing the inspection results. The enhanced controllers processing speeds are twice as fast as conventional models.
To help with regulatory compliance in pharmaceutical and other industries, the FH-series vision system can store all inspection results without hampering productivity thanks to its fast processing speed and high degree of synchronization with automation systems via a communications network. The results can be stored directly to a database using the machine automation controller over EtherCAT® and can be output in combination with inspection image data and key inspection information.
Omron is committed to solving manufacturing issues with unique and comprehensive solutions, and the new FH-series vision system is designed to ensure stable manufacturing quality and boost productivity. By automating quality inspections with a system that can match and even exceed the capabilities of human vision, Omron makes it easier than ever before for manufacturers to pursue remarkable enhancements in productivity and quality control.
About Omron Automation
Omron Automation is an industrial automation partner that creates, sells and services fully integrated automation solutions that include robotics, sensing, motion, logic, safety, and more. Established in 1933 and currently headed by President Yoshihito Yamada, Omrons 36,000 employees help businesses solve problems with creativity in more than 110 countries. Learn more at omron247.com.
Featured Product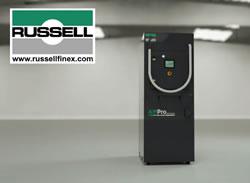 The Russell AMPro Sieve Station™ guarantees the quality of your additive manufacturing (AM) powder, and has been designed to provide optimum sieving efficiency, ensuring your powder is ready for use or reuse as and when you require it. With a simple one-button operation and mobile design, this automated check screener ensures your powder at every stage of the process is qualified for use quickly and safely. The flexibility of the Russell AMPro Sieve Station™ means you can use the system for numerous powder handling tasks - being a modular design ensures the machine can be configured to meet your exact requirements.