Lawrence Livermore National Laboratory: A team of Lawrence Livermore National Laboratory researchers has demonstrated the 3D printing of shape-shifting structures that can fold or unfold to reshape themselves when exposed to heat or electricity. The micro-architected structures were fabricated from a conductive, environmentally responsive polymer ink developed at the Lab.
In an article published recently by the journal Scientific Reports (link is external), lab scientists and engineers revealed a strategy for creating boxes, spirals and spheres from shape memory polymers (SMPs), bio-based "smart" materials that exhibit shape-changes when resistively heated or when exposed to the appropriate temperature.
Lab researcher Jennifer Rodriguez examines a 3D printed box that was "programmed" to fold and unfold when heated
While the approach of using responsive materials in 3D printing, often known as "4D printing," is not new, LLNL researchers are the first to combine the process of 3D printing and subsequent folding (via origami methods) with conductive smart materials to build complex structures. Cont'd...
Records 1 to 1 of 1
Featured Product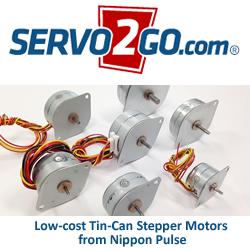 The PF/PFC series tin-can stepping motors are conventional magnet-driven rotary stepper motors with a permanent magnet in their rotor core. Rotating in proportion to the number of pulses sent to the motor, the stepper motor is frequency synchronized and can change speed depending on the frequency of the pulse signal.