Going Beyond 3D Printing to Add a New Dimension for Additive Manufacturing

Lawrence Livermore National Laboratory: A team of Lawrence Livermore National Laboratory researchers has demonstrated the 3D printing of shape-shifting structures that can fold or unfold to reshape themselves when exposed to heat or electricity. The micro-architected structures were fabricated from a conductive, environmentally responsive polymer ink developed at the Lab.
In an article published recently by the journal Scientific Reports (link is external), lab scientists and engineers revealed a strategy for creating boxes, spirals and spheres from shape memory polymers (SMPs), bio-based "smart" materials that exhibit shape-changes when resistively heated or when exposed to the appropriate temperature.
Lab researcher Jennifer Rodriguez examines a 3D printed box that was "programmed" to fold and unfold when heated
While the approach of using responsive materials in 3D printing, often known as "4D printing," is not new, LLNL researchers are the first to combine the process of 3D printing and subsequent folding (via origami methods) with conductive smart materials to build complex structures. Cont'd...
Comments (0)
This post does not have any comments. Be the first to leave a comment below.
---
Post A Comment
You must be logged in before you can post a comment. Login now.
Featured Product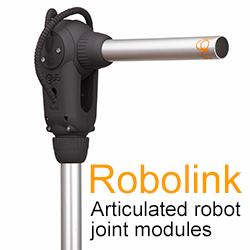 Robolink: Articulated joint modules for robots. igus® now offers a lightweight, maintenance- and corrosion-free range of robot joints for humanoid systems or other automated applications. The carbon-fiber plastic joints can rotate and oscillate freely via four wire ropes. No more expensive milling, cutting or DIY systems. Moving mass is reduced to a minimum. The actuators (engines, pneumatics and hydraulics) and the control module (DP, PC) are kept separate. Contact igus® for more information and free samples.