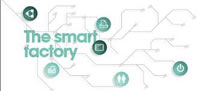 Abhishek Budholiya for Embedded Computing Design: Smart factories are being touted as the future of manufacturing. Continuous advancement in machine intelligence is expected to bring about a fourth industrial revolution, expected to offer a wide range of benefits, including greater efficiency, flexibility, and safety.
The global smart factory market was valued at nearly $52 billion in 2014 and is expected to expand at over 13 percent compound annual growth rate (CAGR) in the next ten tears. Let's take a look at some key insights on the global smart factory market.
First, smart factories are gaining traction in the automotive and transportation sector. Tightening profit margins and stringent guidelines have made automotive manufacturing a highly competitive market. Cont'd...