Vacuum tooling system enables smaller, lighter and less expensive automation solutions.
Hingham, MA - Highly versatile and cost-effective, Piab's Modular Automation Tooling system PMAT is available across the globe, helping manufacturers to realize secure, flexible and adjustable vacuum gripper/fixture tools for their assembly lines.

Machined from high quality anodized aluminum alloy, PMAT is lightweight and easy to assemble on site without welding or special tools. It offers multiple mounting options, and can be used to design robot end-effector tools, ergonomic tools or fixture tools for any type of automation equipment. It offers both adjustability and rigidity, and will help producers to transform their assembly tools to meet their specific needs with minimal design time.
" Our customers particularly appreciate the flexibility of PMAT and the wide range of options offered. They are also very impressed when they realize how easy it is to maintain the system, and the fact that spare parts and qualified service support are readily available globally is definitely one of the most important arguments for choosing PMAT," comments Barry Gropp, District Sales Manager for Piab in Detroit Michigan, where the US automotive industry has favored PMAT for a number of years.
PMAT has enjoyed particular success in automotive body-in-white (BIW) and stamping assembly areas, but is equally applicable to general assembly within any industry. Attachments include vacuum ejector units based on Piab's energy-efficient COAX® technology, providing both grip and release mechanisms.
Following requests from customers, PMAT is offered with an optional inline filter, and an external check-valve that can be used to meter air flow to the unit, protecting it from over pressurization while saving air. The vacuum check valve included in the VGS™3040 platform is an alternative to clamps, saving weight and trapping the vacuum in case of air interruption to the tooling. Furthermore, special suction cup attachments ensure safe handling of objects of varying geometries.
About Piab
Established in 1951, Piab designs innovative vacuum solutions that improve the energy-efficiency, productivity, and working environments of vacuum users around the world. As a reliable partner to many of the world's largest manufacturers, Piab develops and manufactures a complete line of vacuum pumps, vacuum accessories, vacuum conveyors and suction cups for a variety of automated material handling and factory automation processes. Piab utilizes COAX®, a completely new dimension in vacuum technology, in many of its original products and solutions. COAX® cartridges are smaller, more energy efficient and more reliable than conventional ejectors, and can be integrated directly into machinery. This allows for the design of a flexible, modular vacuum system. In 2016, Piab completed two strategically important acquisitions, Kenos and Vaculex. Piab is a worldwide organization with subsidiaries and distributors in almost 70 countries. Its headquarters are in Sweden.
Featured Product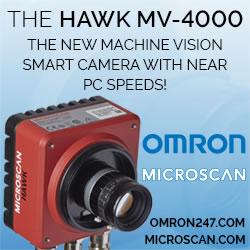 Space, or the lack of it, can be a challenge when placing barcodes or Data Matrix symbols on components. However, readable barcodes are critical to component traceability, time/date stamping, work in progress (WIP) tracking, and recall management. MicroHAWK UHD smart cameras can decode very small and difficult-to-read barcodes, including Data Matrix two-dimensional (2D) symbols and direct part marks (DPM). Users can rely on the MicroHAWK UHD to read symbols with an x-dimension almost invisible to the naked eye!