Desktop Metal Remains Focused on Path to Profitability After Preliminary Tally Shows Stratasys Shareholders Did Not Approve the Merger Agreement
Desktop Metal, Inc. (NYSE: DM), a global leader in Additive Manufacturing (AM) 2.0 technologies for mass production of metal, polymer, ceramic, and health products, today announced that its stockholders approved the merger agreement with Stratasys Ltd. (Nasdaq: SSYS), a leader in polymer 3D printing solutions.
However, at a special meeting of Stratasys stockholders on Sept. 28, Stratasys announced that a preliminary tally indicated that it did not obtain stockholder approval for the proposals related to the merger agreement. Consequently, the previously announced merger agreement has been terminated and DM is to be compensated agreed-upon fees.
"We're grateful for our shareholders' support. While the team at Desktop Metal believed in the merits of our combination, and is disappointed in the outcome of the merger agreement, we are completely confident in the trajectory of our business, which continues to lower operating costs while growing revenue," said Ric Fulop, Founder and CEO of Desktop Metal. "Our plan to reduce costs and generate revenue remains on track as customers continue transitioning to our AM 2.0 technologies for mass production of metal, polymer, ceramic and health products."
Desktop Metal entered the second half with cash of $127.6 million, and has demonstrated improvements to operating cash management over multiple quarters.
About Desktop Metal
Desktop Metal (NYSE:DM) is driving Additive Manufacturing 2.0, a new era of on-demand, digital mass production of industrial, medical, and consumer products. Our innovative 3D printers, materials, and software deliver the speed, cost, and part quality required for this transformation. We're the original inventors and world leaders of the 3D printing methods we believe will empower this shift, binder jetting and digital light processing. Today, our systems print metal, polymer, sand and other ceramics, as well as foam and recycled wood. Manufacturers use our technology worldwide to save time and money, reduce waste, increase flexibility, and produce designs that solve the world's toughest problems and enable once-impossible innovations. Learn more about Desktop Metal and our #TeamDM brands at www.desktopmetal.com.
Comments (0)
This post does not have any comments. Be the first to leave a comment below.
---
Post A Comment
You must be logged in before you can post a comment. Login now.
Featured Product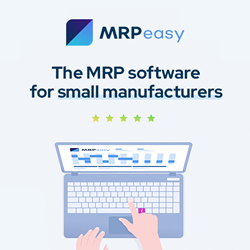 Always know what you have in stock and what you'll need to fulfill orders. Never forget to order parts on time or fail to notice a late delivery from your vendor. Easily create manufacturing orders and schedule them automatically according to resource availability or delivery deadline. Generate accurate cost and lead time estimates and provide customers with quick quotes. Receive notifications when orders are late or inventory levels reach a critical point. Ensure seamless communication between sales, production, warehousing, procurement, administration, and finance. Integrate with popular accounting, CRM, and e-commerce apps. MRPeasy is an ERP software for small manufacturers that gives you all that and more. Our users report a 54% average improvement in the overall performance of their business and a 42% increase in on-time deliveries. Try for free, no credit card needed.