Outlook for Engineering Technologies in the Next 5 Years
The engineering field — like many others — has experienced considerable disruption over the past few years. As a result, it has become more ambitious about implementing new technologies than ever before, so incoming innovations will make considerable waves throughout the industry. Here are five of the most impactful engineering technology trends that will define the next five years.
Supply Chain Pressures Drive Digitization
Lingering supply chain issues from the COVID-19 pandemic, the Ukraine conflict and other disruptions will continue to affect engineering companies in the near future. As companies continue to face delays, rising rates and material shortages, more will embrace digitization as a solution.
More than 90% of supply chain leaders have increased their investments in digital technologies and more than 80% plan to continue doing so. Internet of Things (IoT) tracking solutions, digital twins for warehouse optimization and artificial intelligence will lead this trend. These technologies will help engineering organizations gain real-time insight into their supply chains and become more flexible amid new disruptions.
Sustainability Becomes More Important Than Ever
Environmental sustainability is another key trend for engineering technologies over the next five years. As more consumers take climate change more seriously, they are more likely to choose sustainable products, so sustainability is becoming a matter of competition, not just environmental responsibility.
IoT technologies will play a central role in this shift as they provide more insight and control over facilities' energy consumption. Renewables like solar and wind power will also grow, as will hydrogen and battery-electric alternatives to gas-powered trucks, forklifts, and other industrial vehicles.
Industry 4.0 Comes of Age
Amid these other shifts, Industry 4.0 technologies — which have previously lagged in adoption — will become standard. As more companies embrace these technologies to deal with supply chain and workforce issues, they will quickly pull ahead of the competition. Consequently, embracing Industry 4.0 will become less of an advantage and more of a necessity to stay afloat.
Businesses can no longer rely on historical demand to assume they do not need to innovate to compete. While the civil engineering profession has been around for centuries, only engineers who embrace change will stay competitive over the next few years. In this digital-driven era, that means leaning into Industry 4.0.
Additive Manufacturing Grows
Among specific technologies, few will be as disruptive in engineering as additive manufacturing. 3D printers are becoming more versatile and accessible, and as they do, it is becoming increasingly difficult to overlook their advantages.
Additive manufacturing's benefits address many of engineering's biggest current challenges. It is typically faster than conventional machining, leading to shorter lead times to address supply chain issues. It is also fairly hands-free and energy-efficient, making up for the ongoing labor shortage industrial businesses face and promoting sustainability.
Cybersecurity Concerns Keep Rising
Engineering companies will become more popular targets for cybercriminals as they implement more digital technologies over the next few years. Manufacturing has already become the most-targeted industry for cybercrime and technologies like IoT devices will grow their attack surfaces. Because digitization is imperative for businesses wanting to stay competitive, this trend will only grow from here.
Cybersecurity should become a priority for industrial organizations. Strong digital protections and an emphasis on employee training will enable these companies to fully capitalize on new technologies without becoming too vulnerable. Those that do not embrace cybersecurity may find their tech adoption creates more issues than it solves.
These Engineering Tech Trends Will Reshape the Industry
Technology is driving changes in virtually every industry, but engineering faces particularly substantial shifts ahead. These five tech trends will thoroughly disrupt and transform the industry. Organizations that capitalize on them early could see significant growth in the future, while those that delay too long will quickly fall behind.
While nothing in the future is ever certain, current trends suggest these technology updates will be the industry's most powerful drivers over the next five years. Learning about them now will equip businesses for the future.
Comments (0)
This post does not have any comments. Be the first to leave a comment below.
---
Post A Comment
You must be logged in before you can post a comment. Login now.
Featured Product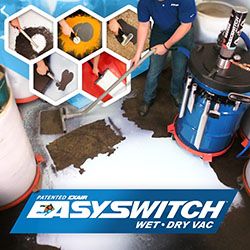 VariBlast Precision Safety Air Guns are small and lightweight air guns capable of handling tough jobs. Designed with a variable flow trigger they are able to produce different force values from the same nozzle simply by pulling the trigger. EXAIR is offering a special right now on all of their Safety Air Guns. Learn more at https://exair.co/184-saqgpromo https://exair.co/184_511