Technologies That Are Streamlining Manufacturing Plant Relocation
There's a lot to think about when a company chooses to relocate its manufacturing plant. Many may wish they could pick up their current facility and bring it to their new location, but that hypothetical isn't currently possible. Therefore, finding efficient ways to streamline a manufacturing plant relocation is vital since increased downtime can lead to profit losses.
Doing so is no easy task, but there are ways to streamline the process for a smooth moving process. Each business has its own unique needs, but there are some items that are universally necessary. There are more tools than ever to move to a new location with modern technology.
Here are four beneficial developments helping manufacturing professionals increase the speed and safety of their moves.
Why Relocate?
There are a few reasons a company might want or need to relocate its manufacturing plant. First, the business may be outgrowing its current space and needs to find a larger one to expand in.
If a company wants to produce more of a product or add a new one to its line, it must have enough factory space while ensuring its employees can still breathe. While a new building may not be much larger, it could allow for more capacity than the previous location due to the number of exits and other factors that enable businesses to hire more staff to work the space safely.
Another reason a company may consider moving is that it is not currently located close to its consumer base. If a business's main customer pool is in another area of the country, they waste money by shipping its goods to the other location. The company can save money by moving to a more convenient place closer to the product demand.
Taxes are another reason a business may choose to relocate its plant. Different city and state governments may charge more or fewer taxes on their operation and leaders want to choose one that saves the factory as much as possible. Whenever a company decides to relocate, it is essential to know about the technologies that can help streamline the process.
Real Estate Websites and Applications
One of the best tools when considering a move is one that enables looking for a suitable replacement property. There are residential real estate applications such as Zillow or Realtor, but more apps now specialize in providing commercial listings.
These companies make searching for a property more manageable and allow a business to view more options than picking up a paper or contacting a commercial realtor. It can search for a new location anywhere and anytime and narrow down search results based on its preferences. Once the company finds a property it likes, it can pursue it by contacting a realtor or messaging the seller directly.
Examples of these applications include LoopNet and CoStar, but there are several others to choose from. They can help save businesses time and ensure it gets the best location possible.
Tracking Applications
Ditch the pens and papers and computer spreadsheets — there are device applications that can help a company keep track of where its equipment is in real time without having to walk through the entire warehouse.
There are several new smartphone applications that allow businesses to track and inventory items through pictures or barcodes. Anyone can simply take a picture of a product or create a barcode to sort different objects based on whether they are at the old location, in transit or at the new location.
An easy way to use one of these apps to its fullest potential is to separate the work by each section of the factory floor. Assign different people to a particular area of square footage and have them use the app to log the items in their area for transport. Once the items are categorized, it will be easy to ensure everything arrives and goes in the correct section.
Even if a company already has an equipment log, it will likely sort through and add or eliminate items prior to moving day. It is good to take an updated look as the relocation begins.
Trailers
It is not very likely a business will be able to put all of its equipment into a personal vehicle, so it is important to have a trailer capable of handling equipment in order to make the move as efficient as possible. The company needs to have a trailer with a weight capacity suitable to move as much equipment as possible in one trip to the new location.
A business can research using a rental or buying guide that explains what each type of trailer is capable of doing to determine which one they need. As technology advances, sleeker trailers are able to handle more weight, making the moving experience less stressful than before. However, each company should ensure that whoever is transporting equipment has experience driving a trailer, as they do not want to risk an accident.
Just as it is critical to have licenses and insurance on the vehicle transporting the equipment, a trailer should have those as well. Business leaders must know local and state regulations to ensure their equipment is ready to go. Those renting out or selling trailers should have information on broader laws, but it is necessary to check with nearby governments to ensure the devices will not cause issues.
Lifting Equipment
Once a company has its new location, inventoried its equipment and got the right trailer, it is time to get the right equipment to load and unload its machinery. Forklifts are the traditional and still-preferred method of transporting machines, but recent innovations have improved the old design. Modern forklifts are able to lift more with less bulk, allowing more than one to be in the same area.
New forklifts are also safer, with smoother movements helping to mitigate the risk of accidents. As with the trailer, it is critical to ensure workers who operate the forklift are properly trained. Businesses can purchase a forklift or rent one to use during their move to make transporting equipment much easier.
Using Innovations to Streamline Plant Relocation
Deciding to move a manufacturing plant is a significant change for any company that comes with excitement and stress. It may want to change locations for many reasons, including business expansion or better taxes. Once the decision is made, it is time to begin the process of swiftly and smoothly relocating their operation.
Moves involve ensuring each piece of equipment is safely moved to the new plant and that the site is fit for the operation. By taking advantage of the innovations out there, companies can ensure their relocation works well for everyone involved.
Comments (0)
This post does not have any comments. Be the first to leave a comment below.
---
Post A Comment
You must be logged in before you can post a comment. Login now.
Featured Product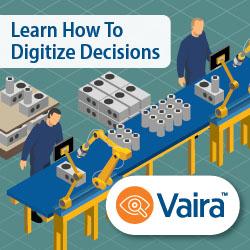 Vaira™ helps manufacturers digitize, automate, and upgrade error-prone manual processes and decisions to boost productivity and increase profits by helping humans make decisions consistent, reliable, and traceable. The camera-based solution is powered by a scalable suite of shop floor-ready apps built on proven machine vision and AI expertise for frontline manufacturing operations, with two-way integration to resource planning tools to help drive continuous analysis, insight, and improvements. Start digitizing immediately, streamlining processes customized to your unique requirements and reduce errors that lead to costs, delays, and quality concerns.