A Guide to Real-Time Location Systems (RTLS) in Manufacturing
Real-Time Location Systems (RTLS) have been around for two decades now, but recently they have begun to proliferate throughout the manufacturing industry. A key part of the Industry 4.0 movement, RTLS offers manufacturers a chance to pursue optimum efficiency across their industrial sites and yards. But how does it work? And is it extremely complicated to set up and run?
What is RTLS?
RTLS has been used across manufacturing, logistics, and aerospace industries for many years, but is beginning to move into a wide variety of industries including healthcare, defence, and even office spaces. Its main purpose is to track the location of assets (anything from machines, vehicles, stock, tools and people) in real-time, creating a digital overview of the plant/factory/yard/hanger. This new "digital twin" can allow for simpler management of the site by predicting errors, unnecessary tasks, resource shortfalls, employee malpractices and more. Boundaries can also be defined within the workplace, helping with safety practices, and assets and personnel can be quickly located and redirected. By employing an RTLS system, almost any manufacturing site can root out inefficiencies and begin to automate many time-consuming processes.
How does RTLS work?
There are three key components to an RTLS system: transmitters, sensors, and software. By setting up sensors around a site and tagging various assets, one can transmit location data to a central data hub for processing, either on-site or in the cloud. Specialized software can then build-up an image of the space and deliver insights into activity on the site.
There are a wide variety of sensor and tag types which vary depending on the environment they are deployed in, and the type of tracking required. RFID tags, for example, are a type of tag that is ubiquitous in manufacturing and logistics, and are very cheap and easy to us, but they offer limited functionality. UWB tags, as another example, are extremely useful in factory settings as they are "active" tags, sending out signals over a long distance, even offering 3D positioning to centimetre-level accuracy in some cases. They also suffer from far little interference from machinery and Wi-Fi signals.
Other examples of RTLS technology include BLE (Bluetooth Low Energy), Wi-Fi and GPS. Each with their own benefits and disbenefits.
Many of these sensors and tags will contain software elements, but the most important software handles the interpretation and visualization of the gathered data. Some key questions to ask when looking into any RTLS software package are:
Floorplans: Can the software incorporate the site's current floorplans?
Solid reporting: Does the software have good analytics and reporting features "out-of-the-box"?
Is the software hosted on site or in the cloud?
Will the software scale with the business?
Is support and training offered?
How is RTLS being used in Manufacturing?
As RTLS systems are being used differently in a wide variety of industries, below you can see some of the most common use cases across different sectors. Remember, with RTLS systems, the sky's the limit. The examples below are simply the most obvious ways in which RTLS is being used after initial setup
Aerospace Industry
RTLS is currently used to track the aircraft assembly process, including the location of tooling kits and various parts and personnel. Managing limited numbers of expensive tools, worker safety, and production logistics helps to reduce the overall spend on these complex production processes. Many of the checks performed on aeroplanes can also be changed to a "when needed" model as opposed to regular scheduled checks. The ability for RTLS systems to observe parts and machinery and offer reports based on a variety of data (including visual, infra-red, and vibration data) can save time and money on each production cycle.
Automotive Industry
RTLS is used to speed up production cycles in vehicle manufacturing by tracking the location of cars and wireless tools. Tool operations can be automated, and tools can be calibrated based on their proximity to certain vehicles. As more and more customizable options are being offered by car manufacturers, each car in a production line often needs new tool settings. By replacing traditional barcode scanners with UWB tags, manufacturers are now able to speed up their production lines, meeting targets quicker.
The tagged vehicles are then tracked as they move into storage and can even retain tags to help with maintenance and repair tasks in future once the vehicle has been sold. Tesla currently keeps a digital twin of all their vehicles to ensure the vehicle history remains clear across its lifetime.
Yard Management
Manufacturing and logistics usually interface in a yard environment and ensuring that a facility's products are delivered in a coordinated and timely fashion is very much in the wheelhouse of RTLS systems. By ensuring transport vehicles are at the right loading bays at the right time, and the correct inventory, pallets, and containers are loaded or stored, many logistical problems can be diminished. Since the global pandemic, more manufacturing sites are building up reserves of stock to help better weather any future supply chain disruptions. This has led to a greater burden on storage and logistics management, which RTLS has helped alleviate.
This is only a brief introduction to RTLS systems and their most common use cases. At Ubisense, our SmartSpace® platform and class leading DIMENSION4™ sensing technology is changing the way many manufacturers improve their production processes. For further information, please take a look at both our RTLS systems and our Guide to Asset Tracking Technologies.
Comments (0)
This post does not have any comments. Be the first to leave a comment below.
---
Post A Comment
You must be logged in before you can post a comment. Login now.
Featured Product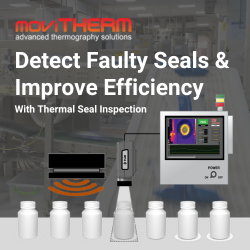 MoviTHERM's Thermal Seal Inspection (TSI) solution provides precise and reliable detection of defects in a variety of packaging types, including pouches, bags, blister packs, bottle caps, and more. By detecting defects in your packages, the TSI solution helps increase efficiency in your production line and ensures top-quality packaging is delivered to your customers every time. With state-of-the-art technology and an experienced team, MoviTHERM is dedicated to delivering accurate inspection solutions and peace of mind to its clients. Contact MoviTHERM today to learn more about their thermal seal inspection solution.