Zeroing In On Your Target Audience With Your Manufacturing Content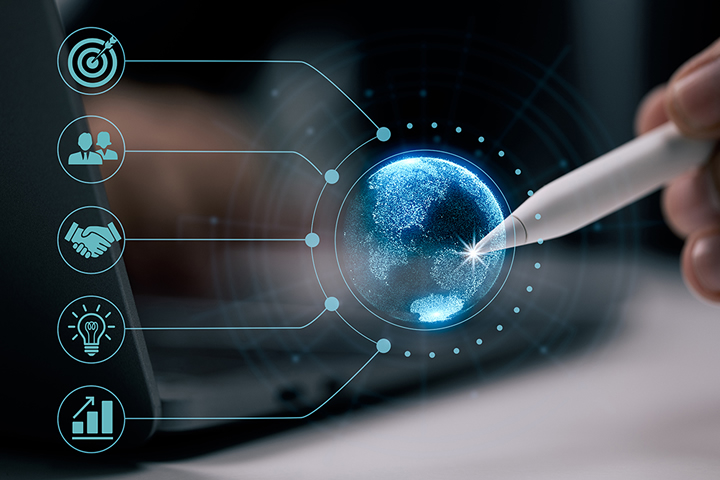 The digital world is flooded in content, so much so that messaging and really robust and strategic content can be swept up in the wave, never to be consumed. How do you keep your valuable manufacturing marketing content from getting lost in the digital flood?
Everything you publish online – from web pages to blog posts to ads to social media – needs to be purposeful, strategic, and consistently tailored to meet the needs of your industry audience. Writing in a way that will resonate with your market demographic to create curiosity and generate engagement with your company should always be a primary goal.
For companies of all sizes, no matter what you sell, content and marketing collateral can all be lead generators if created with due diligence and an eye toward thoughtful positioning.
We recently surveyed manufacturers to learn more about the communications and content that they are producing and publishing and how and where they are incorporating that messaging into their overall marketing efforts.
To Convince and Convert
The words you choose to explain who you are, what you do, and why it should matter for a prospect, vendor, or customer to engage with you should be thoughtfully architected to meet your audience where they are.
Oftentimes, a brand's narrative makes complete sense to an internal team via vision and value statements but, when an attempt is made to articulate that to an external demographic, it can be challenging. If messaging doesn't connect the dots for people and creates confusion or offers inconsistent touchpoints, it can, and often does, fall flat.
Gina Tabasso, growth advisor, Strategy, Marketing & Sales, for MAGNET explains that due to their ongoing growth and evolution, they realized the importance of revamping their A-Z marketing content inventory to better match their current positioning and language so that they both look and sound relevant and modern.
"Our website is currently undergoing an update, and we are working on marketing strategy and the creation of a content calendar for campaigns. We have begun gathering case studies and are regularly posting to our blog."
Your brand messaging should have a heavy focus geared towards your consumers' wants and needs and the value they associate with them. In order to generate brand awareness, you need to be appealing to your demographic(s). This means that you must be strategic in crafting buyer value-oriented content that can convince and then convert.
You Only Get One First Impression
Before a potential customer makes a purchase or buys a service most look a company up online. So first impressions do count, and it isn't just about how you look. Copy weighs in equally during these make-or-break moments.
At Plastics Plus Technology Inc, Marketing Specialist, Chase Bodor defines how his company goes about ensuring that its website makes for a terrific user experience.
"Our homepage follows 5 simple rules to help our visitors understand what we do and how it serves their purpose. This helps create a sense of resonance with our audience without overloading them with too much information.
Clear callout as to who we are - ie: Custom injection molders
A snippet of our core capability -ie: Close tolerance components built to [your] specifications
Who we serve -specific examples ie: medical, automotive, electronics
How we address our core customers' biggest challenges- ie: supply-chain, labor, design, etc...
Reasons why someone should choose us vs. the competition.- ie: In a commodity market, this is crucial.
Ultimately this framework helps us deliver information quickly and set the tone for our audience to take the next steps."
So how does your company sound? Are its voice and story clear and understandable? Does it drive action naturally without coming across as salesy?
Effective and memorable content writing is part art and part science. It's an art because crafting and blending words together well does require a particular aptitude. To be creative with words is also very much a science because of the innate nature of storytelling; no matter what you are selling, it exists in a world of trial and error, success or failure.
Content Needs to Cover Your Audience's Path to Purchase
One of the main objectives of strong brand storytelling is to create new customers and retain the ones that you already have. You want to take your target market on a journey that influences consumer behavior and makes them yearn to experience it themselves firsthand.
Any marketing strategy should keep top of mind what the consumer cares about.
Your potential buyers are more than likely looking to solve a challenge, pain point, or objective so any content should speak to the solutions your company has for them.
Courtney Houtz, Marketing Lead for Butler Technologies, Inc. shares how they integrate marketing based on meeting their prospect in whatever phase they may be at in their buyer behavior process.
"Our new strategy is to focus on content for different stages of the marketing funnel. If someone is in the consideration phase of the buyer's journey, they will most likely prefer to read a case study or testimonial over a short-form blog. Our short-form blogs are meant to drive prospective customers to our website, then our gated content (case studies and design guides) is meant to move them along their journey."
Own Your Unique Differences
You don't want to confuse your brand's voice with industry-specific language. Those are two distinct characteristics. When you are considering content, it needs to hit the mark with its readability factor.
Mapping out your differentiation and talking points and using that as a messaging bank or nucleus helps keep your content looping back to what at the core your story is all about. It does help to be as succinct as possible. Long-winded copy these days doesn't match our skim and scan tendencies.
If your content is too technical, or data or jargon-heavy, you could potentially lose a reader's attention. Awareness and engagement with your target market should be the primary priorities as you map out any content needs.
Your Brand Voice Should Inform All Content Writing
Every business should have an established brand voice that helps its audience remember your company and what you are known for. Being consistent with your language, staying uniform with your brand's overarching story and positioning, and engaging with your consumers through content that matters to them, will help individuals become interested and stay interested in what your business has to offer.
Being knowledgeable about your brand's voice is one thing. Integrating it into everything you do, isn't always an easy feat. A brand's voice should permeate all content, short-form (social media, brochures et al), and long-form writing (website copy, case studies, etc), whether you do it yourself or hire an outside agency or freelance writer.
At Zero Surge Inc., Donna De Vico, Sales & Marketing Director explains how they are aware that their product line is unique and up against competitors that sell similar products. They turn that obstacle into an opportunity by getting granular and providing a wide net with their marketing mix that showcases what it is they do and sell and why a consumer would benefit.
"Our product requires an education because it's up against a whole industry of products with outdated technology that is designed to fail. We use performance and endurance testing results from an independent laboratory as well as oscillograms comparing it to other products on the market. We convey this on our website, company brochure, specification sheets, and in a series of short 2- minute videos on our website and YouTube channel."
What Is Your Manufacturing Company's Story?
When crafting messaging for your company, it is paramount to tell a story and share what is distinct and different about whatever it is you are selling.
Ron Dugas Jr., Business Development Manager for EnCom Polymers answers how they are going about ensuring they stand out from their competitors.
"We are focusing on highlighting products, features, applications, and efforts to achieve the solution for our clients. We are also planning to create a case studies section on our updated website.
There are so many things vying for our attention in our tech-heavy 24/7 world that you need to be able to capture the essence that is your brand identity and its point of view, it then demands further conversation or investigation. If you don't master that, you have lost customers right out of the gate.
Too many brands don't place an essential emphasis on the words that they choose to represent them, they view them as cosmetic and focus most of their efforts on visual appeal.
The content writing you utilize for your marketing purposes needs to draw people in, change perception, resolve objections, and evoke or provoke action. You need to make your audience desire to learn more by triggering just the right reaction. Sounds like a lot to ask but it is the reality of today's marketplace.
Be strategic with every sentence or chosen word/phrase that you utilize, because they are precious real estate. There is no time to lose customers because of dull, inconsistent, or random messaging. You have to immerse them in discovery or engagement or hit a pain point or two from the get-go.
The Right Words Drive the Right Numbers
Words are your brand and company messengers. Your content needs to feel organic and authentic in order for it to make your brand shine and grow. Does your brand's writing convey value, encourage connections and result in people saying "I'm in"? Ask a few people you know for their feedback.
Then take a moment to read some of your company's website, brochure, or catalog copy out loud to see if it packs a punch and says all the things you want it to. If it doesn't, consider that the right words drive the right numbers.
​​Paul Kiesche is the President of Aviate Creative, a branding and creative agency with an edge in manufacturing and technology industries. He applies decades of experience and award-winning work in design and marketing. Paul is involved with #USAMfgHour, Manufacturing Marketing Mastermind, NJMEP, and NJTMA and is a frequent speaker on a variety of manufacturing and industrial podcasts. In addition, Paul is an adjunct professor, presenter, and author on branding, graphic design, and marketing subjects. His objective is to help educate and grow manufacturers through effective and proven strategies.
Comments (0)
This post does not have any comments. Be the first to leave a comment below.
---
Post A Comment
You must be logged in before you can post a comment. Login now.
Featured Product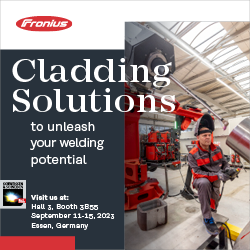 Ever since the invention of our "cold" MAG welding process Cold Metal Transfer (CMT), if not earlier, we have continuously achieved a technological edge in many welding-related areas, resulting in cutting-edge mechanized and automated welding systems. Advanced power source technology stabilizes the arc and ensures perfect welding results. Modern monitoring sensors optimize guidance of the welding torch and compensate for component tolerances. Last but not least, smart data documentation systems assist in perfecting the welding process. Collaborative systems, smart sensor technology, software solutions for data management, and offline programming including welding simulation open up profitable welding opportunities for metal processing companies starting with a single batch. That is why our robotic welding cells prove profitable not only for large companies, but also for small and medium-sized enterprises.