RAPID + TCT 2022 Promises "Next Level" Innovation in Additive Manufacturing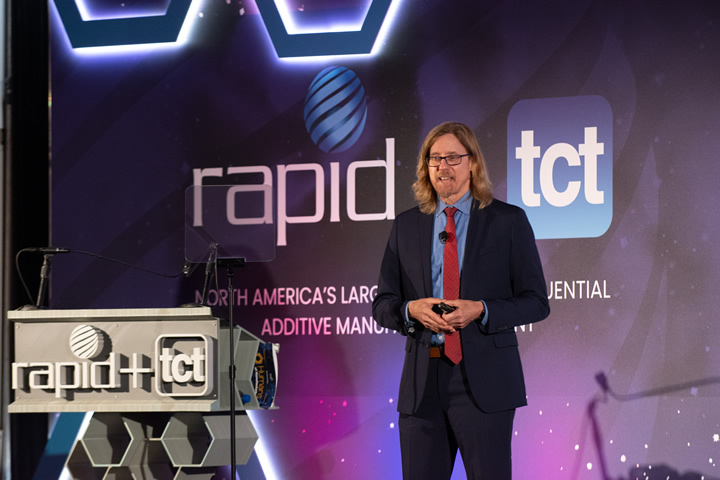 This May, more than 10,000 additive manufacturing (AM) professionals will return to Detroit for RAPID + TCT, North America's largest and most influential AM event.
For more than 30 years, RAPID + TCT has gathered industry leaders to experience hands-on exhibits, learn about real-world AM solutions and network with thousands of peers. Through three days of immersive programming, RAPID + TCT 2022, which will take place May 17-19 at Huntington Place in Detroit, aims to give attendees a taste of the exciting cross-industry growth that AM is fueling.
Conference delegates, who will travel from 35+ countries, can expect cutting-edge product demonstrations, insight from some of the industry's most prominent leaders and opportunities to forge connections with peers driving innovation across the field.
Insight Into Emerging Trends
AM has flourished over the past two years. The industry was valued at $12.6 billion (USD) in 2021 and is expected to swell to $34.8 billion (USD) by 2026.
The coming year promises exciting growth in technology and processes, with increased utilization of metals, ceramics and polymers and significant adoption of AM in the healthcare, aerospace and automotive industries, among others.
That excitement culminates at RAPID + TCT 2022 where industry experts will dive into evolving trends and topics critical to AM's future, with 60+ leaders taking the stage in the SME Zone Theater to discuss issues such as regenerative medicine, sustainability and bioprinting.
Expert Perspectives
RAPID + TCT 2022 will boast presentations from more than 200 of the industry's leading voices through keynotes, thought-leadership panels and 20+ technical panels. Each day will begin with a keynote delivered by a globally-recognized industry expert offering insight into how AM is disrupting traditional manufacturing.
Barbara Humpton, president and CEO of Siemens USA, will explore how the response to COVID-19 is accelerating "glocalization," highlighting AM's role in localizing production, increasing resiliency and inspiring a new generation of industry leaders.
Brian Baughman, Chief Engineer with Honeywell Aerospace, will share how the industrialization of metal AM is powering change and evolution in aerospace manufacturing.
Meanwhile, Caralynn Nowinski Collens, MD, CEO of Dimension Inx, will explore how advances in engineering and biology are driving the expansion of AM for medical applications.
Cross-Industry Innovation
As 3D printing technology rapidly matures, AM is transforming manufacturing workflows and breeding innovation across industries.
RAPID + TCT 2022 programming will cover four industry-specific tracks–Automotive, Healthcare, Aerospace and Wider Industrial, demonstrating the breadth of AM applications. Topical tracks will include Solutions, Ecosystem and Research and Development.
Meanwhile, over 400 exhibiting companies will showcase AM-driven advances in product development, design, 3D imaging, casting, molding, software development and more. Attendees at every level can expect to leave with a new understanding of the technologies, products and services that will revolutionize their field.
The Next Generation of Innovators
As AM paves the way for the solutions of the future, the industry is preparing for a new generation of leaders. As industry experts converge on RAPID + TCT 2022, emerging innovators can explore the potential of AM in SME's Bright Minds program.
Designed to engage both high-school students and emerging professionals, Bright Minds offers access to industry networking, career advising and insight into technological advances. High school students can attend the Student Summit and explore the Technology Playground, with demonstrations and activities from leading AM solution providers.
At the AM Career Forum, students can explore pathways of study at the university level, while postsecondary, graduate students and emerging professionals can explore careers with leading AM companies.
An Expanded Network
For many attendees, RAPID + TCT 2022 will be the first opportunity since the onset of the COVID-19 pandemic to gather with other industry experts and experience advances in the field, presenting a unique opportunity to survey the past two year's impressive growth.
Attendees will enjoy the benefits of exploring 3D technologies and applications up close, examining materials and processes and participating in hands-on demonstrations while building connections with peers across the field.
In addition, RAPID + TCT 2022 will offer an immersive Digital Experience. Both virtual and in-person attendees will have the opportunity to access exclusive digital content, live streaming and industry resources from speakers and exhibitors.
The "Next Level" in AM
AM promises to exhibit significant growth in the coming years, and RAPID + TCT 2022 offers industry leaders of-the-moment insight into how AM can drive progress and profits.
With unparalleled access to industry expertise and leading-edge research, attendees should anticipate new technology, ideas, and connections–and a new understanding of the next-level solutions propelling manufacturing forward.
Comments (0)
This post does not have any comments. Be the first to leave a comment below.
---
Post A Comment
You must be logged in before you can post a comment. Login now.
Featured Product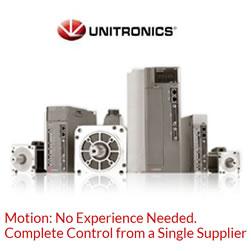 Unitronics' line of AC Servo Drives & Motors changes the traditional approach to motion control. They are simple to set up and painless to program. Unitronics Servos simplify implementation of motion applications while minimizing complexity and reducing development time. Some of the easy-to-use features in this new line include implementing motion control easily with ready-made motion code, embedded diagnostic tools, and automatic communication setup.