COMPANIES WILL EITHER SINK, SWIM, OR SURF DEPENDING ON THE MATURITY OF THEIR DIGITAL READINESS
Hannover, Germany – July 17, 2020: Companies that have embraced digital technologies will be seeing an exceptional return on investment (ROI) amid the disruption caused by the current crisis, according to head of the organising committee of the Global Manufacturing and Industrialisation Summit (GMIS), a joint initiative by the United Arab Emirates (UAE) and the United Nations Industrial Development Organization (UNIDO).
Badr Al-Olama, who heads the GMIS organising committee and Aerospace division at Mubadala Investment Company, said companies will either sink, swim, or surf in the post-COVID era, depending on the maturity of their digital readiness.
"I believe the ones that will surf are those that have already embraced the fourth industrial revolution. For companies that invested before COVID-19, ROI is shooting through the roof and those companies are surfing and enjoying every moment. The wave has been perfect for them," he said at the HANNOVER MESSE Digital Days, the digital edition of the world's leading trade fair for industrial technology.
Speaking at a session titled 'Re-imagining the future through digital restoration', Al-Olama stressed that resilience, flexibility, and sustainability are the three most important factors for any manufacturer, all of which can be enhanced by harnessing the technologies of the fourth industrial revolution. By embracing technology to strengthen global value chains, localise capabilities, and maintain operations, manufacturers would have a "winning formula" to manage output, meet demand, control costs, and improve quality, he added.
Al-Olama urged companies to stop yearning for things to return to the way they were before the pandemic and instead focus on preparing for inevitable changes that would provide them with a new benchmark for the future.
"The world must accept that there is a new normal coming which will look considerably different from pre-COVID times, and this will include hybrid models of digital technology with physical activity. Countries and businesses that are able to predict and react to the new normal are going to be the real winners at the end of the game," he said.
Industry and technology companies are working hand-in-hand to speed up the recovery from the pandemic and create an economy immune from potential disruptions in the future, Al-Olama said. He pointed out that COVID-19 has resulted in global collaboration on an unprecedented scale, with manufacturers repurposing their factory floors to produce essential Personal Protective Equipment (PPE), and COVID-19 researchers openly sharing their findings with the rest of the world.
"Research has been made open source because humanity is collaborating to make sure that we can mitigate the impact of COVID-19," he said. More importantly, he added, start-up ecosystems have stepped up and are driving entrepreneurs and SMEs to produce innovative solutions that can enable businesses to swiftly recover from the crisis.
Collaborative Management for Inclusive and Sustainable Industrial Development
There is a collective responsibility to address inequalities around the world, including the digital divide that exists between developed and developing countries, Al-Olama said. As long as only 20% of the population of Least Developed Countries (LDCs) have access to the internet, compared to 90% in the developed world, it will be impossible to achieve inclusive and sustainable industrial development at a global level, because reliable connectivity underpins the technologies of the fourth industrial revolution.
Addressing this would require a paradigm shift towards "collaborative management" between stakeholders, he said. "We need to promote inclusive and sustainable industrial development, not just because it's part of the Sustainable Development Goals (SDGs), but because we should have the decency to take care of everyone, everywhere. If all economies are in good shape, then the global economy will be much more resilient, flexible, and sustainable."
Private sector companies, rather than governments, should take the lead and accelerate the next evolution of digital capabilities, while governments should focus on providing the right policies and framework for the private sector to bridge the digital revolution and emerging global crises such as climate change. "That to me is a true partnership between the public sector and the private sector for the benefit of civil society," Al-Olama said.
Held on July 14-15, the HANNOVER MESSE Digital Days welcomed 200 leading speakers to discuss topics in industrial transformation including Industrie 4.0, artificial intelligence, 5G, and smart logistics. Al-Olama joined high-level speakers from across the world including Peter Altmaier, Germany's Federal Minister for Economic Affairs and Energy, Agus Gumiwang Kartasasmita, Minister of Industry of the Republic of Indonesia, Klaus Helmrich, Member of the Managing Board of Siemens AG and CEO Digital Industries, Adel Al Saleh, CEO of Deutsche Telekom and T-Systems, Thierry Breton, European Commissioner for Internal Market, and Jean-Pascal Tricoire, Chairman & CEO of Schneider Electric at the digital event.
In April 2019, GMIS and Deutsche Messe AG announced a strategic partnership to host the third edition of the Summit, #GMIS2020, alongside Hannover Messe under the theme of #GermanyConnects - inspired by Germany's leadership in connecting the global manufacturing community with its transformational digital and technological solutions. Following the disruption caused by the coronavirus pandemic #GMIS2020 is taking place virtually as a Digital Series that commenced on 30 June, leading up to the Virtual Summit on September 4-5, 2020.
Through its Virtual Editions, the third edition of the Global Manufacturing and Industrialisation Summit (#GMIS2020) is bringing together high-profile thought-leaders and business pioneers from around the world to shape the future of manufacturing, discuss the impact of pandemics on global value chains, and highlight the role of fourth industrial revolution (4IR) technologies in restoring economic and social activities.
Participants can watch the GMIS Virtual Summit and Digital Series by registering on the following link: https://bit.ly/3eYq75o. The programme agenda is available on the following link: https://bit.ly/2Al40r7.
About GMIS:
The Global Manufacturing and Industrialisation Summit (GMIS) was established in 2015 to build bridges between manufacturers, governments and NGOs, technologists, and investors in harnessing the Fourth Industrial Revolution's (4IR) transformation of manufacturing to enable the regeneration of the global economy. A joint initiative by the United Arab Emirates and the United Nations Industrial Development Organization (UNIDO), GMIS is a global platform that presents stakeholders with an opportunity to shape the future of the manufacturing sector and contribute towards global good by advancing some of the United Nations Sustainable Development Goals.
The first two editions of the Global Manufacturing and Industrialisation Summit were held in Abu Dhabi, United Arab Emirates in March 2017, and Yekaterinburg, Russia in July 2019, respectively, with each edition welcoming over 3,000 high-level delegates from over 40 countries.
GMIS 2020, the third edition of the Global Manufacturing and Industrialisation Summit, will be held virtually as a sequence of digital series starting June 2020 followed by a virtual Summit in September 2020, and will focus on glocalisation.
To learn more about GMIS, please visit https://gmisummit.com/ and follow GMIS on Twitter: @GMISummit, Instagram: @gmisummit, LinkedIn: GMIS - Global Manufacturing & Industrialisation Summit, and Facebook: @GMISummit.
Comments (0)
This post does not have any comments. Be the first to leave a comment below.
---
Post A Comment
You must be logged in before you can post a comment. Login now.
Featured Product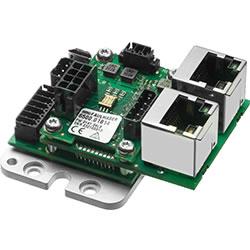 MOTION CONTROLLERS FOR MINIATURE DRIVES AND MICRODRIVES. FAULHABER has added another extremely compact Motion Controller without housing to its product range. The new Motion Controller is ideal for integration in equipment manufacturing and medical technology applications. With 36 V and 3 A (peak current 9 A), it covers the power range up to approx. 100 W and is suitable for DC-motors with encoder, brushless drives or linear motors.