Want to Attract the New Manufacturing Workforce in 2020? Think With a Data-Driven Mindset
It's not a secret that many manufacturers struggling to attract a younger workforce, as shown by a recent study from the Manufacturing Institute. 97 percent of manufacturing firms are aware about their aging workforce, and 78 percent are very or somewhat concerned about this change. As more experienced workers begin to reach retirement age, how can they attract the next wave of the workforce to get a younger generation into manufacturing roles? 2020 will be about enabling newer workers with the right technology and a data-driven mindset.
The continuing trade war, economic uncertainty and other global events are causing market volatility, further incenting manufacturers to adopt Industry 4.0 technologies that increase production efficiency. Global manufacturers require high-quality operational data faster than ever before to aid decision-making related to events that impact the global supply chain. Customers also increasingly have higher expectations for data transparency from their manufacturers.
For those that are embracing cloud, it's going to be easier to quickly move operations, whether due to trade, tariffs or other situations, while maintaining the integrity and quality of manufacturing operations. This will also be a key selling point to the next generation of a workforce used to having data constantly at their fingertips to make better decisions, faster, and moving onto the next issue to solve.
Technologies like cloud MES platforms help to provide real-time access to unified data across the globe, and the introduction of mobile apps, automation and AI as part of the manufacturing process will ultimately make production more efficient. The added benefit of recent technology innovation is that it is empowering employees by providing them with more control over their work, enabling them to make decisions on the factory floor and run a portion of the business as if it were their own. Younger workers that are accustomed to technology and are motivated to learn new skills will be a natural fit for this new environment.
So what's holding us back from embracing these new technologies? Many manufacturers are still hesitant to put their data in the cloud, thinking it's less secure than physically or electronically housing data on premise. Luckily that is not the case. The amount of high availability, redundancy and hybrid cloud, as well as sophisticated edge computing technologies that cloud service providers are continually investing in, is unmatched compared to what a single company can do to protect its on-premise infrastructure. In today's ever-changing environment, transparency is essential and is incumbent for technology providers to ensure that data is both secure and readily available to the right stakeholders.
As manufacturers deploy cutting-edge Industry 4.0 technologies (like AR, AI, VR, ML, data science) as part of Industry 4.0 initiatives, the skills required to leverage these technologies are certainly changing, compared to skills that Baby Boomers brought to manufacturing. Ironically, technology is not going to be the biggest challenge during the transformation journey. It's going to be the culture change – shifting to a mindset of data driven operations instead of waiting for executives in a back office to meet and come up with the answers. It's about getting the manufacturing workforce to make decisions based on data instead of relying on tribal knowledge.
Organizations must focus on re-engineering processes and training people so that they are prepared to drive a much more efficient and reliable factory leveraging a unified set of data.
About the Author
Rajeev Gollarahalli, Chief Business Officer, 42Q
Rajeev is responsible for driving continued business momentum at 42Q, and recently served as the vice president of technology strategy for Sanmina, responsible for all strategic I.T. initiatives across all of their production facilities worldwide. Prior to this role, he served as the senior vice president of online and digital for a leading industrial thread company, headquartered in the UK with a presence in 50 countries.
Comments (0)
This post does not have any comments. Be the first to leave a comment below.
---
Post A Comment
You must be logged in before you can post a comment. Login now.
Featured Product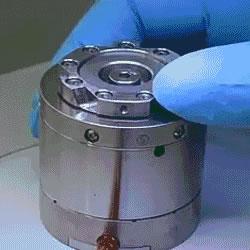 Hexapod micro-motion 6-axis platforms are based on a very flexible concept that can easily solve complex motion and alignment problems in fields including Optics, Photonics, Precision Automation, Automotive, and Medical Engineering.