Supplier Selection Criteria When Sourcing an Additive Manufacturing Solution
Today, there are numerous options when looking to source an additive manufacturing (AM) / 3D printing platform, and it can be confusing for potential users attempting to select the best fit for their specific endeavours.
However, there are a number of simple questions that should be asked to providers of additive manufacturing solutions, the answers to which will help customers, and especially new customers, make an informed decision and ultimately invest in a technology option that dovetails with their requirements.
Here, FELIXprinters details the questions that should be asked.
1. ACCURACY, SURFACE FINISH, & RESOLUTION
Additive manufacturing platforms come in all shapes and sizes, and also with capabilities in terms of accuracy, surface finish, and resolution that vary considerably. Typically, increased accuracy means increased cost of the AM platform. At one end of the spectrum are very low cost entry level 3D printers which are characterized by low accuracy and lack of repeatability, and which are aimed at the consumer and hobbiest markets. At the other end, are extremely high accuracy machines with huge price tags that are aimed at OEMs and their suppliers who require exacting performance for production applications. Ask yourself what you "really" need when it comes to accuracy and surface finish, and this will help you to avoid buying a solution that is sub-optimal, or that is over-engineered for your requirements. The Holy Grail is a lower cost machine that does not compromise on accuracy and repeatability, and there are suppliers out there that offer such options for manufacturers.
2. APPLICATION
Ask yourself what you will be using the additive manufacturing platform for. What will you be building? Will you be using your AM platform for prototypes, concept models, end-use production parts, master patterns for castings, or tooling and fixtures. If you are looking for a machine that will give you good looking concept models, your requirements will be very different from a manufacturer that is looking for an AM platform that will provide an end use product or component, where absolute attention to design intent and detail is paramount. Look for a machine that gives you the correct balance of accuracy against cost that meets the needs of your application.
3. MATERIALS
The first question when it comes to material requirements concerns the physical properties that your AM parts need to exhibit. Will parts need to be stiff or flexible? Do they need to be a specific colour? How durable do they need to be? Do they need to be water repellent or chemical resistant? Also, of huge importance, are all your parts likely to be made from the same material, or different materials, in which case choose an AM platform that promotes ease of change over when it comes to purging and recalibration. There are AM solutions available that are designed with simplicity of material change over in mind, so ask your chosen supplier how they measure up.
4. BUILD SIZE
Build size is an obvious question that must be addressed. The build envelope of AM machines varies considerably, and it is possible that one platform may not be able to accommodate every build that you have planned. Key here is to choose a platform that will accommodate the majority of the parts that you plan on printing, and perhaps outsourcing the rest to service bureaux, which may be more economical than purchasing multiple machines. Alternatively, you could seek out a supplier that provides a variety of build volumes on different platforms that are positioned at a cost that makes multiple platform purchase a viable option to accommodate all your requirements. Or finally, select a supplier that allows you to easily upgrade your platform as your requirements evolve.
5. BUILD SPEED
You will need to ask your chosen AM supplier how quickly their machine builds, and the answers will usually be in inches or millimetres per hour in the vertical build direction. Build time will obviously vary by application, geometry, layer thickness, and material so apply some caution. Also, critically, ask your supplier if adding parts to the build platform will increase build time or not. In some instances, it will not, but there are some AM platforms that are significantly slower when parts are added.
6. COLOR?
For some applications, colour is either vital of preferable for aesthetic reasons. For others it is irrelevant. Depending on your requirements, be sure to ask your chosen supplier how they cope with colour requirements. Some will only be able to print one colour at a time, meaning that you will need to change materials between builds, while others have a full colour printing capability.
7. POST-PROCESSING NEEDS
Pretty much every 3D printed part for all applications will need some amount of post-processing after the build. This is an area to push hard when choosing your AM platform supplier. In some instances the post-processing requirements contribute upwards of 60% of the final cost of a printed part, and it is an area that many AM platform suppliers ignore or downplay. Make sure you consider post-processing when you select your AM platform, as what you choose will impact the amount of floor space you will need to dedicate to post-processing activities, hardware and tools, and costs of technical staff to undertake post-processing activities
8. MAINTENANCE
Once again, maintenance is always necessary when using a 3D printer, and is another issue that many AM platform suppliers downplay. Most 3D printers are highly technical bits of kit, and will go wrong at some point. You need to select a supplier that shows high levels of reliability, and also promotes ease of maintenance and is pro-active with assistance post-sale when needed.
9. COST
As previously mentioned, AM platforms vary considerable in respect of cost, ranging from €1000 all the way up to €1 million+. Typically, lower cost implies lower accuracy and repeatability, but there are a small number of suppliers that provide comparatively low cost (€10,000 to €20,000) machines with extremely good accuracy and repeatability which may give you the best of both worlds. Before making a purchasing decision, be sure to find out whether the quoted cost is a final cost or whether you will be expected to pay for shipping, sales taxes, installation and training costs, technical support, and extended warranties. In addition, ask whether you will need additional investment in dedicated computers, specific power supplies, ventilation systems, or equipment that regulates humidity, temperature, and control of air-borne particulates.
10. EXTRAS
The cost of an AM platform is not the end of it. As you use the machine there are on-going costs that you must take into consideration at time of purchase, and you need to get a clear idea of these from your supplier. Ask about costs of materials and other consumables, solvents for clean up and post-processing, maintenance, repairs, and recalibration.
The FELIXprinters industrial AM machines vary in cost from approximately €3000 to €15,000 depending on the build envelope required, and therefore present robust manufacturing solutions at an affordable price point. The full range of the company's industrial AM machines are backed up by an array of ancillary products and services and pro-active post-sale "partnership" which is expected when companies adopt AM for manufacturing applications. All of this is in response to the feedback from industry that focused heavily on ease of integration of AM platforms into their product development and manufacturing processes.
We welcome engagement with customers to discuss their AM needs, and you will be sure of an honest and pragmatic response that gives you the information that you need to make an informed purchasing decision.
About FELIXprinters
FELIXprinters is headquartered in IJsselstein, the Netherlands, and was established in 2010, since when it has established itself as one of only a very few 3D printing technology suppliers that has an understanding of the requirements of the market for 3D printers. FELIXprinters provides top-end, robust, reliable, and competitively priced 3D printing solutions for industry users. Beyond the optimisation of its industrial range of printers, however, FELIXprinters has extensive engineering and R&D capabilities, which it is able to utilize to provide specific services in the development of tailor made, customised 3D printing platforms — working in partnership to produce new and innovative solutions.
Comments (0)
This post does not have any comments. Be the first to leave a comment below.
---
Post A Comment
You must be logged in before you can post a comment. Login now.
Featured Product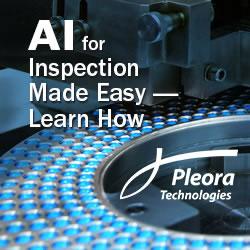 Pleora's AI Gateway is the most straightforward way to train and deploy artificial intelligence (AI) algorithms for inspection applications. With "no code" training, plug-in AI skills for detection, sorting, and classification, and processing flexibility to support open source and custom algorithms, designers and users can immediately reduce costly inspection errors while preparing for advanced Industry 4.0 and IoT applications.