HP 3D Print Design Competition

Contest from HP: Color is opening up a world of new possibilities for 3D printing. It's helping surgeons create models to prepare for surgery, allowing manufacturers to develop better parts, and enabling customization not previously possible.
How would you use color to elevate 3D printing? Show us by submitting your color design to our competition for a chance to win an HP ZBook 15 G5 Mobile Workstation.
Your design should focus on functional color ideas—either new or extended—that benefit the product's consumer. Color should be used in a way that increases and/or expands the product's desired function. Be sure to highlight why 3D printing is the best channel of production for your idea. What benefits come from using 3D printing for this product?
Deadline: September 5, 2019
The public can vote for their favorite design. A winner will be announced by October 15, 2019.
Steps to Enter:
1. Design a part in .wrl, .3mf, or .obj format.
2. Save an image of the part in .jpg, .gif, or .png format.
3. Submit the .jpg, .gif, or .png image file and all other information to the HP website linked below.
4. If chosen as a winner, entrant must be able to provide a printable file in .wrl, .3mf, or .obj format.
General Guidelines:
Maximum part dimensions: 12 x 6 x 8 inches
Incorporate the use of color in a functional capacity.
Submissions must be in wrl, .3mf, or .obj format.
Winners must be able to provide a printable .wrl, .3mf, or .obj file
Judging Criteria:
Functionality: The design is a functional part that utilizes the advantages of 3D printing.
Aesthetic Appeal: The design includes an aesthetic component that offers an added value.
Utilization of Color: The design uses color in a creative manner that contributes to the functionality of the final part.
Grand Prize is ZBook 15 G5 Mobile Workstation

Comments (0)
This post does not have any comments. Be the first to leave a comment below.
---
Post A Comment
You must be logged in before you can post a comment. Login now.
Featured Product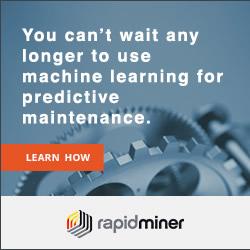 RapidMiner offers a data science platform that's built to enable people of all skill levels across the enterprise to quickly build and operate AI solutions to drive hard ROI for their organizations. Many data science tools are built to create accurate models, but cannot help manage the models into production, where they can have an impact. The platform covers the full lifecycle of the AI production process from data exploration and data prep to model building, model deployment and model operations. RapidMiner can help with a wealth of manufacturing use cases, like designing smart products, running smart factories, forecasting demand, ensuring quality, reducing production downtime, and managing supply chain risk.