Embedded Software Market to cross USD 20 billion by 2025
Global Embedded Software Market is set to grow from its current market value of more than $12 billion to over $20 billion by 2025; according to a new research report by Global Market Insights, Inc.
The embedded software market growth is attributed to the increasing adoption of embedded devices in the retail & automotive sector. The compactness of embedded devices helps in easy installation in small vehicle spaces and can be deployed for features such as altering octane levels in fuel, adjustment of suspension, security systems, and anti-lock braking systems. Hybrid & electric vehicles are using embedded software for increasing fuel efficiency and controlling emissions. The increasing demand for autonomous & connected vehicles is also supporting the market growth.
The increase in the demand for open source Linux software & RTOS software is expected to offer a lucrative growth to the embedded software market. The use of real-time systems enables users to develop functional firmware in highly compressed timescales. Moreover, it supports custom Board Support Package (BSP) as per users' requirements. The primary advantage of an open source RTOS is its low power consumption that helps MCUs to increase the processing speed by around 20%.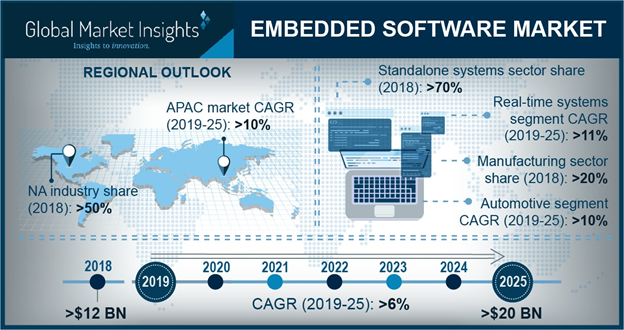 The RTOS segment in embedded software market is projected to register a CAGR of more than 11% due to the increase in the demand for consumer electronic products, automotive electronics, and life-saving medical devices. The RTOS-enabled software uses the round-robin scheduling process that reduces the hog in a CPU and performs error-free processes in real-time. Such systems offer mission-critical & safety-critical applications to various industry verticals such as military, healthcare, manufacturing, and automotive. Furthermore, such software supports multitasking and inter-task communication that helps an engineer to perform complex applications simultaneously. It also supports all microcontrollers and microprocessors that have different memory sizes such as 8-bit, 16-bit, 32-bit, and 64-bit. In June 2018, Green Hills Software partnered with Paragon Software to integrate its Integrity RTOS with Paragon's file system link to support different file types in a system.
Linux held a major embedded software market share in 2018 due to the increase in the demand for open-source development tools & software. The open-source embedded software helps telecommunication, data communication, and internet appliance manufacturers in discovering the cost, performance, and time-to-market benefits for embedded devices. The technology companies are focusing on the development of robust operating system platforms for the development of an embedded system. For instance, in February 2019, Siemens, a leading global provider of software solutions, launched a new enterprise-class Mentor Embedded Linux (MEL) solution for embedded system development. The new solution offers electronic manufacturers secure, scalable, and configurable distributions for industrial, medical, aerospace, and defense applications.
The ARM Mbed RTOS is expected to grow at the highest rate in the embedded software market over the forecast period due to an increase in the adoption of the IoT technology in smart applications. ARM Mbed OS is an open-source embedded operating system designed specifically for IoT applications. The OS helps in reducing security & complexity issues associated with the deployment, development, and management of IoT devices throughout their lifecycle. The enterprises are focusing on integrating cloud services into their embedded software solutions to expand their product portfolio. For instance, in July 2017, Advantech, a global leader in the industrial computing market, integrated with ARM Mbed to enable scalable IoT cloud services. This integration helped the company in offering secure identification, connection, and device management services for IoT deployment.
The real-time system is projected to register the highest growth with a CAGR of more than 13% during the forecast period. The growth in this segment is attributed to error-free task management and use of the pre-emptive kernel method in the system. The real-time system is classified into two, soft and hard. A soft RTS offers less accuracy and strictness on time while a hard RTS delivers the exact output at the required time. In August 2017, Mie Fujitsu Semiconductor Limited (MIFS) launched an automotive 40nm technology using SuperFlash memory licensed by the Silicon Storage Technology (SST). SST's embedded memory solution enabled the company to offer a high-density and low-power IC designs for various applications in the automobile industry.
The automotive sector held a embedded software market share of over 17% in 2018 due to the increase in the adoption of RTOSs in vehicles. The RTOS helps vehicle manufacturers to address safety issues associated with autonomous driving. In January 2017, Arm Limited partnered with OpenSynergy to develop the industry's first software hypervisor for ARM cortex R52 processor to address software complexities in autonomous cars. This product development helped the company to consolidate several safety critical functions into ECUs to reduce complexities and operational costs.
Japan Embedded Software Market Share, By Application, 2018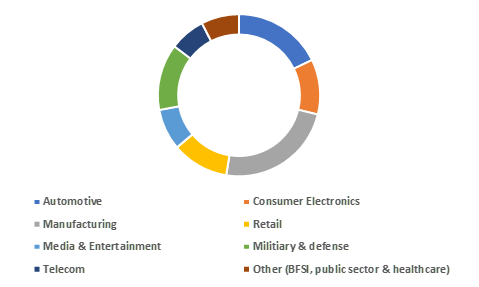 North America embedded software market held a major share of over 50% in 2018 due to the presence of key players such as Intel, Microsoft, and IBM in the region. The rise in demand for IoT & connected devices to offer smart & connected devices and reduce human intervention in the U.S. is helping the market growth. In June 2018, HSBC Bank partnered with SoftBank Robotics America to bring the humanoid robot, Pepper, into the bank branch. This partnership helped the bank in streamlining bank operations, allowing bank staff to have enhanced customer engagement. The robot will educate customers about the basic product information and inform them about the self-service banking options.
The companies are increasing their investments in R&D to expand their product portfolio. For instance, in 2018, the R&D investments of Intel increased by USD 358 million or 3% due to investments in data-centric businesses. The company has decreased its marketing expenses by USD 923 million or 11% due to ISecG divestiture and the adoption of the Intel Inside program. The key players operating in the embedded software market are ENEA, Green Hills Software, IBM, Intel, Microsoft, Advantech, Microchip, Mitsubishi, STMicroelectronics, Express Logic, LG CNS, Mentor Graphics, National Instruments, Segger, Texas, Renesas, HCL, Qualcomm, Toshiba, Via, Dexcel, Graphene, and Qualitat systems.
Source: https://www.gminsights.com/pressrelease/embedded-software-market
Comments (0)
This post does not have any comments. Be the first to leave a comment below.
---
Post A Comment
You must be logged in before you can post a comment. Login now.
Featured Product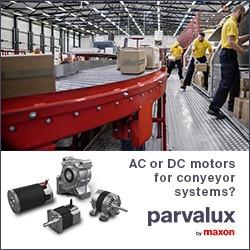 An effective, reliable and efficient drive system is essential to any material handling equipment, whether it's a motor-assisted tow truck, a barrel lifter, a robotic vehicle or a complete high-capacity parcel sorting hub; Parvalux designs and manufactures an exciting range of AC, DC brushless and brushed motors and our drives are valued for their performance and reliability.