RAPID + TCT 2019: North America's Leading Additive Manufacturing Event Returns to Detroit for Biggest Year Yet
RAPID + TCT, the largest and most influential 3D printing event in North America, is returning to Detroit to showcase the growth of additive manufacturing in the heart of industrial America. The event, produced by SME and owner of The TCT Group, Rapid News Publications Ltd, takes place May 20-23, 2019, at Detroit's Cobo Center, and will gather the world's leading companies to demonstrate the most advanced innovations in additive manufacturing.
By far the most comprehensive event in the industry, RAPID + TCT is where the entire additive manufacturing community comes together to share knowledge and learn what is new. Attendees will have the opportunity to experience 300+ hands-on exhibits, industry-accelerating product announcements, world-class education from highly regarded experts and networking with over 6,000 industry peers.
"RAPID + TCT is a great venue for people to really educate themselves on the possibilities of what can be done with 3D printing," said Andrew Snow, senior vice president, Electro Optical Systems. "It's one of North America's leading venues for additive manufacturing, and a must-go-to event for people who are looking for material and technology selections for 3D printing."
The 2019 event already boasts involvement from major additive manufacturing equipment companies, such as HP Inc., Stratasys, Desktop Metal, GE Additive, TRUMPF North America, Titan Robotics and Cincinnati Inc. among many others, each demonstrating intelligent solutions to unlock the potential of additive manufacturing. No other event brings together companies from across the additive supply chain in one place, providing RAPID + TCT attendees a unique business opportunity.
"The additive manufacturing industry is continuing to grow quickly. Continual developments and improvements in technology and materials mean that we are now seeing the technology used in an even wider range of industries and applications than before," said Duncan Wood, chief executive officer, Rapid News Publications Ltd. "Additive is therefore more important and relevant than ever, and in North America this critical mass of insights, intelligence and inspiration can only be found at RAPID + TCT."
The automotive industry is one of the biggest users of additive manufacturing, making Detroit the perfect place to host next year's event. Automotive has embraced innovation for decades, and the competitive nature of the industry makes new technologies and changing trends an essential part of its business. As OEMs increase their use of additive manufacturing, they will look to the supply chains to follow or even lead innovation in this area. Mass market industry users of 3D printing, such as the automotive sector, are essential to ensuring widespread adoption of the technology and in bringing down the price of machines and materials.
"SME and The TCT Group are committed to moving the additive manufacturing industry and marketplace forward," said Maria Conrado, senior event manager, SME. "With RAPID + TCT, we're convening collective industry knowledge and global networks to drive even greater development and adoption of key design-to-manufacturing technologies across all industries."
To learn more about the event or to attend, please visit rapid3devent.com.
About RAPID + TCT
For over 25 years, RAPID + TCT has defined the crucial role of additive manufacturing and empowered the establishment of an industry that continues to conceive, test, improve and manufacture new products at a faster, more cost-efficient pace. The two industry leaders in 3D technology events, SME and The TCT Group, have teamed up to produce the annual RAPID + TCT event. For users and suppliers alike, the event is the premier destination for those who provide technology and for those who need to understand, explore and adopt 3D printing, additive manufacturing, 3D scanning, CAD/CAE, metrology and inspection technologies. For more information, please visit rapid3devent.com.
About SME
SME connects all those who are passionate about making things that improve our world. As a nonprofit organization, SME has served practitioners, companies, educators, government and communities across the manufacturing spectrum for more than 80 years. Through its strategic areas of events, media, membership, training and development, and the SME Education Foundation, SME is uniquely dedicated to the advancement of manufacturing by addressing both knowledge and skills needed for the industry. Learn more at sme.org, follow @SME_MFG on Twitter or facebook.com/SMEmfg.
About Rapid News Publications Ltd & The TCT Group
Established in 1992, Rapid News Publications Ltd, the owner of the TCT Group, has been a leading authority in additive manufacturing, 3D printing, design and engineering technology for over 25 years. The group's events and media products now deliver business-critical insights, intelligence and inspiration across Europe, North America and Asia on 3D printing, additive manufacturing, CAD/CAM/CAE, metrology, inspection and materials as well as highlighting the latest developments in conventional manufacturing processes such as moulding, casting and CNC machining.
The TCT Group mission is to accelerate the adoption of technologies that power innovation in the design-to-manufacturing process chain. Enabling companies across the complete spectrum of industry to achieve the goal of world-class design and manufacturing functions within their organisations. The TCT Group (www.thetctgroup.com) is owned by Rapid News Publications Ltd (www.rapidnews.com) a member of the AEO (Association of Event Organisers) and BPA Worldwide.
Comments (0)
This post does not have any comments. Be the first to leave a comment below.
---
Post A Comment
You must be logged in before you can post a comment. Login now.
Featured Product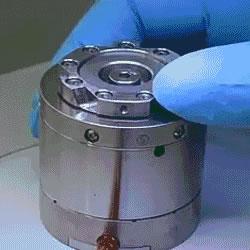 Hexapod micro-motion 6-axis platforms are based on a very flexible concept that can easily solve complex motion and alignment problems in fields including Optics, Photonics, Precision Automation, Automotive, and Medical Engineering.