MakerBot Thingiverse Celebrates 10 Years of 3D Printed Things
MakerBot, a global leader in desktop 3D printing, is celebrating the 10th anniversary of Thingiverse, its design community where over 2 million registered users have discovered, shared, and 3D printed millions of Things.
As the world's largest free and open 3D printing community, MakerBot Thingiverse has, much like the Desktop 3D Printing industry, undergone several iterations and changes. There has been a shift from home users and hobbyists, to educators, designers, and manufacturers. It has changed from experimental usage to become an educational tool on one hand and a tool for agile rapid prototyping for commercial customers on the other.
Thingiverse Education has become the go to destination for educators as a resource to prepare the next generation of students for the workplace of tomorrow. They come to the community to gain access to the resources they need to successfully bring 3D printing into their classroom. This includes hundreds of 3D printing lesson plans and a thriving group of thousands of STEM educators around the world.
Since its launch in October of 2008, Thingiverse has had an average of 149% YOY organic growth in registered users, with over 2.3 million registered users currently on the site today. These users have uploaded nearly 3 million 3D printable Things. In total, these Things have been downloaded over 340 million times. With direct access to such a wide and diverse community of dedicated 3D printer users, MakerBot is able to connect with these users directly to help build full end-to-end 3D printing solution offerings.
"We've been at the forefront of 3D Printing for a decade, but the industry of 3D modeling and printing is still in its infancy," said MakerBot CEO, Nadav Goshen. "A deep connection to customer needs drives our view of the market, and Thingiverse serves as a central conduit in that regard. The feedback from our customers is a core part of our mission to deliver more than just a great 3D printer. From cloud-based software to the lesson plans found on Thingiverse Education, we continue to push adoption and innovation to new bounds. We've maintained a consistent approach, and we will continue helping educators to advance learning and make 3D printing a part of every student's toolbox. On the other end of the spectrum, we will continue to democratize 3D printing for professionals by making it accessible and affordable without compromising quality or performance."
The Thingiverse community has uploaded over 3 million 3D models, and it continues to grow every day with notable Things including: #3DBenchy, a Modular Mounting System, the Self-Watering Planter, the Cellular Lamp, and so many more.
You can learn more about MakerBot's Thingiverse by visiting https://www.thingiverse.com.
About MakerBot:
MakerBot, a subsidiary of Stratasys Ltd. (Nasdaq:SSYS), is a global leader in the 3D printing industry, offers reliable and easy-to-use 3D printing, and runs Thingiverse, the world's largest 3D printing file library and community. We believe there's an innovator in everyone, so we make the 3D printing tools that make your ideas matter. Discover innovation with MakerBot 3D printing.
To learn more about MakerBot, visit makerbot.com.
Comments (0)
This post does not have any comments. Be the first to leave a comment below.
---
Post A Comment
You must be logged in before you can post a comment. Login now.
Featured Product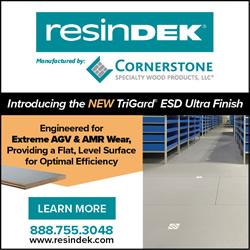 To maximize the productivity of an autonomous mobile robot (AMR) or automatic guided vehicle (AGV) deployment, it's critical to create the optimal environment that allows the vehicles to perform at their peak. For that reason, Cornerstone Specialty Wood Products, LLC® (www.resindek.com) created the TriGard® ESD Ultra finish for its ResinDek® engineered flooring panels. The TriGard ESD Ultra finish is ideal for high-traffic robotic applications characterized by highly repetitive movement patterns and defined travel paths.